So I think I found the answer to all the squeaking going on in my J20. The front drive-shaft's Double Cardan Joint was totally shot. The centering ball was very loose in the socket.
Here are some pics.
note, the ring is smashed because I used channel locks to get it out.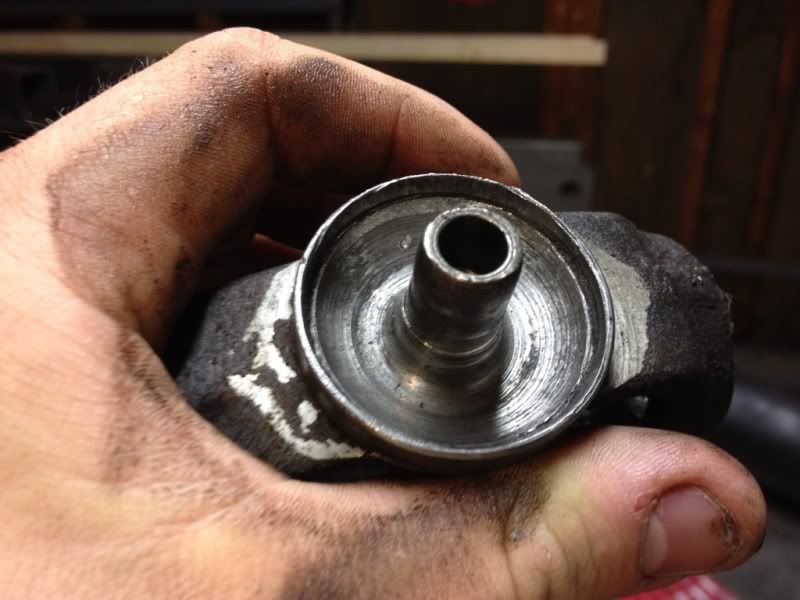 I've never taken one of these apart do I don't know exactly how they should look, and I don't know all of the components.
The crushed ring in the first pic appears to hold the centering ball in place, it looks like it had a hole worn through it. The inside of the centering yoke appears to be badly scarred. Although it almost appears it's supposed to have a small lip on the inside. Should this be there? Or is it just that worn?
I'm pretty sure I need to replace the centering yoke. It's only $70 at NAPA, and comes with the new ball and spring. My centering ball did show a little wear, but nothing too bad. The spring was broken in 2 pieces.
The drive-shaft side of the ball socket (shown in the second pic) shows a little wear, but more notably, a little nick. I can carefully fix the nick with my Dremel, but is the rest of the wear okay?
The only other thing I am noticing is, there is no seal of any sort. Should there be one? Should the centering ball be completely exposed like it was?
There is a lot questions here, any answers are welcome.
Thanks,
XJTino