Then Just at the beginning of apple season, just when I needed a truck the most the engine began to backfire. I pulled the valve covers off and found a flat exhaust lifter and a broken intake pushrod.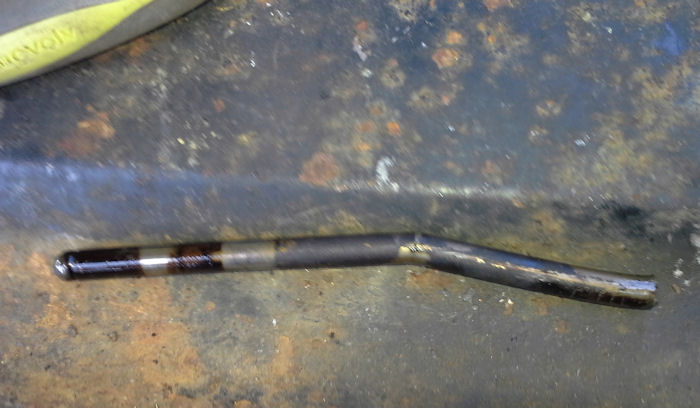 That's when my engine got a bad case of the may as wells.
I pulled the intake off, pulled the 2 lifters out and checked the cam. It seemed ok on those 2 lifters but I figured I may as well replace all of them since I have the intake manifold off. As I pulled the lifters out I checked the cam lobes and they seemed to be fine, until I got to the #1 lobe. It had some pretty heavy wear. So I figured I may as well replace the cam.
So I took the whole front end of the engine apart. The timing chain actually looked brand new and tight so I was thinking all I need to do is pull the cam out and swap in a new one. So I pulled the cam out and found the front cam bearing had big pieces missing. I figured I could probably change that one bearing out and make due but may as well change all the bearings.
Well as most of you know, changing the cam bearings requires removing the engine and even though it didn't really have that many miles on it I figured because it is 45 years old I may as well have the engine rebuilt and make sure it is good to go another 45 years.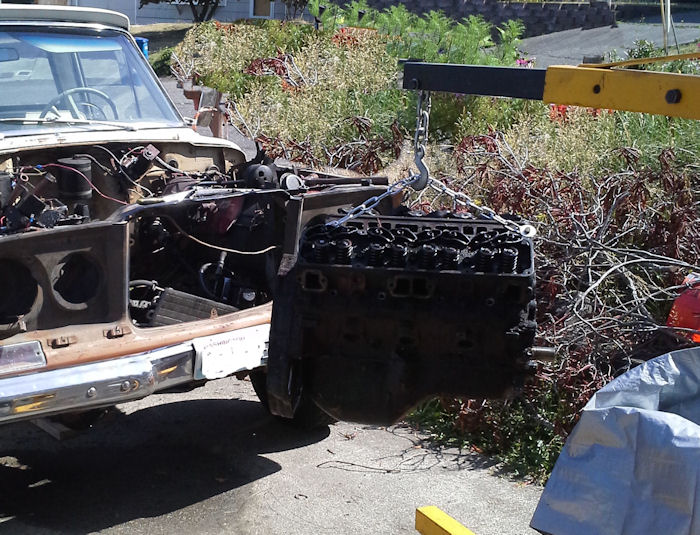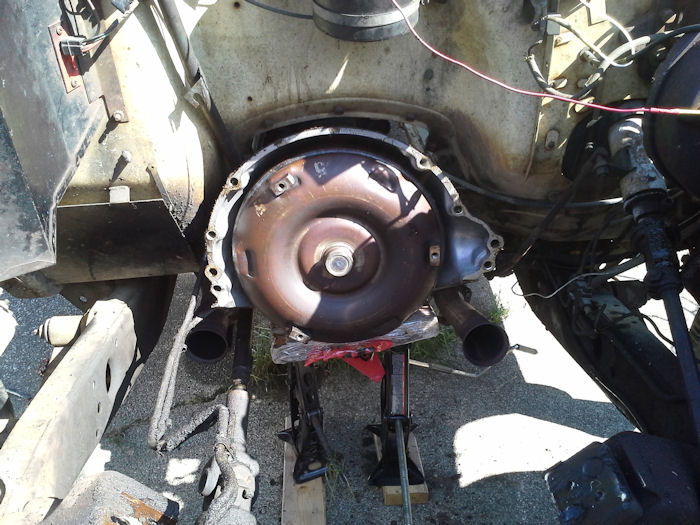 That's when the real trouble started. I called around to various shops and most of them didn't want to mess with an AMC engine or were just covered up with other work, mostly on Chevy engines. Since everything in this truck is all original I really wanted to keep it that way so I didn't want to just swap it out for another engine. Eventually I found a local shop who said they would do it and even better it would only take a week to ten days. So I loaded up my engine in a truck I borrowed from work and hauled it down there. Before I left I wanted to reconfirm how long it would take. They told me "End of the month, there are two 454s ahead of you." This was the first of August, I figured, well it's more than 10 days but I can live with 3-4 weeks as long as it stays my engine and not an exchange. Then as I was leaving he said "Don't call us, we'll call you"
In retrospect that should have been a red flag but I figured ok, I don't like people bothering me when I'm working so I'll wait.
Then the end of the month came and went and I never received any call, so I called him and was once again told the "end of the month" Now I was getting worried but I once again patiently waited until the end of the month came and went again.
I am guessing you probably see where this is going. Eventually I got tired of waiting and started calling every week or two. He got tired of putting me off and actually did the work and called me a couple days before Christmas and said my "short block and heads" were ready. I should have asked him what he meant by that because he was supposed to be giving me back a long block but by that time I didn't care, I just wanted it back. I once again borrowed a work truck and went over there to pick up my engine and found he hadn't reinstalled the heads but they were rebuilt and had hardened seats so I figured screw it, I'll put them on myself.
I took my engine and heads back home, bought a cheap Harbor Freight engine stand and went to work putting my engine back together. It was now cold, wet and rainy but I was determined to get my truck up and running and after nearly a month of reinstalling everything, which included 2 whole days of fighting with that damn cast iron intake to get it on, I had the engine ready to reinstall.
So my next weekend I pushed the engine out to the driveway, pulled the hood off by myself, hoisted the engine into place and stabbed it and bolted it in place, then reinstalled the hood all by myself. I mention that it is all by myself because the whole time 2 of my neighbors stood outside one of their houses and watched me do it. The next day one of them came over and offered to help, now that the hard part was done.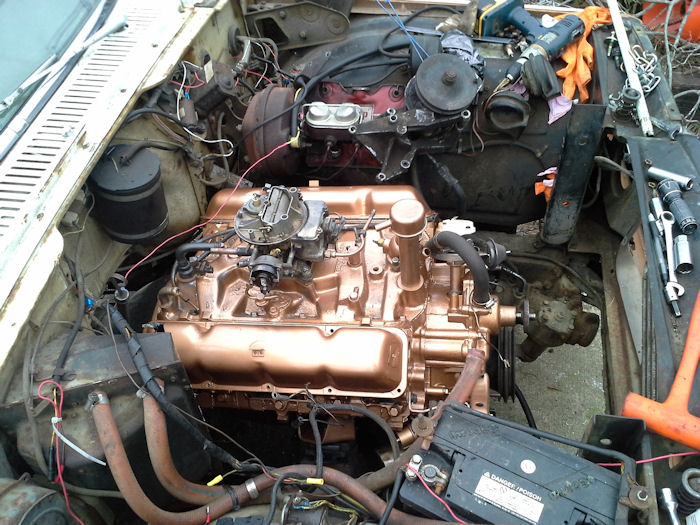 It wasn't a biggie, everything actually wasn't that hard and I really don't like to ask for help. The real problem was that before I could get the wiring and stuff hooked up it started raining, and showed no signs that it was going to let up until July.
My solution was to go to Harbor Freight and buy a pop up canopy, put that over the front of the truck and press on.
Eventually I got the engine all hooked up and ready to go and I fired it up.
It took a bit of tweaking but eventually it started, I got the timing where I thought it was right and began the cam break in process. During the cam break in I noticed the exhaust started to get hot and glow, then the engine started to get a bit warm so I shut it off. I should have took my foot off the gas and let it wind down a bit but I didn't and it started dieseling a bit, then there was a loud BOOM! and the whole truck was engulfed in a cloud of steam... then the fire started. I have 8 fire extinguishers in my garage but didn't think I needed one when I was starting the truck, which was in the driveway. I also didn't know that when a lower radiator hose blows off and sprays the exhaust with antifreeze, the antifreeze catches on fire! :eek:
I managed to get the fire out and there was no real damage done and I learned a valuable lesson, always keep a fire extinguisher handy when working on a truck because even at a 50-50 mix antifreeze is flammable. Apparently what happened was somehow the timing got retarded and that caused the exhaust to heat up and when I connected the lower radiator hose I got the clamp on the bead instead of over it. It was nothing $30 in new antifreeze and connecting the hose right couldn't fix.
While the engine was out I decided to install a tachometer and oil pressure gauge as a temporary measure so I have an idea of what's going on during the break in process. I still wanted them to look good so I bent up some aluminum, cut some holes for the gauges and mounted them where I can easily see them while driving and still be removed when I feel I don't need them. I chose digital gauges because they are easy for me to see even with my bifocals and when the truck is off they are just black so they don't just look like cheap gauges stuck to the dash.
Then with everything finished I began driving the truck again. I now have about 2,000 miles on it since engine overhaul and have made it through an entire apple season without incident. I have even driven it on the freeway and gotten it up to 68 MPH. 68 is 3,000 RPM in this truck rather than the million RPM my old truck required and it drove straight and smooth like it was a new truck.
Eventually I got tired of only having one radio station to listen to so the next thing I did was have the original AM radio converted to AM/FM with an aux jack.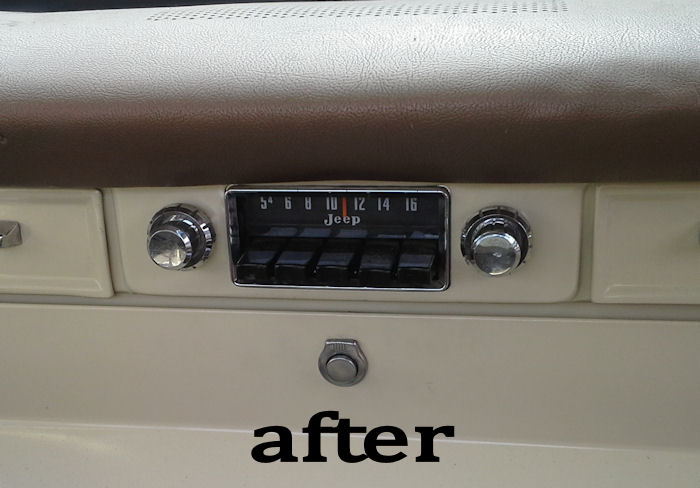 How's that for Prissy :)
While the radio was out I also went ahead and repainted the dash
My future plans are to fix the little bit of rust in the bed and front fenders and repaint it, or have it repainted. My brother actually has a body shop near Duluth Mn and I am thinking about shipping it to him for a winter project. I want the copper lower half changed to a nice burgundy / black cherry color with a cream on top. I hope to be able to have the cheesy wood grain stripe painted on but may have to see if I can actually find one as a decal. I do plan on keeping the Keep On Truckin mud flaps just as they are because I think they are pretty darn cool.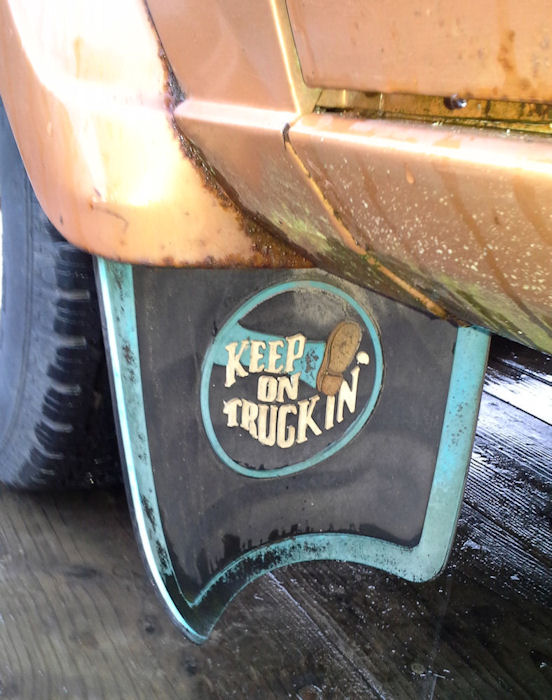 I think I will probably need to locate a tailgate that's in better shape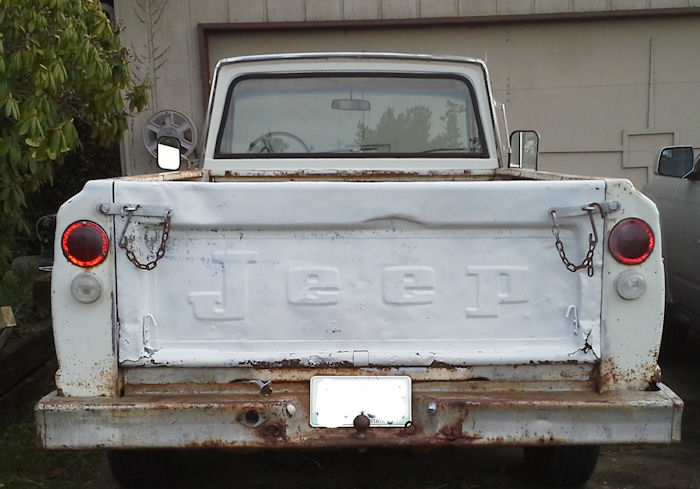 and would like to give it a rhino grill as well.
I also plan on someday upgrading the front brakes to disk and converting from carburetor to fuel injection. Hopefully I can figure out how to do that without replacing the intake because I never want to ever remove that intake again. If you don't know, the '72 intake is different from later intakes because it was made with a small carburetor bolt pattern and an aluminum adaptor plate was added to allow use of the 2100.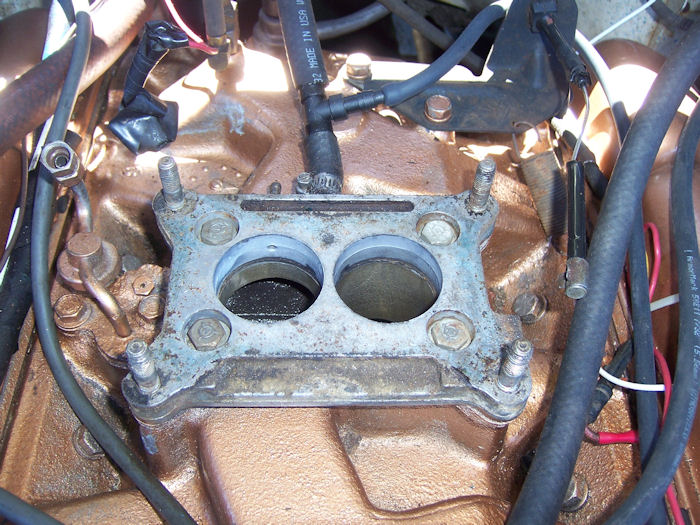 It's one of those goofy quirky things about the '72 and I hope I can buy or make another adapter / spacer plate to allow me to use the fuel injection without replacing the intake.
Once all that is done my truck will bet perfect in my eyes.