-
Build Threads
(
http://www.ifsja.org/forums/vb/forumdisplay.php?f=96
)
| | |
| --- | --- |
| Wagoneer Taylor | 01-02-2019 03:45 PM |
---
1977 Jeep 401 Wagoneer (Wedding Wagon)

Hey all,
Finally getting around to posting my Wagoneer build.
The plan is to build a Weekend Warrior, that could be a daily if desired. Not a true rock climber but something we could take on trails. Its a Jeep after all!
Here's the back story (this may not be quick :rolleyes: ).
I got this Wagon for free from a co-worker, it had sat for 2 years untouched in their lawn (as seen in the pictures). I got it roughly 3 months before my now wife and I were getting married (wedding date 09/23/2018). The plan was to get it ready enough to drive away in. (Spoiler Alert---> We succeeded!)
It currently has a AMC 360 (this was a 401 Wagon), I believe Dana 44 axles, original trans case, but external hub lockers.
I'll post over the next few days what we had to do to it to get it driving/presentable to have in our wedding. Then continue as we make it the afore mentioned Weekend Warrior. 401 swap, fixing rusted floors, and sprucing the whole thing up.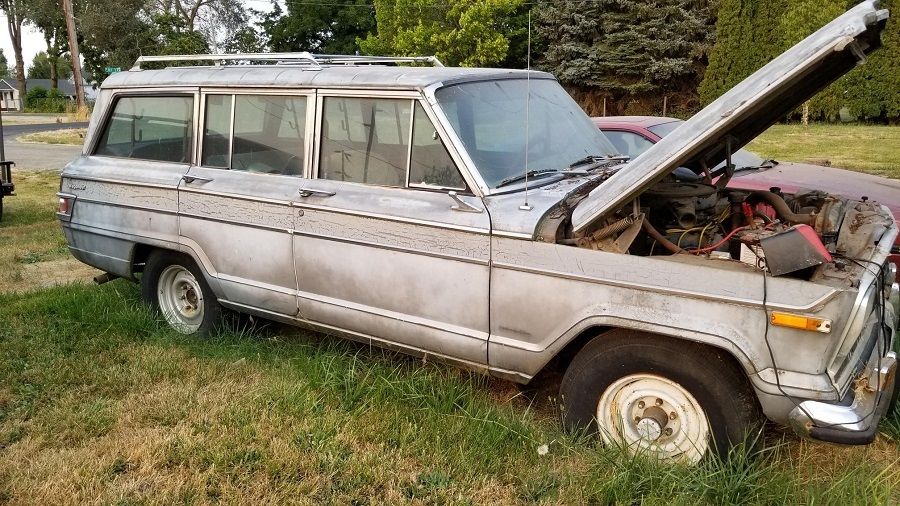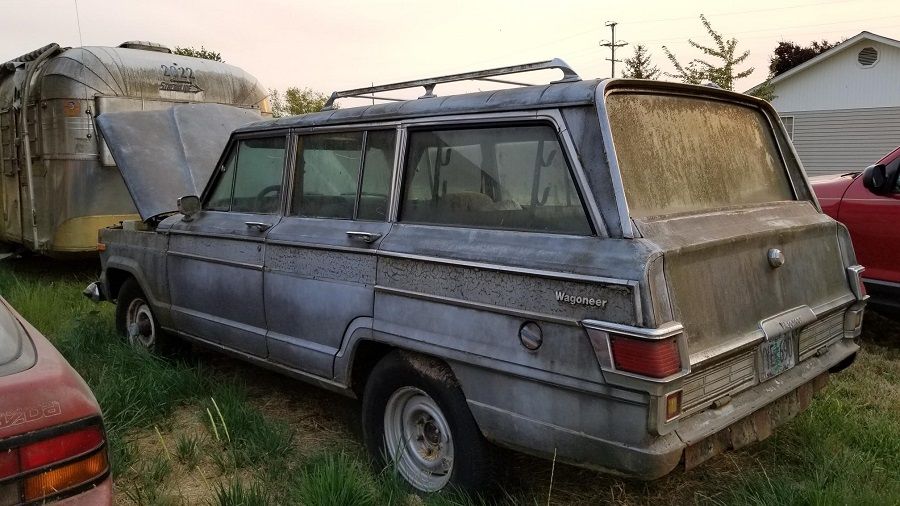 Here We Go!
| | |
| --- | --- |
| Wagoneer Taylor | 01-03-2019 09:55 AM |
---
I couldn't get it to run in their lawn, so here is the first pictures of it at home. (Yes it is sitting in MY lawn now) First thing I did was pull all the spark plugs and shoot a bit of WD40 into the cylinders to loosen them up before I tried to start it. I knew the gas left in the tank was probably bad so I just wanted to see if it would turn over and fire with starting fluid. To my surprise, with a good battery it did! Second picture shows my engine bay, you'll notice the aftermarket distributor, this gave me some grief recently due to the rats nest of wiring the previous owner left me. (That story to come later)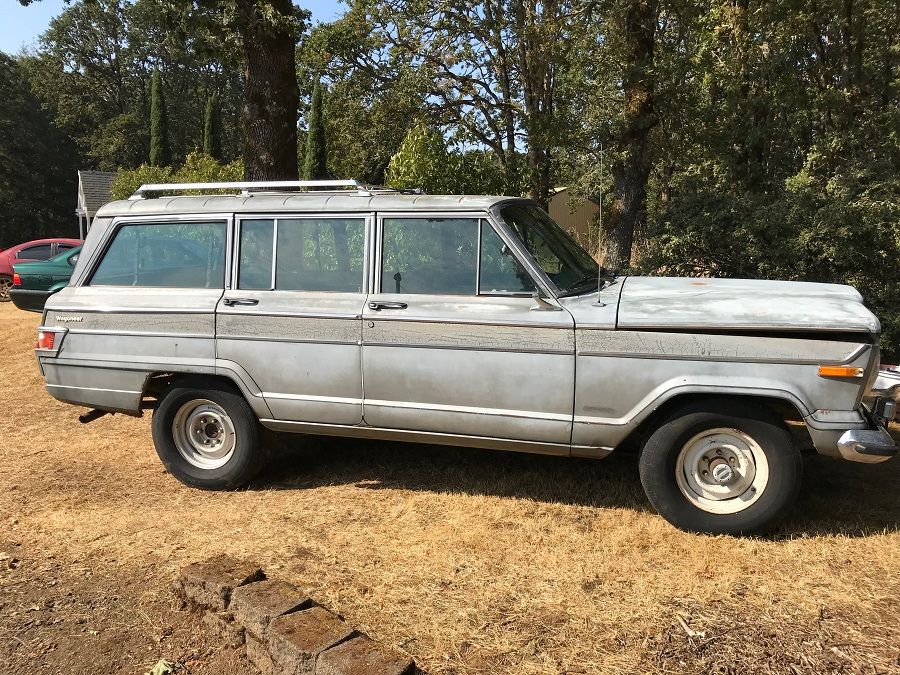 | | |
| --- | --- |
| Wagoneer Taylor | 01-03-2019 10:15 AM |
---
Now that I knew it would run, I tackled the fuel system, with lack of time in my favor I decided to just "shotgun" the system and go with mostly new parts. I ordered a new fuel tank (a plastic model), fuel pick up tube, fuel pump (which ended up being wrong), fuel filter, fuel sending unit, and fuel hoses. Picture below shows my old tank which was full of a sludgy varnish. I pulled the hard fuel lines too and sprayed and blew them out to re-use.
I apologize I don't have more pictures I wasn't thinking of a forum when I was on this schedule.
I got all these parts off of RockAuto, I know some people don't like this site but I have had good luck with them. Other then the fuel pump which was the completely wrong unit. I will pose the question,
Do older or newer 360 engines have a different mechanical fuel pump?
This Wagon has a donor 360 and I had to take my old pump to NAPA and they searched and searched for the replacement, finally found it. But it was a hassle, we tried old 360s and Chrysler 360s, they finally just had to search through their catalog and match the description.
After the new fuel system was in (which I did all from the ground under the Jeep with no lift) :banghead: the engine honestly ran beautifully and still does. I took it for its first test drive, after checking the brakes worked. I have a video of this but don't know how to post it??
| | |
| --- | --- |
| rang-a-stang | 01-03-2019 01:00 PM |
---
I love Rock Auto! I have put the owner's kids through college with all the money I have spent there.

Not sure about the fuel pump question. This thing is going to be awesome!

What's next? Cooling system?
| | |
| --- | --- |
| Wagoneer Taylor | 01-03-2019 06:00 PM |
---
I have spent more money at Rock Auto then I care to admit.

You are exactly right rang-a-stang, the cooling system was next.
I had preemptively ordered all new cooling system hoses, since it had all sat for 2 years and who knows when they replaced them before that. Crazy part was it would drive around and idle perfect, no over heating. At that point I had done everything but the radiator... now I'll mention again I was trying to build this quickly to use at our wedding, so i thought "well it works now and i only need it to work for one day, I'll really dive in after the wedding"... That thinking was a mistake, at highway speeds it would eventually over come the ability of that tired old radiator and it would overheat. There was some trouble shooting in between but long story short i was overnighting a radiator off amazon the Thursday before a Sunday wedding :banghead: I installed it that Saturday and tested it that night.

I unfortunately don't have a picture of the engine bay currently with new radiator but I'll get one soon.
| | |
| --- | --- |
| Wagoneer Taylor | 01-03-2019 06:10 PM |
---
In between the fuel system and the cooling system, my girl and I had to deal with the interior looking the way it does in the pictures below...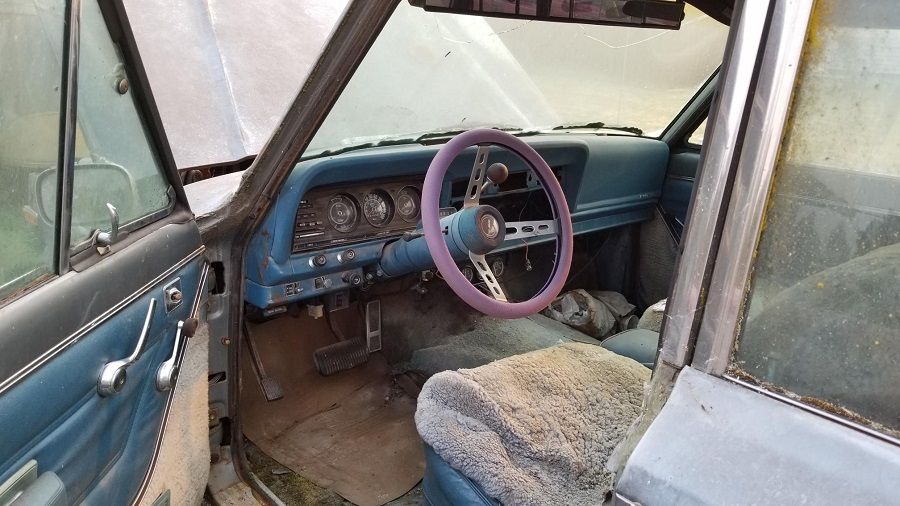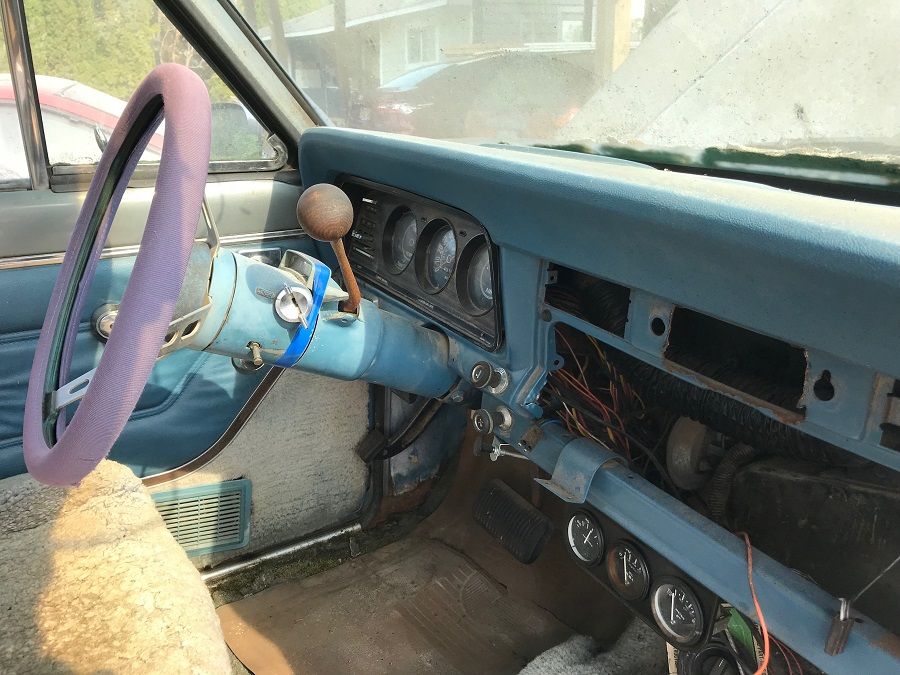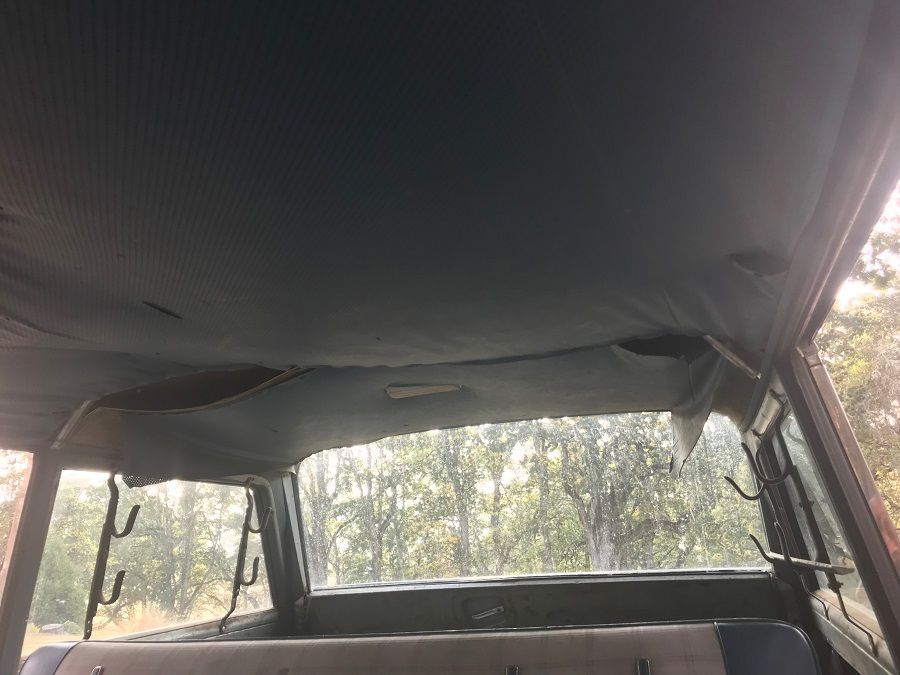 | | |
| --- | --- |
| Wagoneer Taylor | 01-03-2019 06:15 PM |
---
So we gutted it!
Don't worry y'all it will all go back together eventually.
I will get some more pictures together and post what we did to treat the inside in the next couple days.
| | |
| --- | --- |
| rang-a-stang | 01-03-2019 06:16 PM |
---
You have dual gun racks. Respect.

Your shift knob is AMAZING!
| | |
| --- | --- |
| Wagoneer Taylor | 01-04-2019 09:30 AM |
---
Thanks! I did take the gun racks out, we mounted them to the garage wall and use them as extension cord hooks.

Isn't that shift knob cool! Do you guys know how they are normally attached?
I'd like to take it off and re-finish it.
---
Idunno about yours but my '84 just had splines so the end was just pressed on.
| | |
| --- | --- |
| Wagoneer Taylor | 01-07-2019 06:40 PM |
---
As you can see we found some rust in the floor. I have not yet done it but will be cutting it out an patching in panels. Only 4 spots, driver and passenger sides by the front and rear door drains.

Next was wire brushing the whole inside and spraying it with rust reformer to get rid of any surface rust on the floor, tail gate, and roof. Pictures to follow.
| | |
| --- | --- |
| Wagoneer Taylor | 01-08-2019 10:07 AM |
---
Heres the bed, and roof after the rust reformer.
| | |
| --- | --- |
| Wagoneer Taylor | 01-08-2019 10:17 AM |
---
Picked up some Wagon Wheels and Rear Wind Deflector at a junk yard! Plus all the stainless trim I was missing!
If you guys ever need the trim clips that hold the trim to the side of the car I found a decent source (
www.autofastco.net
) Under GM trim clips I believe. This is for the stainless trim up to 83 I think.
---
77 huh? In your pre-wedding maint I highly recommend you include a complete brake fluid flush/change out.
| | |
| --- | --- |
| Wagoneer Taylor | 01-08-2019 04:22 PM |
---
Yes sir, 77.
That is the very next thing i did, the overheating problem actually came about from my trip to the offroad place i had do my breaks and lockers.
The hubs and lockers were so fused together with rust i had to have them do it or i would have myself. (also time being a factor)
Did new brake rotors, pads, fluid, and brake lines. Rear drums actually looked good enough to clean up, bleed, and reuse.
Here is the new locker ends.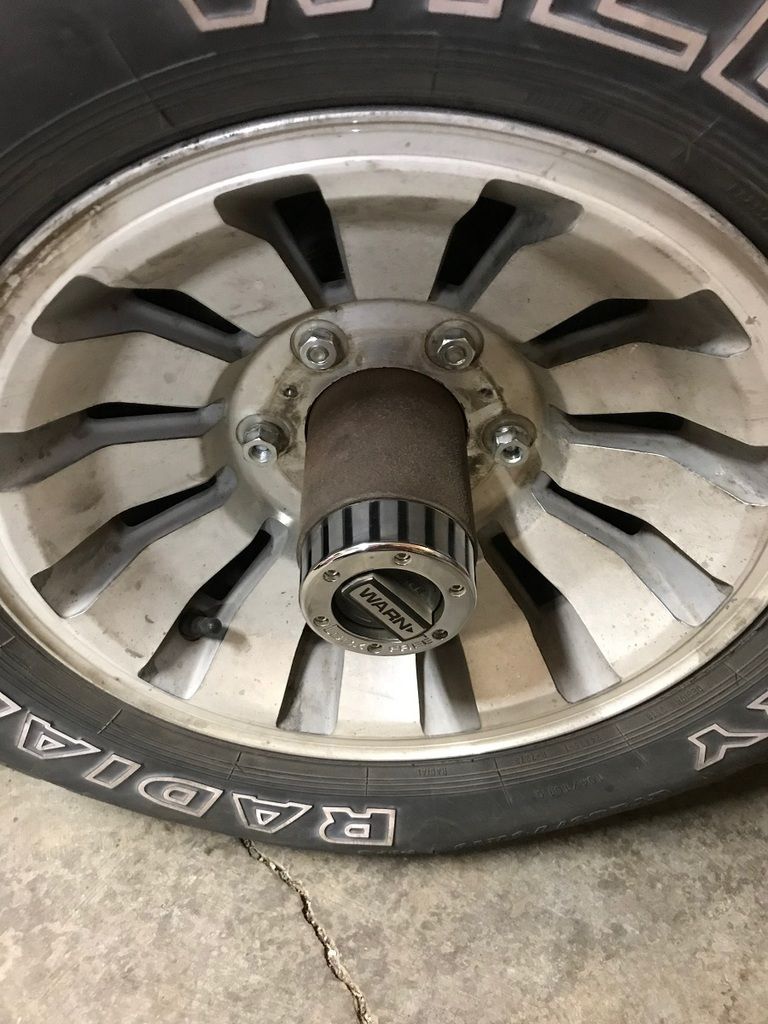 | | |
| --- | --- |
| Wagoneer Taylor | 01-08-2019 06:08 PM |
---
I already found a 401, just picked it up on Saturday. Thanks so much for looking out!
Got mine for a litter cheaper but was rebuilt back in 2000, but it is complete with all accessories and ready to drop in.
| | |
| --- | --- |
| rang-a-stang | 01-08-2019 06:21 PM |
---
WHAT?!?!?!? That's a STEAL!!! Holy cats!
| | |
| --- | --- |
| Wagoneer Taylor | 01-08-2019 06:49 PM |
---
Haha thats alot of new parts for the price!

Still you'd end up nickel and diming the rest of the engine.
| | |
| --- | --- |
| rang-a-stang | 01-08-2019 07:04 PM |
---
I spent $1000 in machine work for the bottoms end alone, plus $550 for pistons. That
All times are GMT -6. The time now is

09:23 AM

.
Powered by vBulletin Version 3.5.4
Copyright ©2000 - 2021, Jelsoft Enterprises Ltd.