Hello again All,
More pics and completion of the write up coming soon!!
Wagoneerlover is at it again with another project write up. I would like to note that this is not my original idea, this idea was first attempted and completed by jeepinpete. His original install of the suburban 42 gallon tank is at the link below.
http://www.ifsja.org/forums/vb/showthread.php?t=60698
Of course with all mods, whether it was my idea or not I still add an additional write up as a resource for others when I have time. Now for the write up.
We all have many reasons for wanting a new fuel tank. Sometimes its an additional second tank, sometimes we seek a different tank for specialized purposes and other times we just want a replacement that we feel is in a better position than our stock tank. Whatever the reason may be, installing a new fuel tank is doable with a few simple tools, preparation and careful planning. In my particular case, My stock tank skid plate was rusting out and with continued usage it would most definitely have fallen out and hit the ground at some point (Hopefully not while I was driving on the freeway. would not have been good!) Below you will find pics of my stock tank hanging down below the frame. (This is a common trouble spot and happens on many of these rigs, especially in the snowy northern and mid-eastern states where salt is heavily used on snowy days.
Things that you will need for this project. (GM part numbers listed beside each item)
1. A fuel tank from a c-1500 suburban years 1992 - 1996 (GM# 15662735)
2. A fuel sending unit from a c-1500 suburban years 1992 - 1996
3. A fuel tank skid plate from a c-1500 suburban years 1992 - 1996 (GM # 15640573)
4. 2 fuel tank check valves from a c-1500 suburban years 1992 - 1996. (Gm# 15640448)
5. The stock fuel pump if you are running TBI. (Other pumps will fit if you intend to run a carbed application or a multi-port efi system or system that requires a higher output than that stock TBI system)
6. Common hand tools
7. A dremmel, jigsaw or some other type of tool which you can use to cut holes in the frame metal, (You might possibly need this tool to cut bolts which are rusted solid and are immovable without herculean strength!!)
8. a welder or possibly some JB weld.
9. 1 inch copper pipe or whatever other pipe that you may choose which is fuel safe. (Stainless steel, etc) You need about two or three feet of it.)
10. 1 inch 90 degree elbow joints for the same pipe mentioned above, again it needs to be fuel safe, you will need 2 of them.
11. A copper reducer (Needs to be a 2" to 1" reducer) Again it needs to be fuel safe (Rated to handle fuel safely) it doesn't need to be copper it can be your choice of metal (Steel, stainless steel, copper) as long as it is fuel safe.
12. The stock fuel tank straps or whatever alternative you would like to use in place of them. (I used galvanized steel straps (Flexible))
13. Possibly some angle iron or I bars to set up mounting points for the skid plate.
14. New fuel line to run to the new location.
15. some flexible fuel hose.
!
Warning
! if you perform this swap you will lose your under the rig spare tire carrier!
First and foremost obtain the parts listed above. It will make the install go easier and of course as with every project even when you get everything, there will be little items that you forget here and there. I have tried to list it all out so that those who attempt this mod will have it all up front but I may have missed one or two little things.
2. For those of you who are removing your stock fuel tank, this is the time to get it out. Check under the stock fuel tank. There are several bolts which hold the stock fuel tank skid plate in place. (The skid plate actually holds the tank up and it doesn't have any straps that hold it to the body). There are about 4 bolts on the frame that run through the skid plate on the fuel tank side (Drivers) There are also ab out 4 bolts that hold the skid plate to the body that are under the rig. You need to crawl under and you will see them. Two up near the front of the skid plate and two near the rear. The rear ones are a PITA to get out as they have a vent tube line near them which also has a bolt holding it down and it is hard to get a wrench on top of them. (For those of you who plan on running dual fuel tanks you can ignore this and go directly to step 6)
3. The bolts on my skidplate were rusted so tight up against the body that they would not budge. I had pre-soaked them in wd-40 for a week and they would not move. it was almost as if they had simply fused into the body and become one. Next came the cutting wheels from my dremmel, they made short work of the bolts. Some would have preferred to heat the bolts up and remove them after they get hot and expand. (Whatever works as long as you can remove them.) (Just remember if you are thinking of heating up the bolts that you have a tank which has had fuel in it, right near and above/beside all of the bolts. It is probably a better idea to think of an alternative method as you dont want to run the risk of causing a fire or causing the tank to explode.
4. Make sure that you place something under the gas tank and skid plate before completely removing all of the bolts. Pictured below you will notice that I have wood blocks under mine to catch the tank. My skidplate was rusted through so after removing the rear skid plate bolts and the fuel filler line hoses. the tank simply dropped out. at least partially, as half of the skidplate was gone. Make sure to remove the fuel tank fill lines before removing all the bolts for the skid plate. The tank will sort of hang on the fuel tank fill lines and it will dangle there even though the skid plate has dropped out. (You can let the tank drop down but it is easier to remove these without the weight of the tank against them.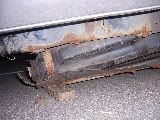 Notice how the skid plate rusted through and is sort of torn at the side. (It wasn't supporting the tank anymore. The tank was sort of being held in by the fuel filler tubes! Not good, very poor design on the part of AMC)
The Tank is Out!
Hooray!
Below is a pic of the skidplate after being removed. Note how it is almost completely gone at some points. Hence, these plates cannot last through the salty winters we have here. Besides that the poor design idea of leaving them right up against the frame leaves no runoff point for water, give you a rust torn frame and skidplate after 20 years.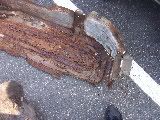 6. Now you will want to begin the arduous task of preparing your rig to accept the 42 gallon suburban fuel tank. There are a few things that you must do in order to prepare your rig. First, take a look under the rear of the rig. Hopefully by this point you have removed the spare tire that you have under the rig. If not take the time to do so. Once the tire is removed you should notice the long tire mount that holds the tire in place. This will need to be removed. Remove the bolt that holds the tire carrier to the frame in the rear. The rear half of the tire carrier will drop down. (Spare tire carrier without tire pictured below)
7. Near the rear axle you will notice the other mounting point for the rear tire carrier. There is a mount for the carrier that is welded to the rear cross member that sits in front of the rear axle. You will need to remove this mount. You may go about removing it using various methods. Pick one that you like. (I used a dremel and cut it out with a cutting wheel.) Others who have done similar mods have used welding devices to remove the weld or other cutting tools. ) (Below the rear tire carier mounting point above the rear axle is pictured. Note how it has already been cut down and only a piece remains which will be cut momentarily.)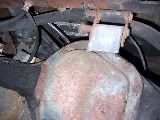 8. After removing the spare tire carrier you will want to turn your attention to the exhaust. The exhaust sits right in the way of where you will want to install your tank and it will need to be removed and re-routed or relocated. For those of you who have already re-routed your exhaust to exit in front of your rear tires (Near rear passenger door) then you may disregard this. For now you can simply remove the section the exits behind the rear tire and set it aside so that you can fit the tank up into the rear area. (Dont fit the tank yet there is more work to be done) Now might be a good time to think about that new muffler or cat that you wanted since chances are you will need to remove them to get the dang exhaust out anyway. mine were rusted together and would not come apart that easily, so I removed them as a unit.
9. After removing your exhaust you will want to turn your attention to the tow bar (Hitch) Mine had a class III hitch stock. The tow bar (Hitch) can become a problem for those performing this swap. If your tow bar (Hitch) extends beyond the lip of the rear frame then it will need to be removed completely or moved back a few inches. On my rig the middle section of the tow bar (Hitch) actually went past the lip of the frame therefore it needed to be removed.
Continuation of the article below.