Hello everyone,
I am at it again. I have decided to follow the pathway of many who have decided to customize and attempt to add things to or modernize their rigs. I got tired of my tired old gauges on my 1989 rig always failing to work no matter what you do. When I inquired about replacements the stealership of course wanted an arm and a leg. Why not get better qaulity gagues and add my own flavor to it while I am at it? Well here is my attempt at it. I ordered the autometer Golden Oldies Gauges and I purchased a long peice of steel from my local Lowes/ Home Depot. I think it was 8 x 18 inch steel when I got it and of course using my trusty dremmel I had to make some adjustments.. including cutting the holes for the gauges.
Here are preliminary shots of me making test measurments and trying it with cardboard first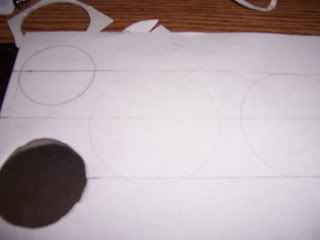 The long hulking husk of metal that I started with before I begin to chop it up
Below are two shots of what it has metamorphasized into after cutting and doing a few things with my dremmel. I have the xpr200 something so it also has a jigsaw attachement. Anyway. As you can see it is still rough around the edges. only two of the gauges fit so far and that is after I used the grinder to smooth the holes out. I have six more holes to smooth out and a little more cutting to do. After that I will add the led lights for the turn signals, the high beams, the low fuel light, the brake light etc.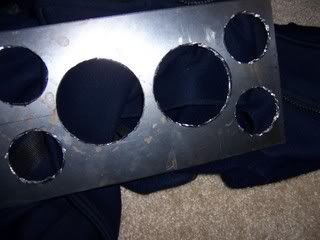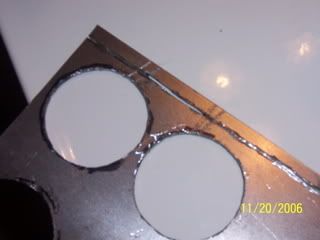 I also modified my stock fuel sending pickup tube and unit. I removed the stock fuel sending unit and adapted the auto-meter sending unit to it. I did this so that I could get a high qaulity sending unit onto the pickup tube and get my auto-meter gauge to work properly. The auto meter sending unit is changeable so i dont have to throw away the whole pickup assemble to change it. It took careful and precise measurement as the stock tank has a very small hole in it for the pickup tube. install it improperly and you will have difficulty getting your pickup tube back into the tank. Assuming you can get it back in to begin with. Below are some pics of the change.