Hi guys,
I am new to this site. Not new to Jeeps. 25 years of building just about every kind of Jeep. They are my world. And the Gladiator is one of my all time favorites.
I recently bought a 64 J200 Willys (just yesterday). The glory story is that it was tucked away in a storage unit for 27 years with only 12,000 miles on it. The original owner just stopped paying on the storage unit and they never heard from him again. So they auctioned off the unit. The guy I bought it from won the auction and found this inside. He stored it in his garage and tinkered very little on it for 7 years. It was supposed to be a father son project, but soon after he got it his son got married and moved away. All they really did was put in a fresh 292 Chevy (apparently the 230 Tornado had a huge hole in the block with a rod sticking out) and connected it up to the stock 3 on the tree T90/Dana 20 combo. It also has a closed knuckle, drum braked Dana 44 front with another tapered axle Dana 44 in back. Except for the motor, it has all the original components throughout.
The body is very nice from what I can tell. But I have a little voice in the back of my mind whispering something about dirty little hidden secrets that are about to reveal themselves. We'll see.
Here are some photos of it right after I got it home.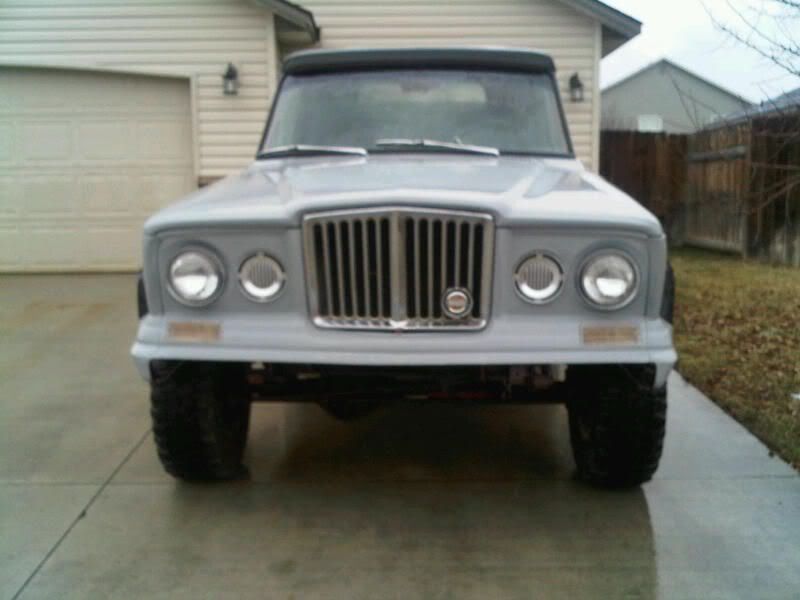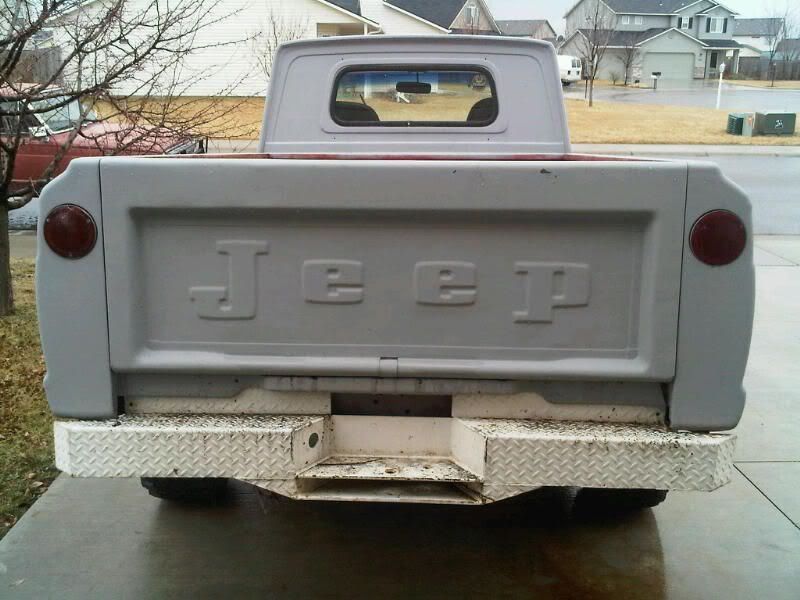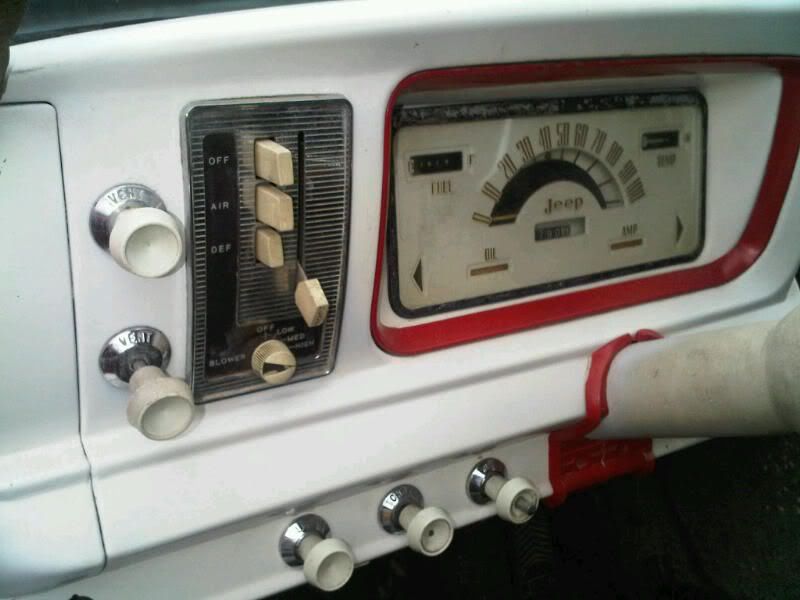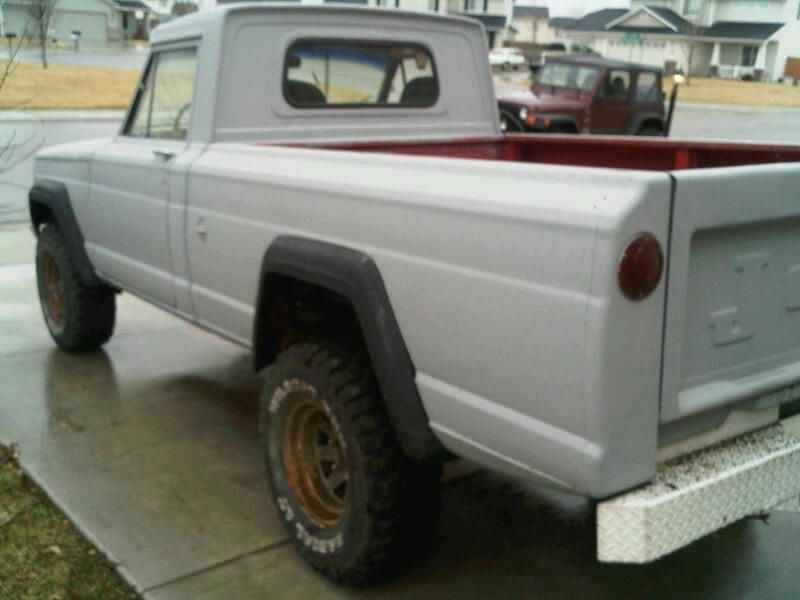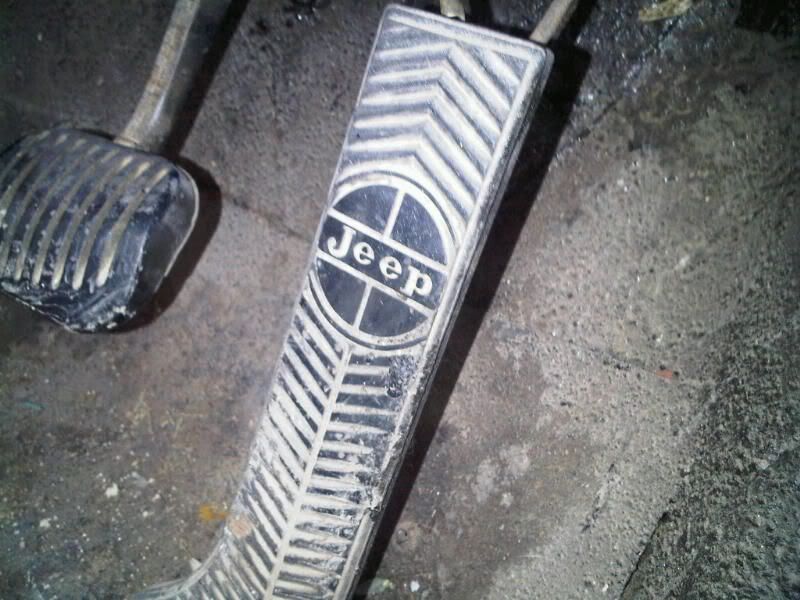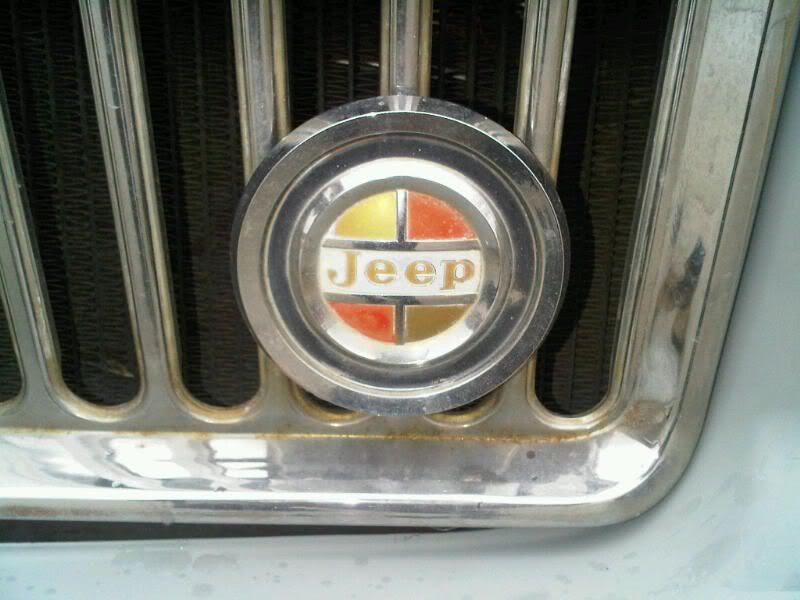 All of the original and not so original drivetrain will be coming out immediately. It will now receive my H.O. 400hp/475tq Gen III 6.0L Chevy engine with OBX headers, Denali engine covers, a Summit crossflow aluminum radiator, a high performance 4L60e 4 speed automatic, and a 241 transfer case with a JB Conversions Super Short slip yoke eliminator (SYE) kit that removes 9" off the length of the transfer case and adds a CV yoke.
My friends will be doing 90% of the work and it can be done in about 2-3 months if I don't find many issues and don't make too many modifications. I have all the parts and they are right next to the J200. I have literally everything to build this truck.
I have a 2" die for my tubing bender and 20' of 2" x .120 tubing that will be used for custom dual exhaust. It will run through 2 Flow Master Hush Power mufflers.
Years ago, I slightly narrowed a Ford F350 high pinion Dana 60 (for my Jeepster Commando) that will now go in the front. It has 35 spline chromoly inner and outer Superior Evolution axles, Yukon Super Joints, Ballistic Fab high steer arms, a Detroit locker and Warn locking hubs. I also installed my own custom designed caliper brackets that hold 1/2 or 3/4 ton gm caliper calipers, 77 F150 rotors, stock knuckles and spindles with all new bearings, king pin parts, and seals. It is bullet proof. I also built an older Ford rear full float Dana 60 that I narrowed by cutting off the spindles and tubes to the length I wanted. And I designed custom collars that press over the tubes and weld on. They are made to bolt to my custom 1/2 or 3/4 ton gm caliper brackets and calipers and it uses front Dana 60 spindles and hubs. I had custom 300m dual splined 1 1/2" axles made for it. It also has a Detroit Locker and Warn locking hubs just like the front.
On both the front and rear I had the 8 lug wheel hubs machined down to the Jeep 5 on 5 1/2" lug pattern so I could run the same 77 F150 Ford rotors, which allows me to stay with the stock Willys lug pattern. Not that stock is an issue at this point. I just did it to see if I could do it and it turned out awesome.
Brakes will be controlled from a 1 ton hydroboost set up and Corvette disc/disc master cylinder with no proportioning valve. Pressure is provided by an AGR power steering pump that controls the brakes and a Rock Ram System. The ram is connected to a custom 1 1/2" x .50 wall tie rod. And I built the same size drag link with QA1 rod ends.
It will ride on Mickey Thompson Classic II polished aluminum wheels and 41" Irok radials. I bought brand new 6-way power leather seats and a center console that was originally built for a custom show car. A Vintage Air air conditioning & heat system will be installed as well.
It will be fully insulated and have delay wipers. I have a tilt 4 speed auto steering column from a 97 Chevy truck that will go in as well. It has controls for cruise, hi and low beam, and delay wipers.
It will have the original overhead courtesy light in the top of the cab, but I will add 2 that shine from under the dash and 4 large rubber-backed lights that mount under the cab and shine on the ground when the doors are opened, so I can get out safely at night without stepping wrong and falling. I don't need that. All the courtesy lights will run through a high amp 0-60 second manual dimmer/on/off switch after the doors are closed.
I will carry a Ready Welder II, O2 tank air supply, dual Optima batteries (1 yellow top and 1 blue top marine), and an iPOD stereo, amp, and awesome speakers. But I will not cut the dash. I have the OEM cover for the stereo holes. I will also buy new weather stripping and window channel for the doors. The windshield and rubber are brand new, but the rear window needs new rubber.
I have custom long travel drive lines with CV's at the t-case. I have a new Howell Engine Developments engine/transmission harness, modified computer and an inline fuel pump, return line regulator and filter. The frame will be sent to Epsco to be sand blasted and powder coated.
The springs will be moved under the frame on both front and rear for a 6-8" lift and shackle reversal. It will have my custom designed and BMW-made shackles and 28 gallon stainless steel fuel tank with a JAZ fuel sending unit. The tank that's in it right now may stay and I may install a dual tank switch. Not sure on that yet. I have Ultra Lite Auto Meter gauges, but I love the original gauges and dash, so that remains to be decided. I only bought this truck yesterday.
I have an 8274-50 Warn winch with synthetic line and wireless remote controller. Once it's painted, the bed will be sprayed with Vortex. I will probably have the underside of the body and fender wells sprayed with Vortex as well. The reason for all of this is that the J200 body is ready for paint right now. And I love these Willys trucks just about as much as the earlier body styles. And I will have an amazing truck in no time at all. Not to mention that the design of the doors and windows are far superior to the older Willys.
Just to see what it looks like with bigger tires, the guys jacked it up and put my 41's in the fender wells. If they were bolted on, they would go in another 4" or so, but it still looks cool. It does to me anyway. But I am a big tire kind of guy. Some of you aren't I know. But that's ok.