A few days ago I was in my garage and heard a car running that sounded a lot like my truck. Stepping outside there were no cars on my street but at that moment I saw the plum tree in my neighbors back yard fall over. Looking closer I could see a car where the tree used to be.
A couple days later the car was still there and my neighbors were outside so I went and talked to them about it.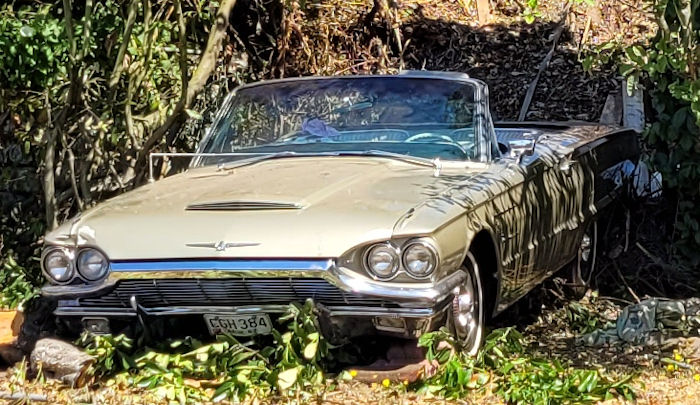 Turns out it's a '63 T-bird convertible that just came out of long term storage. The owner claimed he was going to sell it that day for $40,000 which would be a miracle because 60's T-birds just don't sell that high. His buddy had just recently done a brake job on it when the brakes failed sending it down the hill, through the shrubbery, through a chain link fence into my neighbors back yard and knocking over the plum tree.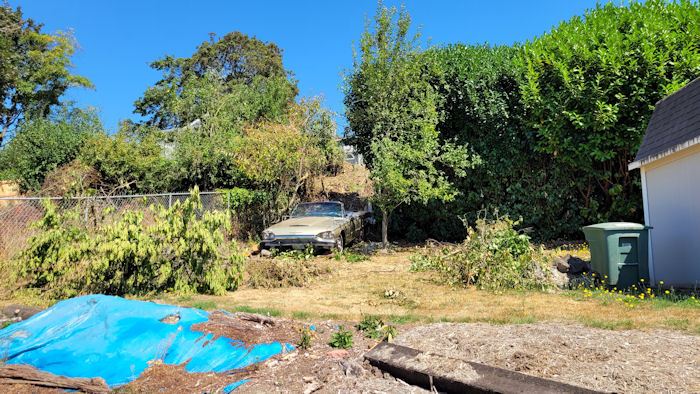 Now there is a chain link fence tangled up underneath it and the only way out is back the way it came from which will likely damage it even more. I'm thinking of offering him $1,000 where it sits and having my friend with the leather bar Jeep come pull it out, then fixing it right and making Mrs Cranky drive it for the next year or so. Mrs Cranky doesn't like 60's T-birds or convertibles or big engines (390) but for the right price I think she'd be OK with it.
One funny thing, if it were actually worth that kind of money and I could get it cheap I know where a hard top is that's painted the exact same color for $11,000 that could be used for parts to flip this one without repainting it