So now that I think I have figured out photo posting I think it's time I can tell you guys all about my truck. I wasn't sure if I should post it here or in the build section but think it probably falls in the category of prissy for sure.
It's going to take a couple of posts to get the full story in so it is a bit of a long read but hopefully you enjoy it.
I used to have a '66 Gladiator that I bought when I lived in Minnesota. When I bought it it had a Chevy 283 engine and a 3 speed stick. The gear shifter had been moved from the column to the floor but was not correct and shifted upside down and backwards and poorly at that. It also had bucket seats. Of course from spending most of it's life in Minnesota it had the usual rust issues like ventilated floorboards and the bed seams were a bit rusty. It also had an in bed "tool box" that was actually only 6 inches of tool box with the rest being a 50 gallon fuel tank. I drove that truck for a year or two in northern Minnesota before I decided it could be the perfect truck to pursue a dream I had of moving to Alaska. Somewhere along the line 2nd gear stripped out but I don't really care for stick shift anyway and figured I could change it out for an automatic since it already had a Chevy engine.
When the time came to leave Minnesota I drove the truck to Oklahoma where my family happened to own a salvage yard. I worked for them for a couple months and in my spare time worked on the truck. Having an entire salvage yard at your disposal is a real advantage when modifying a vehicle. I got a 350 transmission and transfer case out of a blazer and with a tape measure figured out that a Monza drive shaft was the right length for the rear driveshaft and an S-10 front drive shaft was correct for the front. I think the floor shifter also came out of a Monza but may have come from a Vega or any number of other cars.
Since I was planning on sleeping in the truck for who knows how long while driving up there and looking for a job I secured a set of nice cushy front seats out of a Cadillac.
All that sorted out I loaded my toolbox, 4 spare tires, and assorted other spare parts and set off for the last frontier.
I drove that truck all the way to Anchorage and only threw the driveshaft once, blew up the radiator once, had that repaired but it also sprung a leak somewhere after Whithorse Yukon. It threw a fan belt 100 miles from the nearest parts store and used all 4 of those spare tires before I got there but it was a wonderful trip. I continued driving that truck all over Alaska and Anchorage for some time until I was driving it down the busiest street in Anchorage and somebody going the other way hit a curb, lost control, crossed 3 lanes of traffic, jumped a median, crossed 2 more lanes of traffic and hit me square in the rear axle breaking the transmission mount and drivers door latch, bending the wheel and messing up the brakes and I think cracked the rear brake drum.
His insurance company picked up my truck then called me a week later. They told me they valued my truck at $800 and were willing to pay me $800 for it provided I agree to take it back.
I was more than happy to oblige so they paid me the money and dropped my truck off at the house I was renting but that left me with a truck I couldn't drive to work. So most of the money from the truck went into a car I could drive while fixing the truck.
As is often the case, things happened, I got married, never got around to fixing my beloved truck and had to leave it behind when we left Alaska.
Fast forward many many years. I now had a good job, was financially stable and actually had a little money to spare. We even had 2 cars, although one of them was now a 16 year old Taurus that we had owned for 15 of those years. As we upgraded other cars the Taurus became my work car. It was used pretty much the same way a pickup would be used. It hauled home lots of lumber, sheetrock, firewood, and thousands of pounds of apples but it was beginning to get tired. Eventually it was costing about $1,000 every six months to fix whatever the latest problem was and I decided to pull the plug on it.
This left us with only one vehicle and my wife hated it when I hauled stuff home with it. So I started looking for a proper pickup. At this time a Jeep wasn't even on my radar. I didn't need anything that was 4WD but I wanted something that was easy to work on, unlike the Taurus, and didn't have to pass emissions. So I started looking at trucks made before 1970. What I was looking for was a simple basic truck that is easy to work on with a reliable engine that hopefully didn't get too bad a gas mileage. I preferred a half ton, short wide bed and auto transmission. I was pretty flexible on the rest. I actually started out looking at 1955-59 Chevys but the owners of these trucks don't seem to actually want to sell them because if you try to contact them they never get back with you. I eventually expanded my search to go all the way up to 1970. By this time I was thinking mid 60s, Chevy or even GMC because I actually like the quirkiness of a big GMC V-6 but I also looked at and test drove a Ford or two and even considered a Dodge sweptline.
Then since I was now in the area of 1966 I started reminiscing about my old truck. I missed my old truck in spite of it's issues but no Jeep trucks were showing up in my searches. In fact very little of what I was finding in my price range was actually acceptable. Then I expanded my search to include 1972 and that's when a '72 J-4000 popped up. It wasn't exactly what I was looking for because it was a long bed but it had an auto trans. The AMC 360 engine was larger than I wanted but I figured it should be a good engine and the truck just spoke to me. Best of all the seller responded within minutes of contacting him, so in spite of it being more than an hour drive away I made arrangements to go have a look at it.
When I got there the first thing I noticed was the new tires, that was a good sign. Looking underneath the truck I also saw a brand new exhaust system. The guy showing me the truck also had the documentation where the owner had the work done, including the statement " Advised customer repair costs exceed value of the vehicle but she said do the work anyway". The invoice was for new tires, new brakes, new exhaust, including headers, a new gas tank and some other miscellaneous repairs totaling $3,000 which was considerably more than the asking price of the truck. The basic story was her father bought the truck new and drove it many years racking up a total of 105,000 miles. Then the truck was put away in a barn for a number of years until he began getting ill. The daughter had the truck repaired so she could drive him around for the last year or so of his life. After he passed it went back to the barn for another 2 years until it was decided it was time to sell. A new battery was purchased for it, a flat lifter replaced and a tailgate was located in a scrap yard because the original one was stolen while it was in the barn and it was put up for sale.
That's where I came along. I absolutely fell in love with this truck. I love the round taillights, the old hook side tailgate, the old school Gladiator gauge cluster similar to my old "66 with that cool green glow at night, the Cheesy wood grain stripe that screams 1970's and even the "Keep On Truckin" mud flaps that have been on it since the early 70s. I even liked the sound and feel of that old AMC engine and there was zero rust on the floorboards. So we made a deal, I called a truck to haul it home for me since I didn't want to drive an unknown truck more than an hour through Seattle traffic.
I now had a new old truck.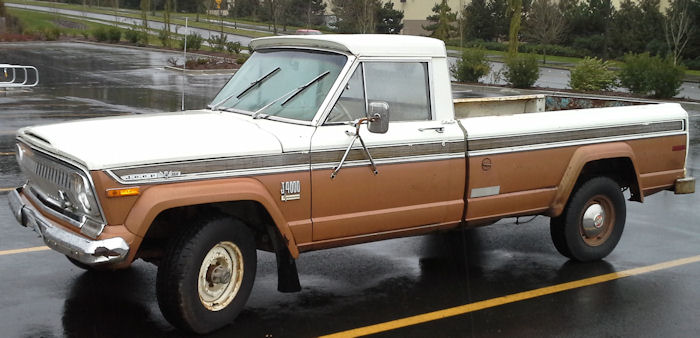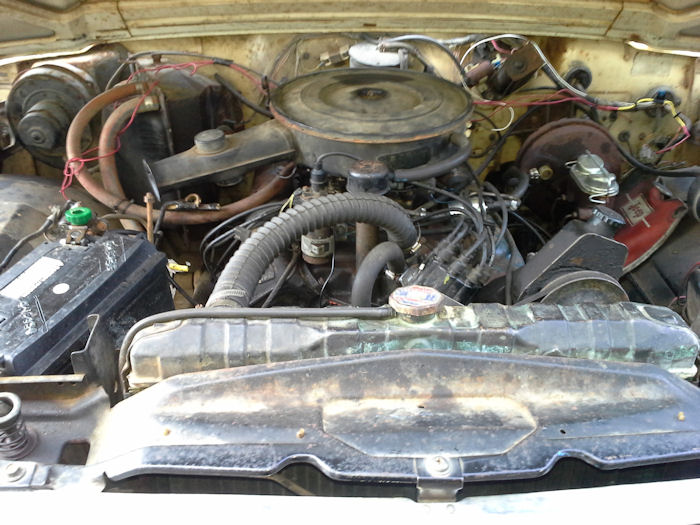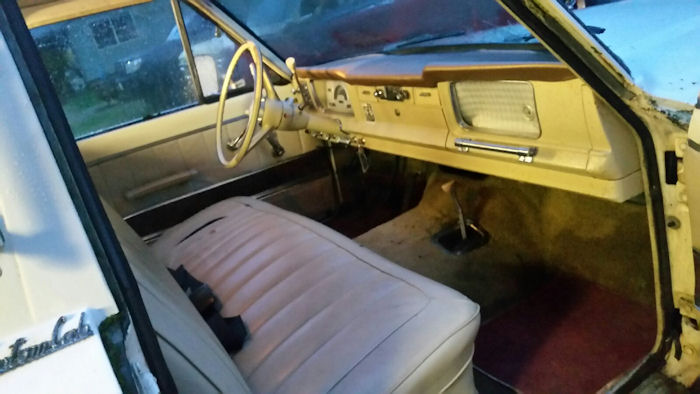 After getting it home and being happy with pretty much everything my wife thought it would be a good idea to have the seat recovered and while we were at it may as well do the door cards too. So I pulled the seat and door cards out and took them to a guy nearby to have the upholstery redone. While the seat was out I pulled the nasty old carpet out and cleaned up and painted the floorboards.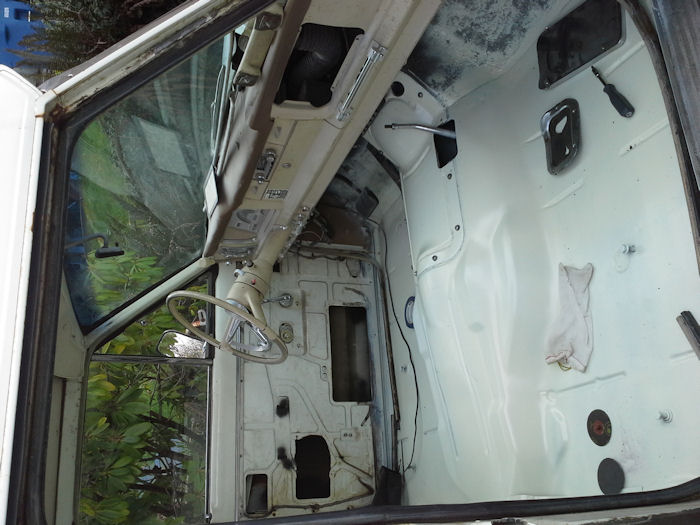 My plan is to eventually bedliner the floor so this was a temporary measure.

Two weeks later my seat was done.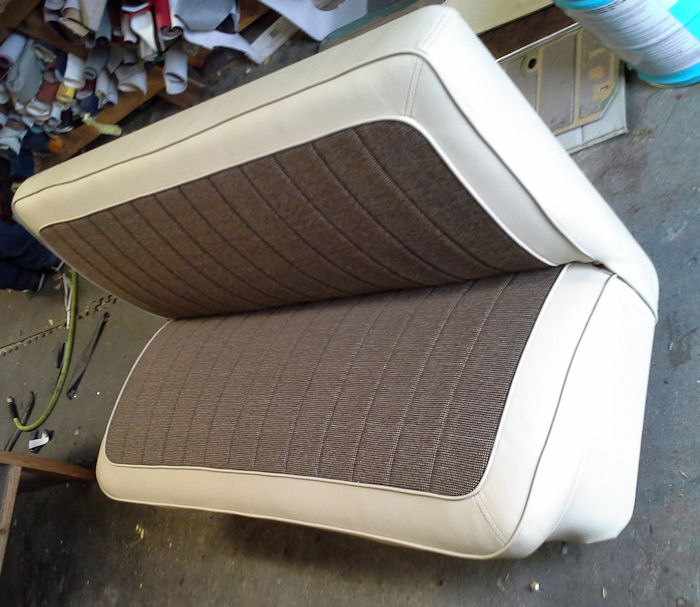 I put it back in and continued driving it to work and back.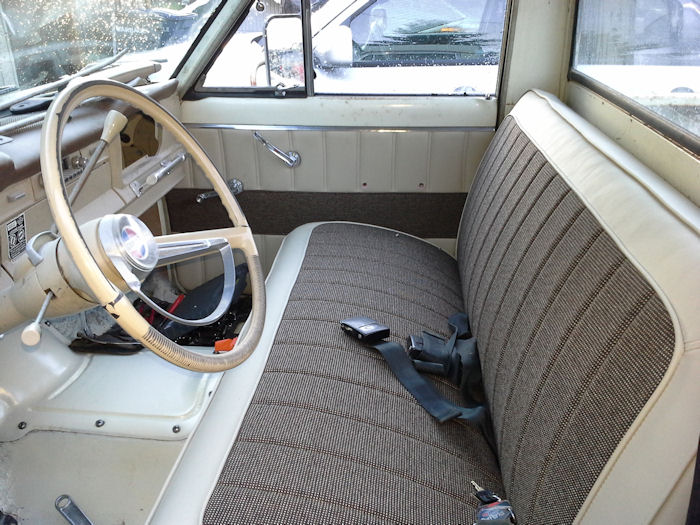 So far it had been no trouble at all but I decided to replace the points ignition with a more reliable electronic ignition. I started researching ignitions for the AMC and decided to go with an HEI because the Chevy system is just so reliable. My old '66 had points and was so low geared it at 60 MPH it was pretty much redlined and would eat a set of points every week. When I was at the salvage I grabbed an HEI out of an engine in the junk engine pile and never had to do that again. So my plan was to repeat that with this engine since HEI is readily available for the AMC. So I bought a new distributor, swapped the gear on it for the original gear and dropped it in, timed it and never had an issue.