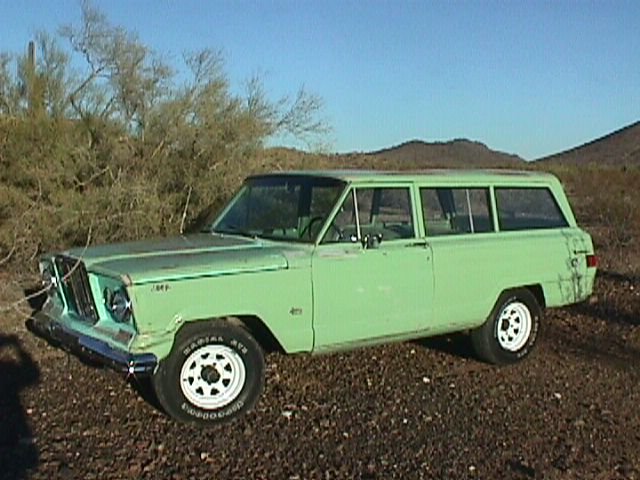 Its a Willys not a Kaiser. It has a stock 230c.i. Tornado motor with a 2 barrel carb, three speed std. transmission (Warner T-90), Spicer 20 Transfer case, 4:11 gears with Dana 27 in the front and Dana 44 in the back. This vehicle is all stock except for white spoke wheel.
I have owned this Jeep for 18 years and its a great vehicle. I drive it regularly. The mileage is about 17 mpg on the highway. The major repairs I have done are rebuild steering box, replace timing chain a couple of times, replace clutch, replace wheel cylinders, brake shoes, master cylinder, replace right front fender, inner and outer, hood, front assembly after a head on accident. After $180.00 worth of parts I was back on the road. It happened some years ago.
I bought the Jeep from my next door neighbor. This man named Truman Duncan was in his 70's when I bought it, he bought it from one of his buddy's dad, I was thinking just how old was his buddy's dad. Truman Duncan is long gone, but the old Jeep lives on.
It truly the best 4 wheel drive vehicle I have ever owned and the most fun. If you all have any questions about it or what ever feel free to email me. I will send along more pictures.
Rolly Shumaker
Glendale, Arizona