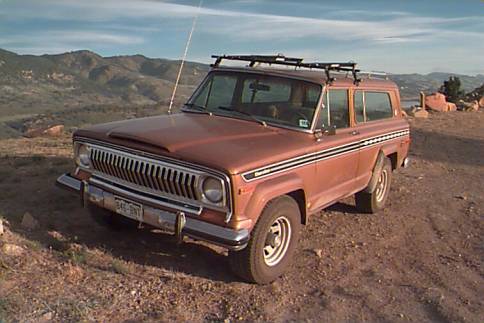 http://www.ifsja.org/readers/cheroke...s/campano2.jpg
http://www.ifsja.org/readers/cheroke...s/campano3.jpg
A 1978 Jeep Cherokee Chief, 2 Door, Wide Track Levi Edition. She is equipped with:
Factory Remanufactured AMC 360, 2 Barrel Engine, Bored over 40/1000th of an Inch (She got balls) (Thanks to Ted and Ray at Ft. Collins 4X4 for the excellent installation and service)
AMC QuadraTrac Full time 4WD with Automatic Transmission and Floor Shift Low Range.
A Hooker AreoChamber Super Single Exhaust System (Boy does she Purrr) (Thanks to Collins Muffler, Loveland, Co)
Factory Air.
Chief Package with Mojave Stripping and Chief Emblems.
Levi Denim Seats and Door Upholstery with 501 Buttons.
8" Factory Mag Wheels with 31" 10.5 Tires.
Pictures taken at Horsetooth Reservoir, Ft. Collins, CO, 5 Minutes from home. (My Back Yard)
Future Projects:
Replace the rear window motor with a Hand Crank Unit.
Recalibrate Speedometer to correct setting.
Replace three lights within instrument panel and reattach plastic instrument gauge cover.
Replace all weather stripping and window felt.
Repair rust on rear quaterpanels and wheel flares, and repaint. (Major Project)
Why the FSJ (Full Sized Jeep). I am the previous owner of a 1995 Toyota Tacoma, Regular Cab, 4 Cyl, 4X4. The Toyota was Mechanically Excellent. I have never had a major mechanical problem with Toyota's. Furthermore, that little 4 Cylinder Hauls Buttock. No Problem going 70 mph up Interstate 70 up to Loveland Pass. However, the ride stinks. Very swishy, top heavy & gets blown by the wind. Hence the nickname "Tipsy Toyota". I was in a rollover with my 1992 Toyota and did not think twice about getting another due to the reliability. But once I got the new one, I lived in fear of another rollover. Plus the Toyota has no style. Just another Tacoma. I looked into getting a Dodge Dakota. Sticker Shock took care of that. $22,000 plus. Just not worth it. Maybe I am just being trendy. But I started thinking Retro. I saw a few 1970's & 80's Cherokees and it took me back to my High School Days. These vehicles have got so much style. Then I saw Brown Sugar and it was love at first sight. The rest is History. The ultimate Sport Utility/Truck/4X4/Gear Hauling adventure vehicle.
Cheers,
6/15/2000
Ralph Campano,
Ft. Collins, CO