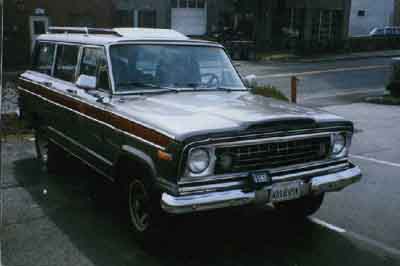 I bought this from a former Army captain while in the Air Force stationed at Hanscom AFB, MA. He bought this in Texas and then brought it up to MA. The body has about 123000 miles on it. There is 5000 miles on the rebuilt 360. Pretty much everything else is standard for a mid 70s wagoneer. It has the TH400 tranny and the quadratrac is being replaced at this moment.
The Paint is two tone, silver with a deep red stripe. Looks like the original colors where blue with the woodgrain stripe.
The interior was done by someone that does conversion vans, so I don't like it to much but I placed my 1984 Delta 88 front bench seat in it because the custom front seats where not that comfortable. Still looking for front seats that aren't electric to replace this with. It also has a third seat that is facing the rear.
Once I have some extra cash lying around I will put either 2-3 inch suspension lift or body lift. I will also get a 4 bbl carb and duel exhaust. It is also missing the tire carrier.
Paul Connell
Randolph, MA 02368
Email:
spazz1971@aol.com