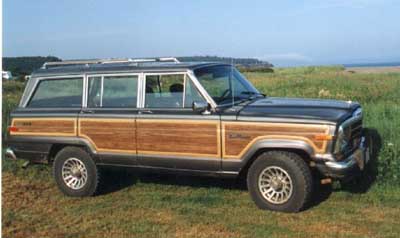 Okay here we go...
I bought her in January of 1999, She had sat loveless for over 5 months (most of which in a salty snow bank) with a "home needed" sign in the windshield. Ol'red (a 1976 f-100) finely died (very long story) and a new winter transportation unit was required.
She is a 1989 Grand Wagoneer with all the usual bells and whistles, however none of the overhead, stuff (?) works. The power door locks only work when it is warm and sunny and nobody is trying to get in. The cruise control often decides what speed is required regardless of what speed is set. Most times after setting the cc she will drop back to 80kmh (50mph+/-), although on occasion she will put the loud pedal in the carpet and spew carbon and oil filled smoke out the newly aquired tail pipe. The air conditioning compressor has been seized for some time and none of the radio, heater or auxiliary panel lights work. After a cold/snowy night the hood needs to be raised so access to the heater fan may be gained, a slight tapity tap from a 20 oz. Estwing framing hammer will most times get the fan spinning. Nicknames such as Rhino, Valdez, Bus and Eco-havac have all stuck in one way or another.
Required Maintance so far..
Jan 6 1999
- rebuild front hubs
- plugs and wires
- thermostat
- carb tune up
Jan 11 1999
- starter
- exhaust manifold and gasket drivers side
- rebuild homemade dip stick
April 5 1999
- repair wires to rear tail/brake/signal lights
- reshape passenger side disk brake shield
- new tail pipe (exhaust coming in cabin)
- driver side exhaust manifold and gasket
April 28 1999
- replace all 4 ball joints
- alignment
- carbon/metalic pads
- turn rotors
July 8 1999
- altenator
July 12 1999
- strip tailgate, relocate rear window into tracks, install missing drvrs side guide rail.
Note: previous owner spent great deal of money on all new parts (pump, bushings guides, stops etc.) repairing rear window, why for the missing guide rail, a $35.00 (Canada boys and girls) on a multi hour/$ job,,, I cannot explain.
July 16 1999
- repair front signal lights
July 22 1999
- 4 new 30 X 9.5 BFG T/A AT KO's (say that fastly five times) WICKED
Aug 9 1999
- carb tune up
- new radiator and lower hose
When I got her, her new purpose in life was to put up with extreamly cold and snowy Maritime Canadian Winters and rainy summer days, while my prized 5.0 slowly ages in a warm dry garage. I cannot help but love the tempermental ol'girl though and find myself driving her even on the nicest of summer evenings. The paint, (or lack there of) is/was some sort of grey, although with the amount of oxodization every where, and rust on the seems, she quite rresembles the colour and texture of a rhino. Her rings are shot and when pushed hard she blows blue smoke, and all the grass under where she parks at home is dead. The mechanic at the shop laughs when I tell him I hope to get three or four years out of her, but not as hard a laugh as the body shop owner whom I've known for quite some time.
Well, gotta go, she's all loaded up with gear and vittals, since we have no Moabs or Rubicon's, I am heading deep into the thick green forests this weekend, gonna take my girl friend ,some papers and some pops, and the whole wold will fade away. You should see where she can go.
Keep 'em shiny side up.