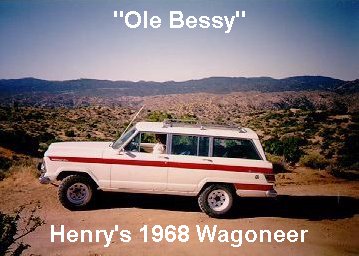 Henry Writes:
I originally found my '68 Wagoneer ("Ole' Bessy") in a backyard in Paso Robles, California. She hadn't been driven in 4 years. I had been looking for a 4WD to tinker with, and to use while exploring and camping in the California desert with my wife Jennifer and my brother-in-law Bob (who got me interested in 4-wheeling in the first place). I bought Ole' Bessy for $500. That was in January, 1993. Since then, I've bruised a few knuckles, cursed a few times, spent a few dollars, and moved to Connecticut. I've also come to appreciate the ruggedness, uniqueness, and overall ability of the full-size Wagoneers.
Ole' Bessy is largely stock, and has 172,000 miles on the odometer. The original factory-installed Buick 350 has been rebuilt, and recently received a 4-barrel manifold and Holley carburetor. I maintained the original look as much as possible with the air cleaner housing off of a '79 Wagoneer. The GM Turbo 400 transmission has also been rebuilt. She rides on 31x10.5/15 Dick Cepek Fun Country tires, mounted on white spoke wheels. She sits on Gabriel shocks, and has a Rancho steering stabilizer. The gears are stock 3.37s.
The interior is stock except for 3" 5-point Deist harnesses, fire extinguisher, new carpeting, and a Hurst shift boot for the transfer case shifter. The original Jeep AM radio is still there! Outside, two 100-watt KC lights are mounted behind the grille. The factory roof rack is intact.
Near-term projects include reupholstering the bench seats, installing a dual-battery system, painting the engine compartment, and fixing that rear window (again!).
Longer-term projects include lockers, installing new shocks, and fuel injection (I'm not worthy! I'm not worthy!).
Ole' Bessy is primarily used to get me to and from the park-and-ride. Other uses include hauling me, my mountain bike, and my camping gear to various trailheads in New England. Jennifer drives Ole' Bessy once in a while, and our baby daughter, Calindy, can't wait until she gets her first Jeep (ever notice that they make a Barbie Wrangler but not a Barbie Wagoneer?). I also plan to go on a couple of trail runs (finally!) with the Eastern 4 Wheelers here in Connecticut. By the way, Ole' Bessy is kept in good condition through contributions from my other hobby: work. I'm a risk management consultant with a Big Six accounting firm.
Henry Padilla
Connecticut