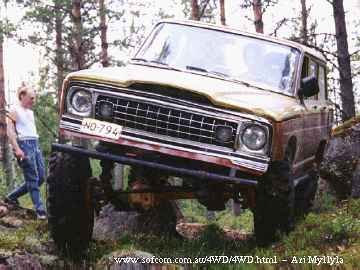 Driver/Co-driver: Ari Myllylä/Vesa Heikkilä
Club: Finnish Jeep Drivers Club
Car: Jeep Camouflage
Engine : AMC V8 360 CID
Carburettor: 4 -throat AMC, 40 -litres FIA safety tank is situated upon platform
Gearbox: 3 -speed TH400, first gear ratio 2.75 (8 -pinion), Quadra-Trac
Axles: Front: Dana44/Dana 1350/DriveLine, ARB -locker, ratio 4.76
Rear:: Dana44/Dana 1350, ARB -locker, ratio 4.76
Suspension: Trailmaster, front axle U-bolts changed upside down
Steering: Modified pump with double belt, sector shaft longer than standard (not dropped)
Tyres: Front: Super Swamper 38"-12.5"-15"
Rear: Super Swamper SX 38.5"-14.5"-15"
Wheels: Front: 10"x15" with tyrelocks and wheel centre is turned opposite
Rear: 12"x15" with tyrelocks
Chassis: Jeep Wagoneer 4D
Sponsors: Merita Bank Ltd.(
http://www.merita.fi/indexe.htm
)
Mecsalo Oy
PH-Tyres Oy
Wagoneers/Cherokees were very popular in Finnish Army . You can find more pictures for last year car for the following URL
http://www.sofcom.com.au/4WD/Places/...d/Finland.html
Season 97 tehcnical details are as above and pictures for the Jeep pick-up will be released 4WD Internet magazine after the painting job is done. I don't use Jeep on the road that for I have V8 Range Rover and Land-Rover Series II SWB. Both has poor economy, but so what...since you have always get petrol from the station (petrol price is about $1,20/litre).
More Pictures:
http://www.ifsja.org/readers/wagonee...res/jeep1a.jpg
http://www.ifsja.org/readers/wagonee...res/jeep2a.jpg
http://www.ifsja.org/readers/wagonee...ures/jeep3.jpg
http://www.ifsja.org/readers/wagonee...res/jeep4a.jpg
http://www.ifsja.org/readers/wagonee...ures/jeep5.jpg