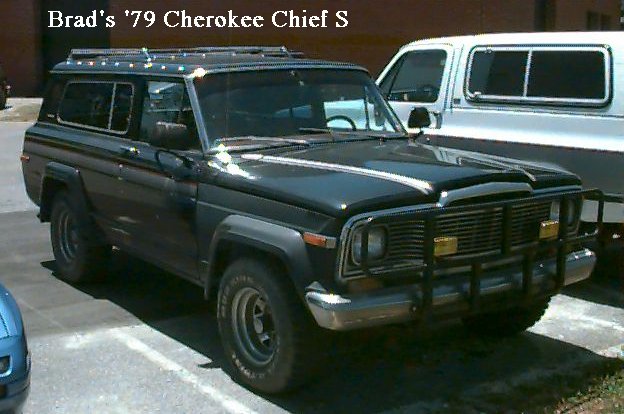 Brad Smith
1979 Cherokee Chief S, Wide-Track
AMC 360, 4 bbl (Carter 600)
TH 400, Quadra-Track
Air, Tilt, Cruise
AM/FM/Cassette, Clock
'82 Cast Aluminum Wheels
BFG A/T 31X10.5 tires
I own this '79 Cherokee wide track. When I bought it it had the stock 360, Holley 2bbl, TH 400, Quadra-track and got a miserable 7 or 8 mpg. The previous owner decided a Holly 500 cfm 2 bbl (with a worn throttle shaft) was the way to go. He had also ripped out all of the emission control plumbing and the thing wouldn't idle below 800 or 850 rpm. Besides that and an eratic oil pressure reading, it was otherwise prretty tight. A $ 10.00 oil pump kit solved my pressure problem and I put on a sending unit for good measure. I decided to put things back to, or close to stock (ok, so 1978 stock).
While home in Oregon (on leave from the Air Force) I happened upon an AMC 4 bbl intake at a recycle yard. It was sitting lonely and dejected inside a VW van full of chevy stock and aluminum intakes (Duh, it was the only blue one in there). Either the guy didn't care or he didn't know the difference, cause I got it for $ 30 bucks.....EGR valve and plumbing included!
Back in South Carolina, I bought a Carter 600 cfm (1/2 the quote for a "stock" Motocraft) with elec. choke. I stripped an '82 Wagoneer of its AIR pump and exhaust air tubes, bought some extra vacuum tubing and got to work.
Several hours of fun later I fired up my '79 4bbl Chief. Whoever set the factory fast idle speed is an idiot. Down to calming 875-900 fast idle and let it get warm. A few minutes later I dropped it to idle, set the idle speed, performed the lean-drop idle mixture procedure, rechecked the idle and took it for a spin. The 360 is a little worn for spinning all four but I believe she wanted to....whatta difference! Torque.....get out! I pulled my Father-in-law's Winnebego out of the mud with VERY little effort.
Long term update......Pesky spark knock...GONE, Mileage...12-14 Highway, Dependable 10 in town, Loss of power due to emission controls...Don't notice at all due to performance upgrade.
Brad Smith