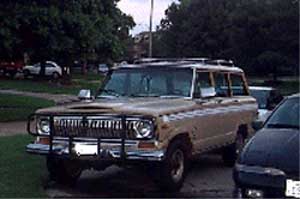 The SHORT version starts here, LONG version follows for those with patience or too much time on their hands!
SHORT version... '78 Cherokee 4-door 360 2-barrel, TH-400 transmission, Quadra-Trac full-time transfer case, Tan Denim Levi's interior, factory brush guard from '79 Cherokee Chief. If it looks like it sits funny in the pictures that's because it's sitting on my driveway, which has more interesting topography than the Rocky Mountains.
I have installed, replaced, or performed all the following things myself, except the tires (Thanks, NTW!) Oil filter, fuel filter, air filter, spark plugs, spark plug wires, distributor cap, rotor, battery, fuel pump, transmission fluid and filter, differential fluid, rear wheel bearings and seals, rear wheel cylinders, front wheel bearings, front calipers and pads, master cylinder, replaced transmission linkage with parts from '77 Cherokee (still not quite right, but it works!), rear passenger leaf spring, most vaccuum hoses, custom bent transmission cooler line, rear passenger taillight housing and lense, side marker light bulbs, fan clutch, 4 tires.
Changed all fluids and resealed transmission, transfer case, and both differentials, flushed radiator, dissassembled and cleaned oil pump (still needs to be replaced), remounted transmission cooler, cleaned headlight connections and mounting (they work now!), tightened motor mounts, wire brushed loose interior rust, installed partial carpet from a house (it matches!), removed, cleaned, and reinstalled roof rack (no more rattles!), installed factory brush guard from '77 Chief, and if you're still interested perhaps you should read the long version.
I still have the headliner, back seat, and rear door hardware out of it since I use it to haul stuff for my house and other projects ('74 Corvette).
It runs and drives pretty well, but needs new shocks, a carburetor rebuild or replacement and new valve seals (plus some items in the list above). It normally gets the standard 10 or so MPG.
Future plans are to quit spending so much time and money on it since no matter how much I love it, it's a rust bucket. I will continue to maintain it and keep the mechanicals in good shape, but no more cosmetic improvements or unnecessary upgrades (ie headers, intake) unless I win the lottery, which I don't even play.
If you would like advice on any of the repairs I have described above, feel free to contact me at
gunnj@camerondiv.com
, or join the FSJ List and learn everything you ever wanted to know about FSJs! LONG version.....
I was given this '78 Cherokee 4-door in October of 1996 by a friend of a friend. It had been sitting in a field under a tree for 2 or 3 years, but was pretty complete. I had to have towed to my house, and the neighbors all got a bit nervous when they saw the ugly beast sitting in my driveway.
I changed the spark plugs, squirted a little oil in the cylinders, changed the oil, oil filter, fuel filter, air filter, bought a new battery, flushed and refilled the cooling system, and it turned over and fired, but wasn't getting fuel. The old mechanical pump was bypassed and the electric pump a previous owner had installed wasn't operating, so $12 at pep boys for a new pump and I had a running machine.
Unfortunately, that was just the beginning. After changing the transmission fluid and filter it was moving under it's own power, but the NOISES it made! I installed new u-joints on the rear driveshaft (one fell apart in my hand), but the noise persisted. After asking around (Thanks to the FSJ Mailing List!) it was determined that I had a bad rear wheel bearing, and upon removing the axle shafts to get the new bearings pressed on, I discovered that one of the shafts was bad as well. After a few bucks and some learning on my part, it was all back together, running and driving and leaking all over the place. But, it was good enough to pass Texas State vehicle inspection, so at least it was legal to drive.
The brakes needed attention next. I had already put new wheel cylinders in the rear while I had the axle shafts out, so I started looking at the front. I installed new wheel bearings, calipers, and pads. This helped ENORMOUSLY, but my master cylinder couldn't handle all the excitement so I had to replace it shortly after I did the front end. This was such an improvement that I couldn't believe it had passed inspection before! I felt so good about it that I went out and got a set of new used tires from NTW. The previous buyer had them less than 2 weeks, they still had the blue dye and the nubs on them, and I got them for like $15 apiece. The mounting and balancing cost more than the tires. I love a bargain!
It was still idling rough, so I replaced the distributor cap, rotor, and spark plugs wires. This didn't help much, and I noticed that the spark was "hunting" for the correct timing. Again, thanks to the FSJ List and John Meister for this one, I checked the ground and connections on the ignition box, which resulted in a rock-steady pulse from the timing light. The idle is better, but it's no Cadillac. I think the old plugs are fouled from when the timing was off, but I guess I won't know until I get my hands dirty.
Some of the other fun jobs I have performed include resealing the transmission (did you know that you can't get the shaft seal from most transmission shops or the dealer!), resealing the transfer case (got lucky on this one, it was just the cover where the low range would have gone), replacing the transmission cooler lines (ever custom bend stainless steel tubing?), transmission linkage replacement (that's a story in itself), rear passenger leaf spring (another good one), and other little jobs that add up to a BUNCH of hours.
I need to replace the oil pump since it seems to build pressure too slowly at startup, and install some new spark plugs to see if that helps the idle quality. It really needs new valve seals, but I can't justify the time or money right now since it runs and drives fine. It may need a new pinion bearing or seal, and the shocks are shot.
The original plan was to restore the Cherokee to a good level mechanically and cosmetically, and use it for camping with my wife and for hauling stuff for the house, etc. It turned out to be SO rusty that I decided it wasn't practical to put that much money into it. I was trying to buy a rust-free body from a guy locally, but he couldn't come up with the title and other paperwork so it kind of fell through. I also got a great deal on a '74 Corvette, and since I'm hot-rodder at heart the Jeep has been placed on the back burner for now.