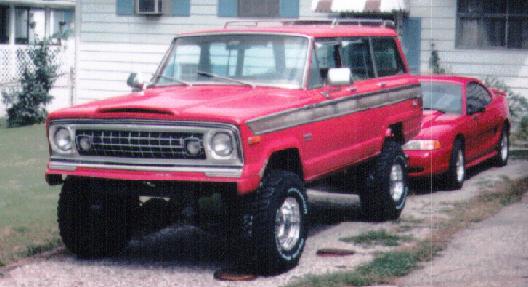 More Pictures:
http://www.ifsja.org/readers/wagonee...s/vincent2.jpg
http://www.ifsja.org/readers/wagonee...s/vincent3.jpg
Modifications Include:
-Edelbrock Performer Cam
-Edelbrock Performer 600 CFM 4 bbl. Carb.
-Edelbrock Performer Aluminum Intake
-Hedman Headers
-2.25" Aluminized Dual Exhaust With Baby Turbo Mufflers
-Jacobs Ignition Chrome Coil
-Factory 3.07 Gears Remain In The Dana 44s
-3" Body & 4" Suspension Lift
-33x12.50x15 BF Goodrich Mud Terrains
-15x10 American Eagle Wheels 6-5.5" Bolt Pattern
-Powermaster 140 Amp One-Wire Alternator (Dead On Arrival)
-I have received a replacement from Powermaster but I'm afraid to hook it up
This is my Full size Jeep. I found this Jeep on eBay and got it for $700. Only kicker is that my brother and I had to go get it in Clarendon, TX to haul it all the way back to KY because at about 109,000 miles the GM Turbo 400 gave up forward gears. The Jeep had been sitting for 6 months according to the owner. The interior is in great shape but not perfect. After a good battery and some fresh fuel, check of the oil, it fired up after a few cranks and after the smoke cleared, we pushed it out onto the street and I backed my new toy on the trailer. I felt like a kid with a new toy and couldn't wait to get back to KY.
I gave it a good tune-up and got it running pretty fair but I knew it wasn't gonna last long as all the lifters were ticking like a time bomb. Then I had the tranny rebuilt and drove it for about a month before the exhaust valve in the #2 cylinder gave up the fight. As soon as I took the passenger side head off I could see daylight through the valve. Every lobe on the cam was mushroomed. So during the winter while it was snowing I rebuilt the top end and sent the heads to a machine shop prepping them for the Edelbrock Performer cam I got with the Edelbrock 401 kit including aluminum intake and 600 CFM carb.
I installed an overhead radio console with an AM/FM Cassette and 12 disc CD changer. I plan on installing a CB radio in the dash where the factory radio went as it was too small for a normal radio.
It was sagging so low in the rear and the receiver hitch hit the ground when I hooked up the car trailer with my demolition derby car on it. So on goes the lift and the replacement of the rear springs. Now it's sitting high in the saddle and the car trailer doesn't make it squat much at all. I think I just made it a 3/4 ton Wagoneer. I have a new set of 15x10 wheels on the way to my door right now. As soon as they get here I'm going to put 33s on it. I want to go with 35s but I've been told they'll rub the quarters during articulation.
Jim Vincent
Louisville, KY
Stangerize@aol.com
http://members.aol.com/stangerize/index2/index.html