Made some good progress. Got the brake booster on, battery tray, etc. All the front sheet metal is on permanently and tight. I had to complete some errands to keep moving on it. I need blasting media and will get it soon. And it is hard to find quality nuts and bolts around here. Stores sell washers by each and not a box. 23 cents each is ridiculous. I always buy boxes when I can. I currently have 24 special length grade 8 flange head bolts on order from Fastenal for the exhaust manifolds, trans adapter and transmission. I just can't find them around here for a reasonable price.
So I picked up some galvanized chicken wire for the floorpan insulation. I duplicated the exact same thing.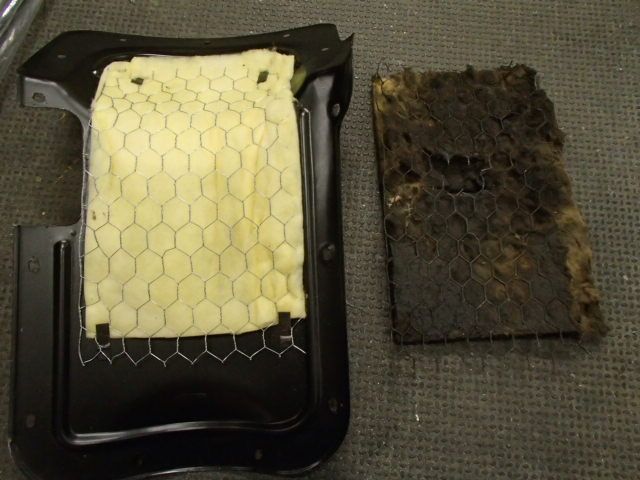 New cage nuts even.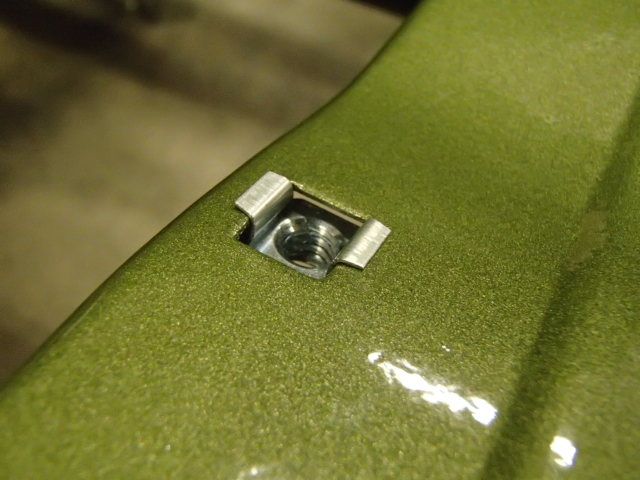 I got the floorpan on only temporarily. When it goes on the last time I will put the putty like sealant down.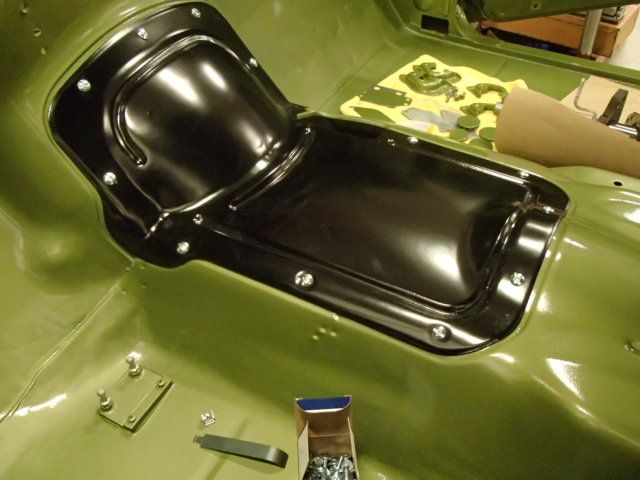 The underside almost ready for a TH400.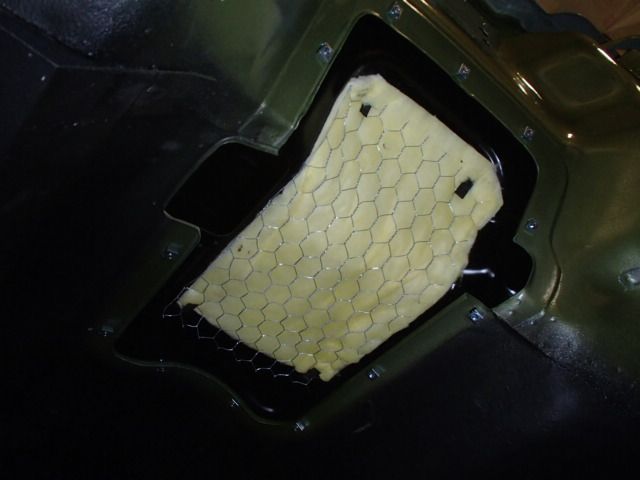 So I can't land the motor till the shock mounts are done and installed. I found them and boy were they rusted on the backside.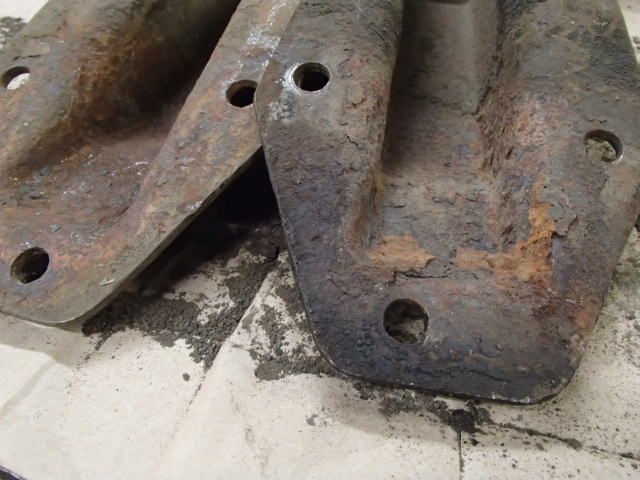 That is because there is no drain hole. Dirt and water accumulates behind the shock mount and rots the frame and mount. This way you can hose it out from both sides. I put drain holes in.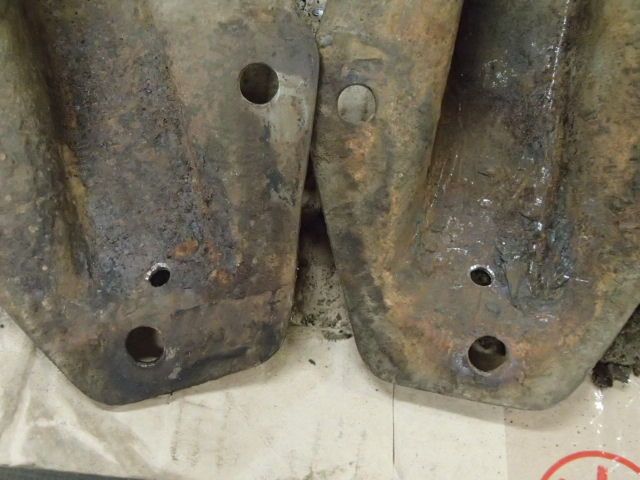 I intended to soak them in muratic acid, but I lost a fight with a peanut grinder today and had to go in. I will put them in acid tomorrow.
Sadies frame crossmember had hit something hard. It was bent pretty badly. Rather than try to straighten it I took the one off of the black 71 J truck.
I now NEED A CROSS MEMBER IF ANYBODY HAS ONE....
The 71 cross member was cracked and it looks like it was about to drop a transmission had it not been fixed.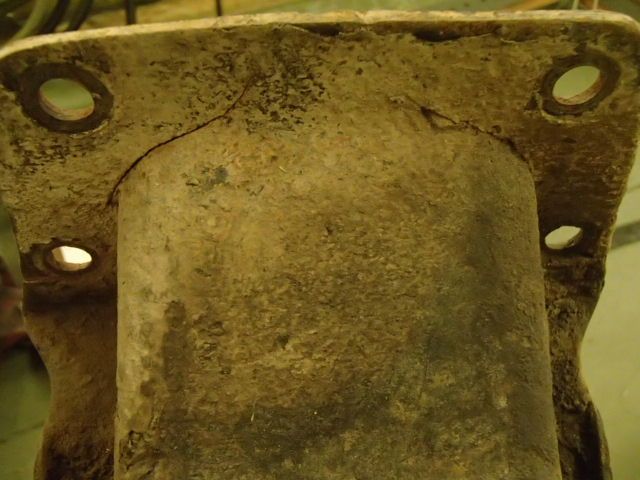 Cleaned up it was pretty bad. Lots of fractures. I welded it up with 7018 on both sides.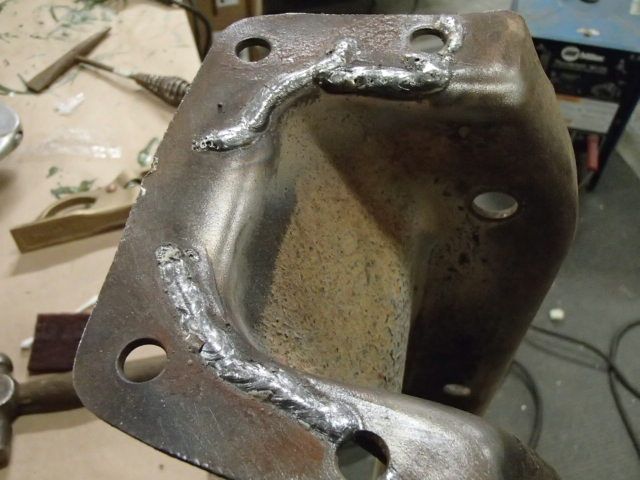 Ground it back and did a final sand with the air sander and got it looking pretty good.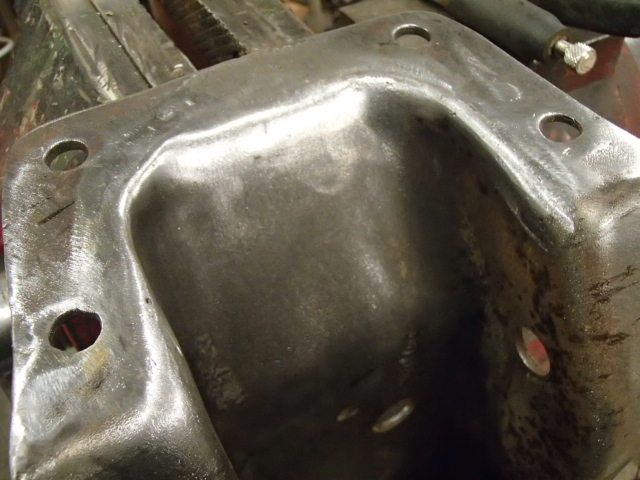 I cleaned up the cross member with a peanut grinder and a wire wheel. I have the bead blasting cabinet loaded with a lot of parts to prep for black paint. I was literally done with the cross member and the darn grinder caught my sleeve or my glove not sure which and about tore my thumb off. It bound up and groaned till I could unplug it. My camera was sitting right there so I took a picture. :D
One for the medical file. I have some good ones in there.
Ouch. I should have had my long welding gloves on.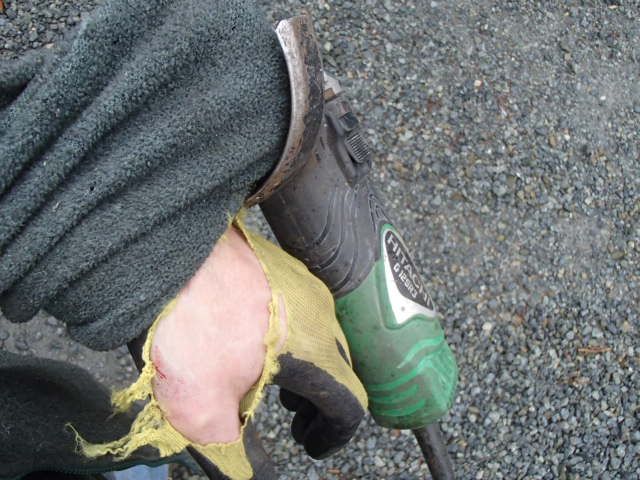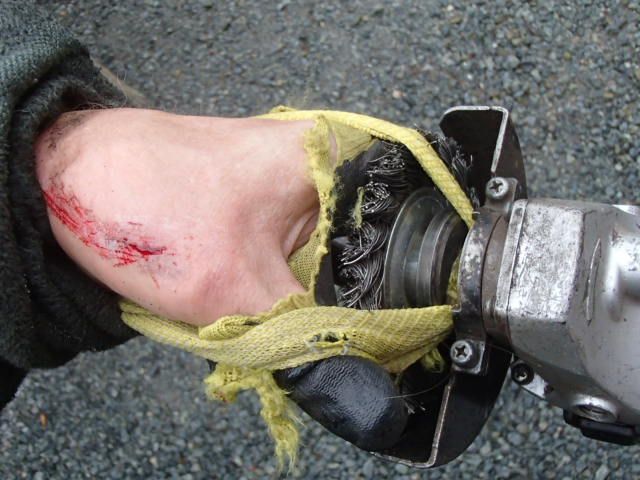 4.5 inch grinders will hurt you if you are not careful. I was hurrying and should have had the right gloves on. Glad it was not a cutting wheel. One of my friends in Oregon cut a tendon doing that. I should have known better.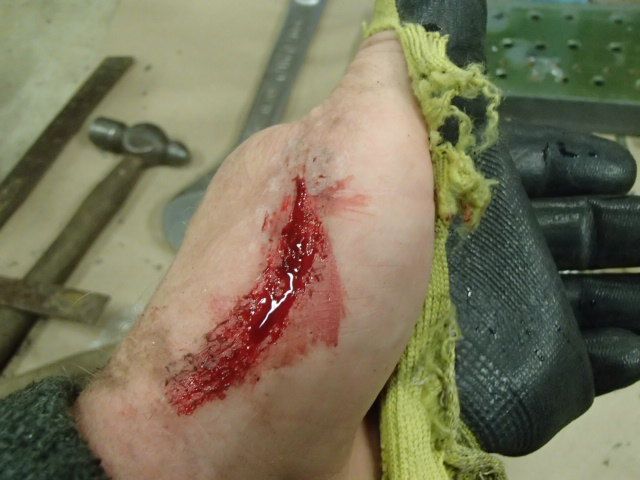 So needless to say I did not get to do any blasting today. I will go after it again soon. Tomorrow Makerpoint studios is having an open house at 1PM. They almost closed down. The members saved it. I am going to go ahead and sign up and become a member. I will have more time to create soon. And I need to take a fusion 360 class so I can design stuff. I would like to cast things and them plate them.
More soon.