-
Build Threads
(
http://www.ifsja.org/forums/vb/forumdisplay.php?f=96
)
| | |
| --- | --- |
| Kaiserjeeps | 08-10-2010 10:38 AM |
---
I'll use photobucket. My camera has changed and my files are to big for uploading directly.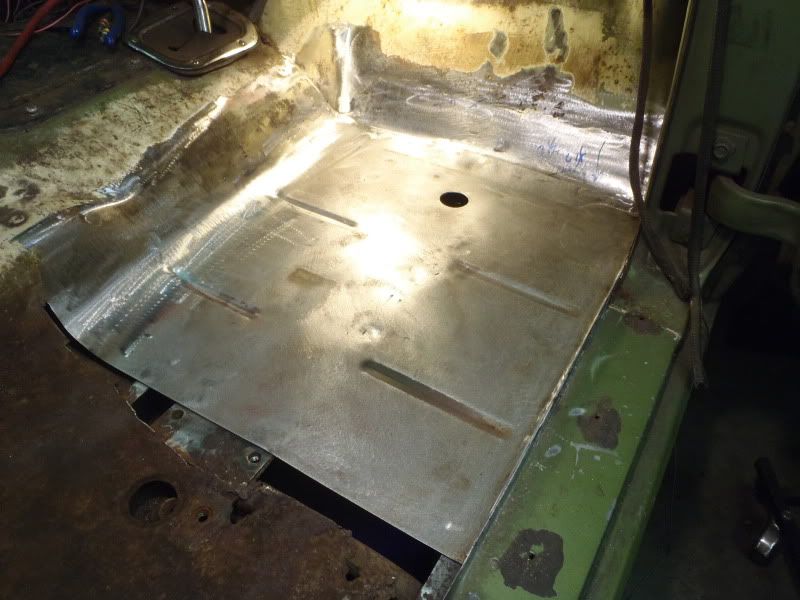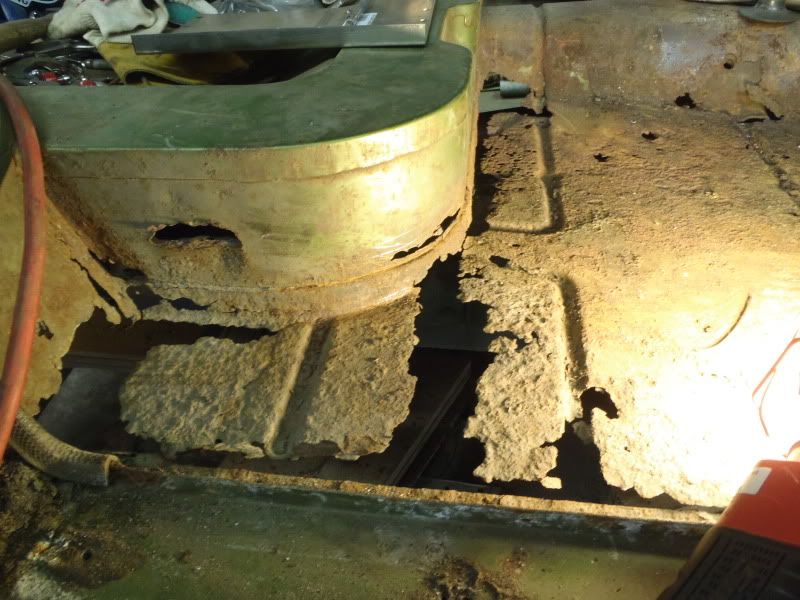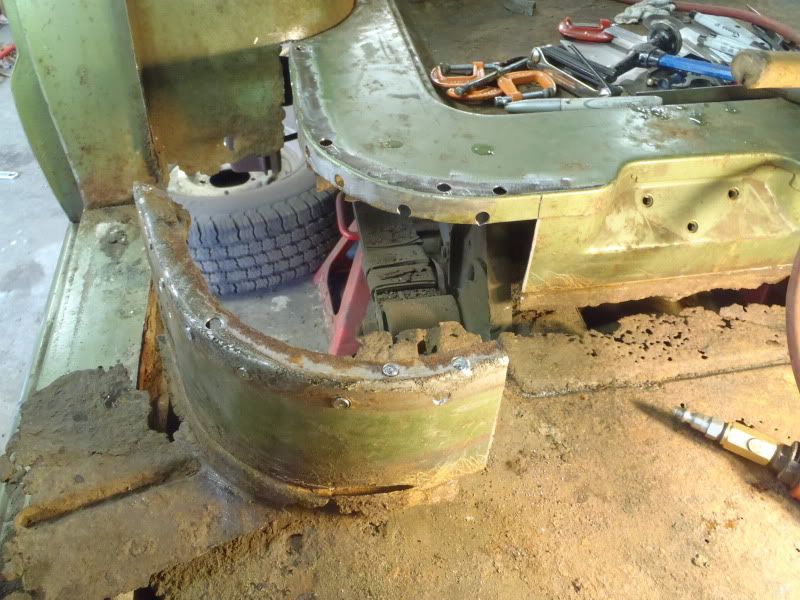 All this will be removed now. I will capture the whole surround from the other cab. It is in great shape while the rest of the cab is toast. It would have taken some panel fabbing.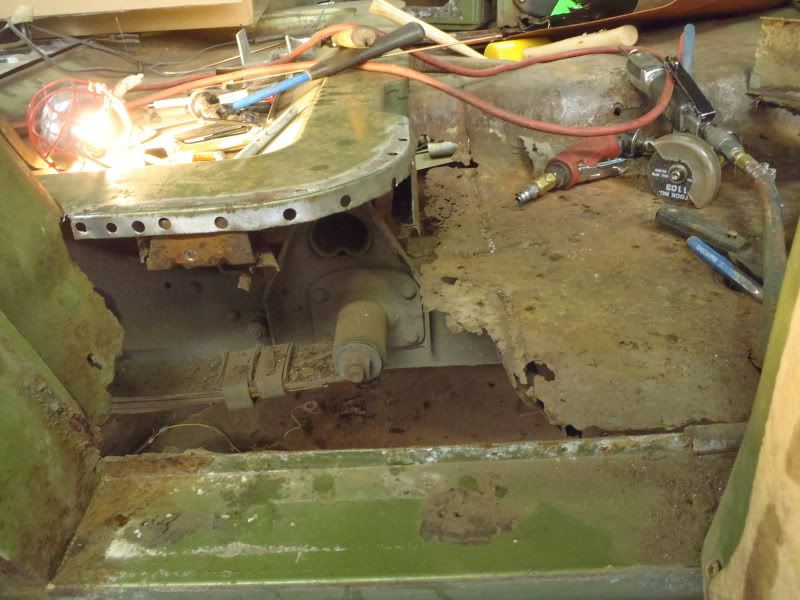 | | |
| --- | --- |
| hkjensli | 08-10-2010 02:37 PM |
---
Extremely impressive work!
| | |
| --- | --- |
| JTRUCKJMC | 09-13-2010 10:00 PM |
---
Updates pleaseeee.:)
| | |
| --- | --- |
| Kaiserjeeps | 09-15-2010 10:21 PM |
---
Hey good timing. I have been busy securing land to build on in the woods here. Talk about a time hog. The Land use and Fire folks have a lot of hoops to jump through.
I ended up finding a1969 1414x model donor in southern Oregon (thanks Rob) that had excellent body parts. It took several weeks to get everybody organized to go pick it up. My friend John who generously donated his tow rig for my trailer haul has done these all day recoveries before. It was a very long day and I owe him a thank you.
I also scored the interior for my X model I will build next. That included the factory AC for mine. Sweet!
Most of the rear of this donor rig was gone. Same with the quarters. But the carpeted passenger area was close to perfect. It was exactly what I needed.
Rob wanted the axles so we landed it on the trailer and took the axles from under it.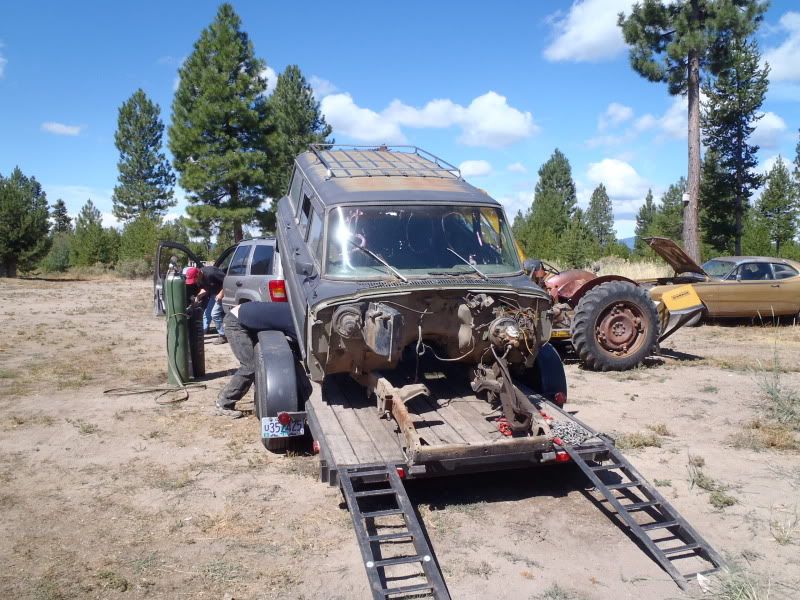 The floors were incredible.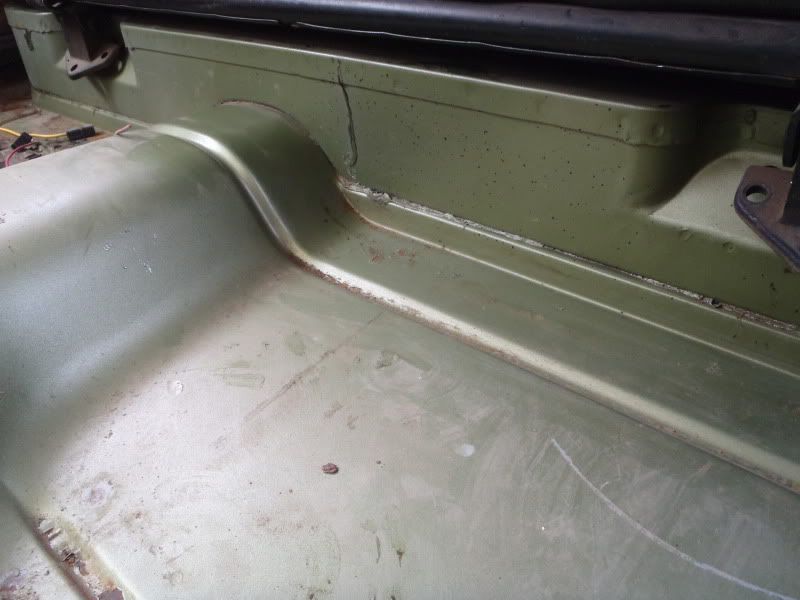 Meanwhile back at home the rig waited. I found the drivers side hat channel rotten and collapsed. The 69 had near perfect metal with only surface rust. Time to graft.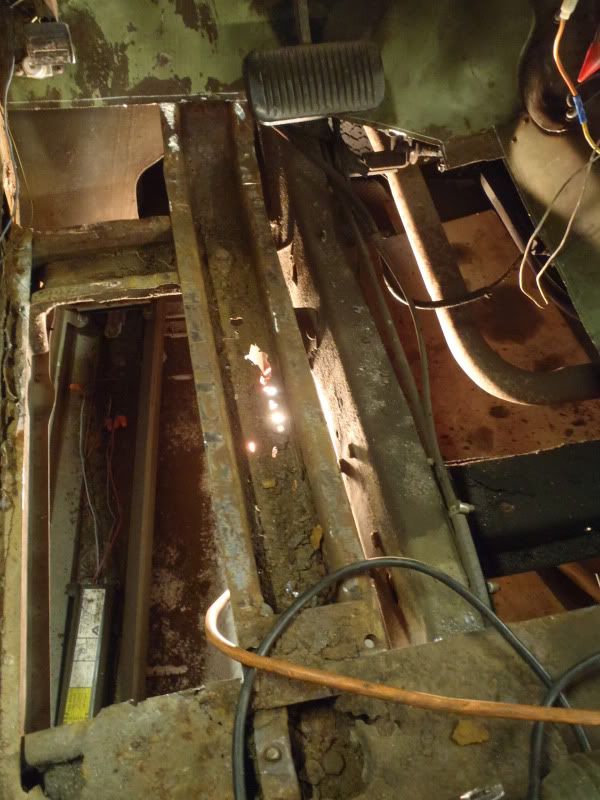 Not much holding this rig down when it came here.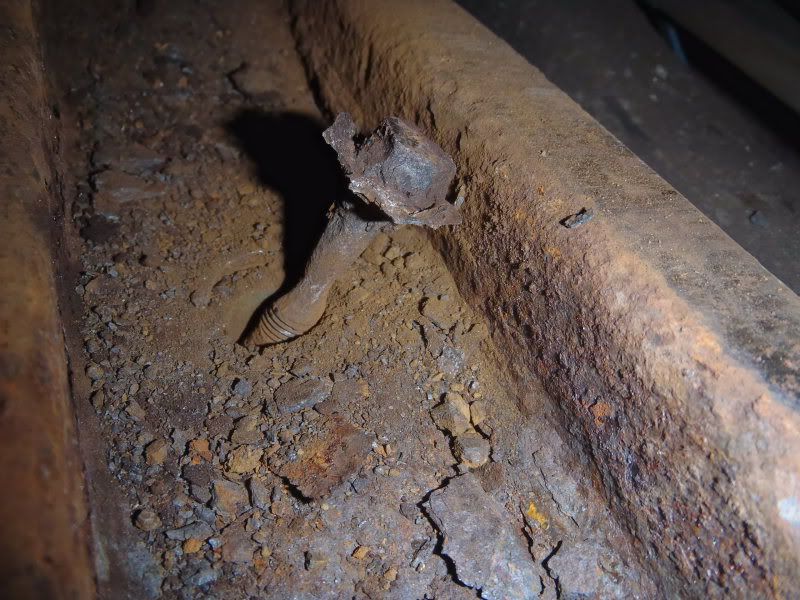 Cut lines.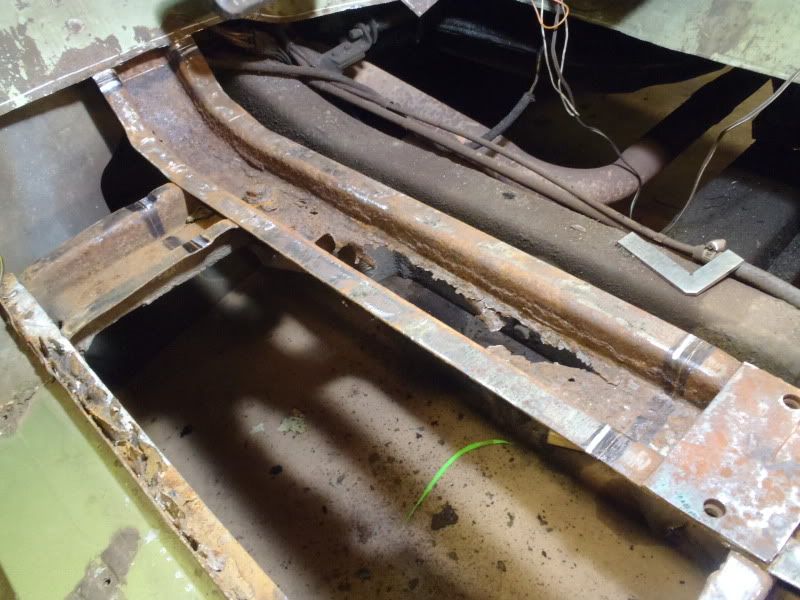 Cut and paste. The toe board of the firewall on the drivers side. I am glad to have found this extra rig even though I enjoy making panels. There was a ton to do. This is going to make it a lot faster.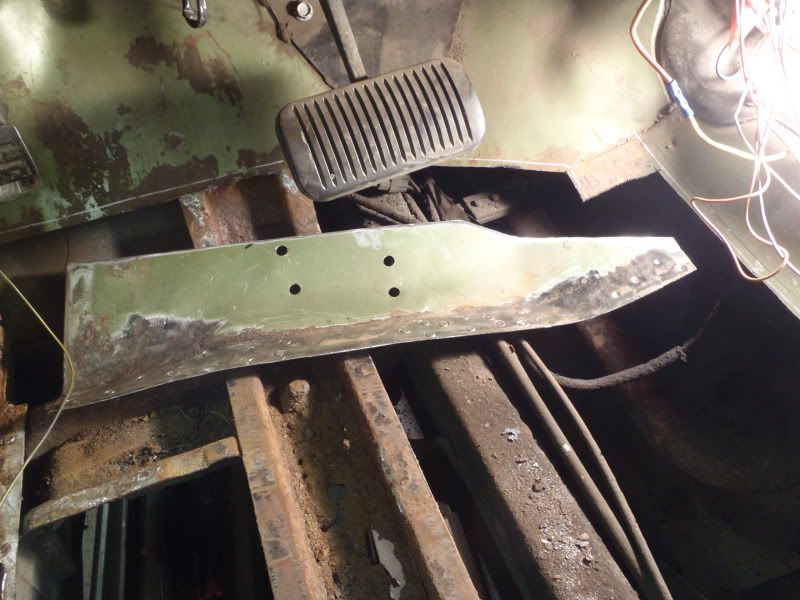 I will fill the front pan area with a BJ's patch panel. The entire rest of the floor will be replaced as a unit. Including the rear seat surround.
This is starting to become comical.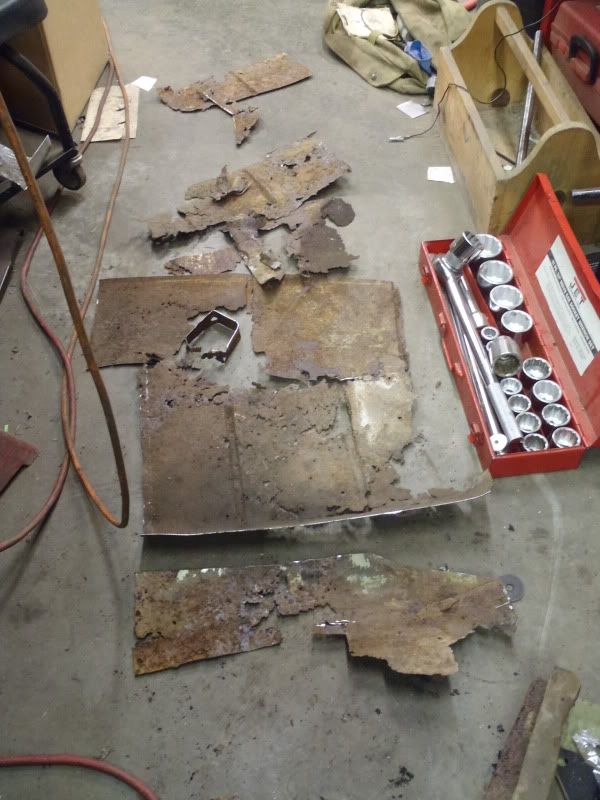 | | |
| --- | --- |
| Kaiserjeeps | 09-15-2010 10:28 PM |
---
The donor hat channel. I need to strip the sheet metal off of it and fit it in. Notice the hole for the console shifter in the trans hump. The X model and D model had em. The C model did not.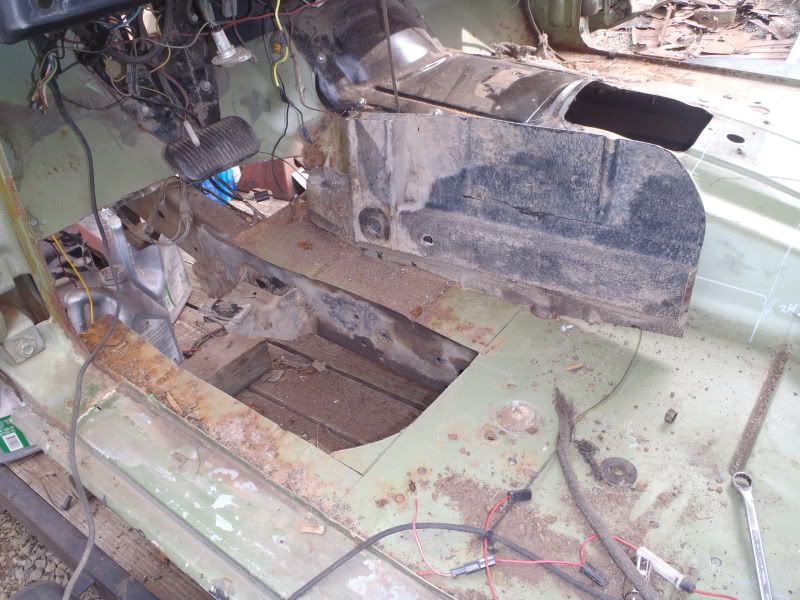 With the rest of the floor removed this is what is left.:D
I still need to clean all edges back to parent metal. Then lay in the panel and see what happens.
It has all new body biscuits and I upgraded the body bolts from 3/8 to 7/16.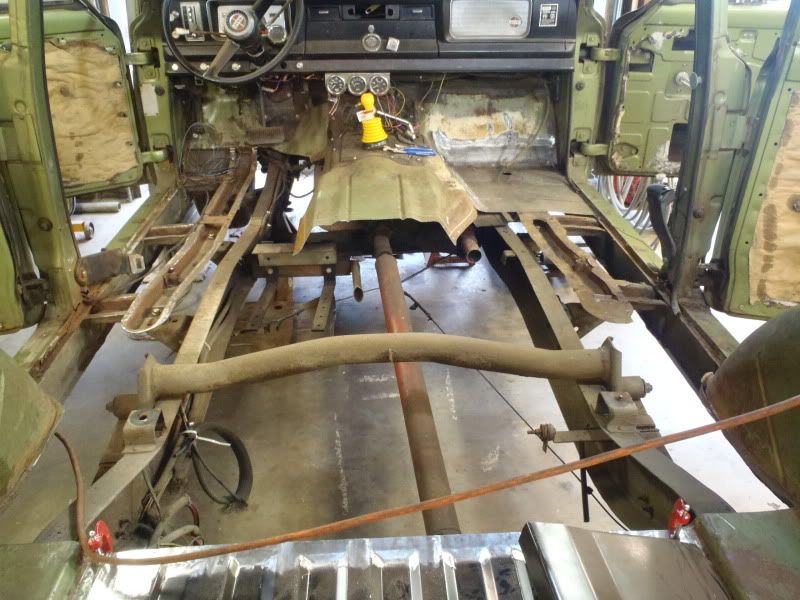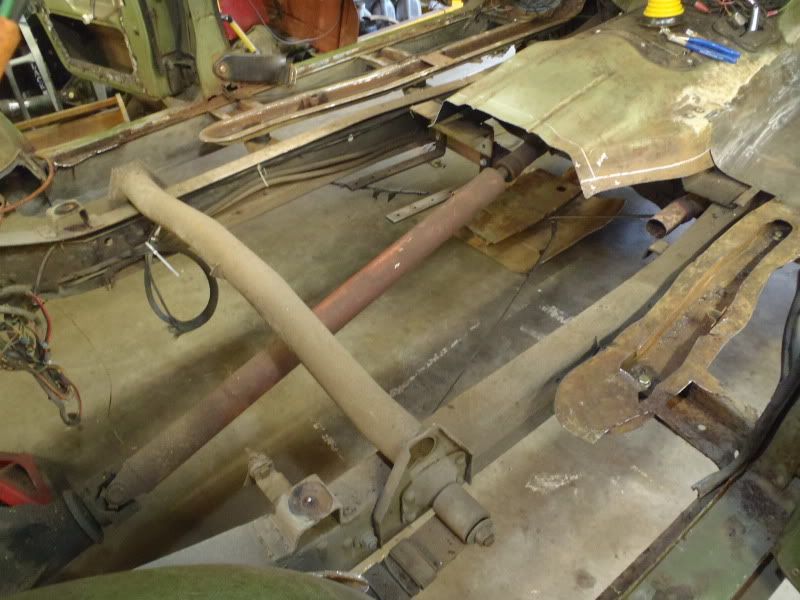 I have seen easier ways to clean and paint the frame.:D
I will have more soon. Including making the 69 donor rig a serious low rider.
| | |
| --- | --- |
| dpgoat | 09-16-2010 05:28 AM |
---
Pics are gone?
| | |
| --- | --- |
| jeepjseries | 09-16-2010 05:58 AM |
---
Great build please keep it coming!
| | |
| --- | --- |
| tgreese | 09-16-2010 07:17 AM |
---
Quote:
---
Originally Posted by Kaiserjeeps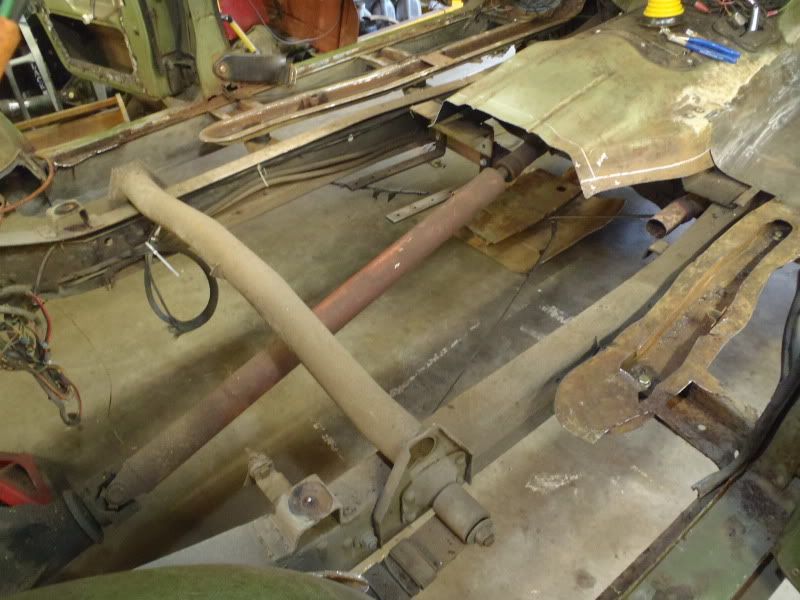 I have seen easier ways to clean and paint the frame.:D
---
Heh. Makes you wonder if it might have been easier (even at this point) to use the donor body in toto.
Good work though - inspiring.
| | |
| --- | --- |
| Kaiserjeeps | 09-16-2010 10:10 AM |
---
I absolutely agree on the body work. The 69 donor had good components. Except all the back stuff I have replaced already. And the rockers. No rust at all, but at the end of this rigs life someone wanted to wheel it with great big tires and bashed the end of both rockers in with a big sledge hammer to make room for the tires. It looks to be a wash on which body needs more work. This is also really good experience for me.
The owner really wanted the original body. Sentimental value is huge here.
I need to knock out he bulk of this work soon. I need to be in several places at once soon. Building a new shop, selling my place, keeping active on the repair, new girlfriend. Ya hoo.

Thanks for the replies. I'll have more to show soon.
| | |
| --- | --- |
| 70FSJ | 09-17-2010 09:38 PM |
---
Wonderful Work! Great job! If you need some original 1970 hub caps let me know - I will send you a picture of what I have. They're your's free - since your doing all this hard work on a 1970. I have gone to some white spoke wagon wheels and won't be going back to original.

Sincerely,
Steven
| | |
| --- | --- |
| Kaiserjeeps | 09-22-2010 09:23 PM |
---
That sounds great Steven on those hub caps. His were dented and needing a lot of work. I will use the best of all of them. Thank you. I will pass on the donation to the owner and give you credit for it, That is generous. I will also send a PM with my home email.
I had to cut the panel in half to remove it. Also to install it because of the bracing on the back gate and window opening. There is a ton of clean up to do. Only a few small repair to the new donor parts. I could definately see that this wag was T-boned at one time. The floor was buckled and popped a few times when drilling spot welds. The edge up at the rocker has lost it's 90 degree shape from the repair done years ago. It had a ton of broken spot welds and brazing done. I will spend some time on it.
It was very heavy.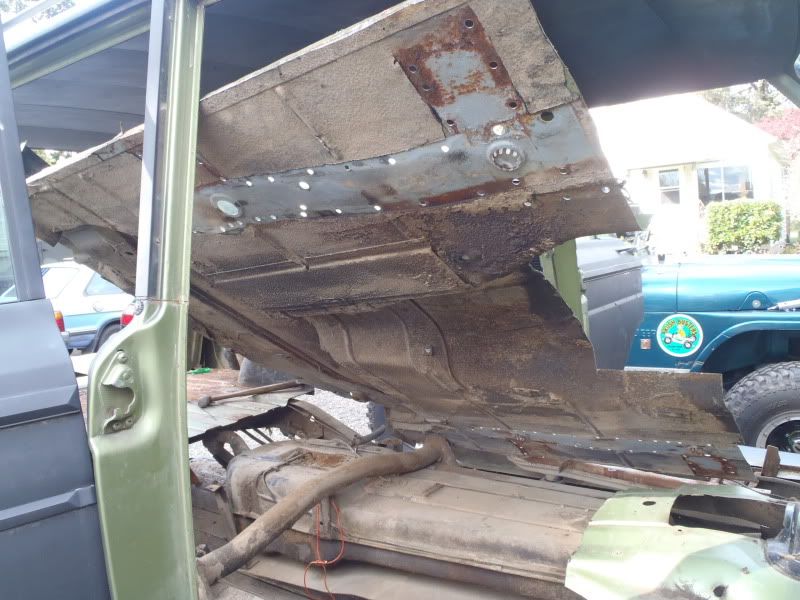 My favorite part. Removing old hard undercoating from 1970. It helpded where the oil leaks were as it softened it a little.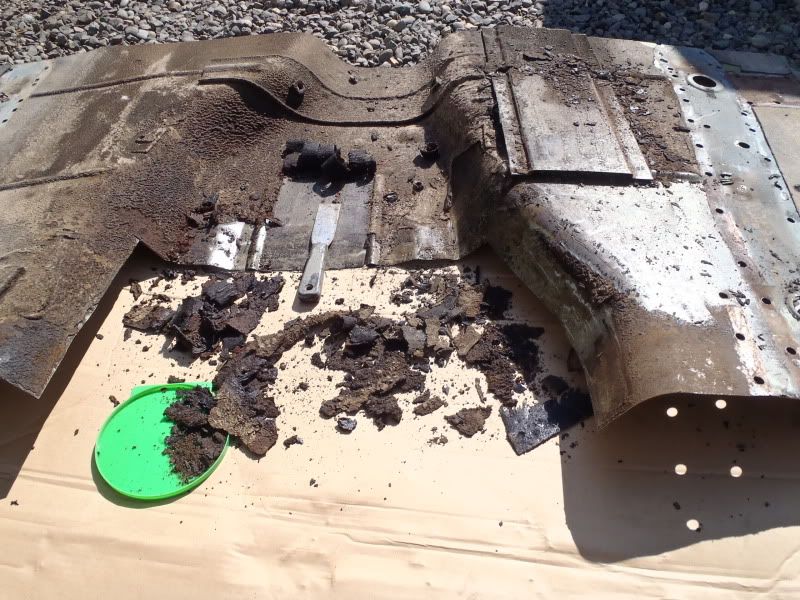 This was really trashing my wrists so I put some different chemicals on that evening to ss if anything worked. I tried paint stripper, Super clean, and Acetone. The paint stripper worked well but not till it sat overnight first.
Then I tried putting saran wrap on the stripper in the almost hot sun. It worked great. The saran wrap kept the stripper working longer.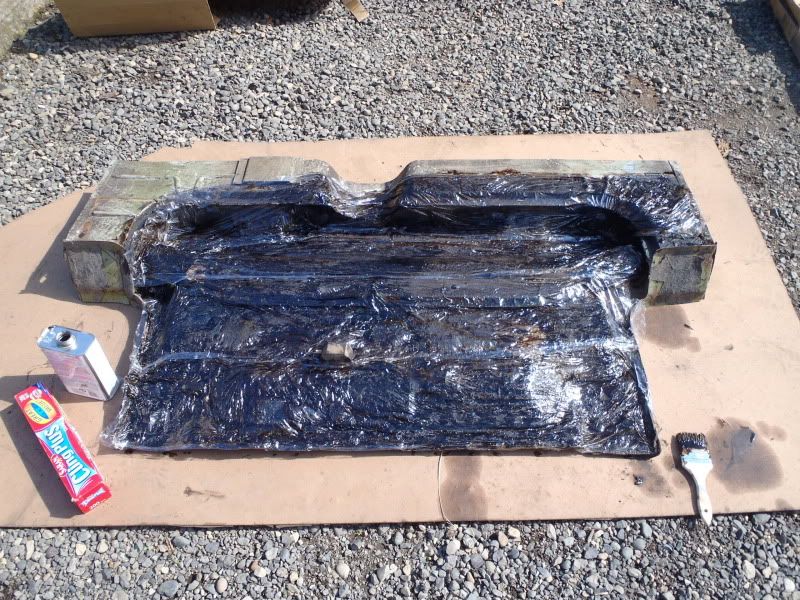 I started saving other parts from the 69. These are the lower inner pillar skins. This is great having them here.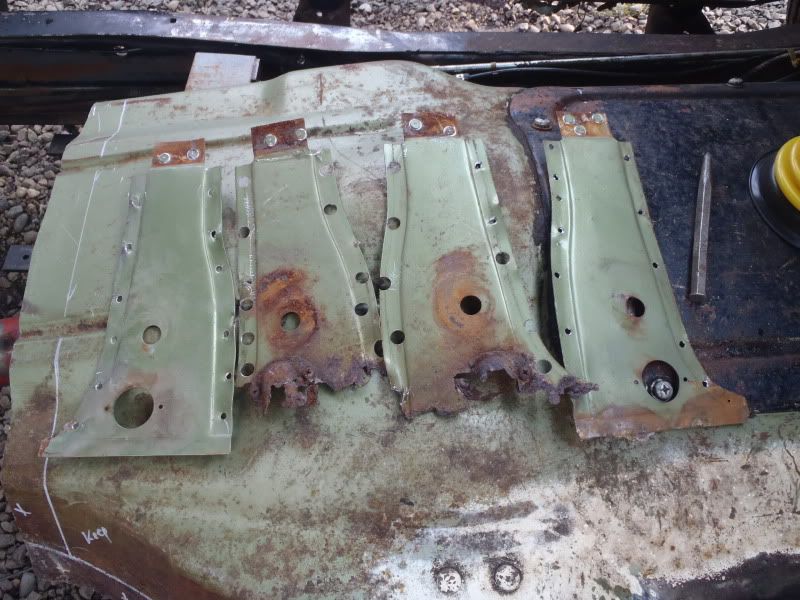 I used two cans of easy off on the frame and gear boxes. Talk about greasy. I will clean up and paint the frame with Napa chassis black. That's stuff is incredibly tough. My pressure washer is 4K so it gets it done.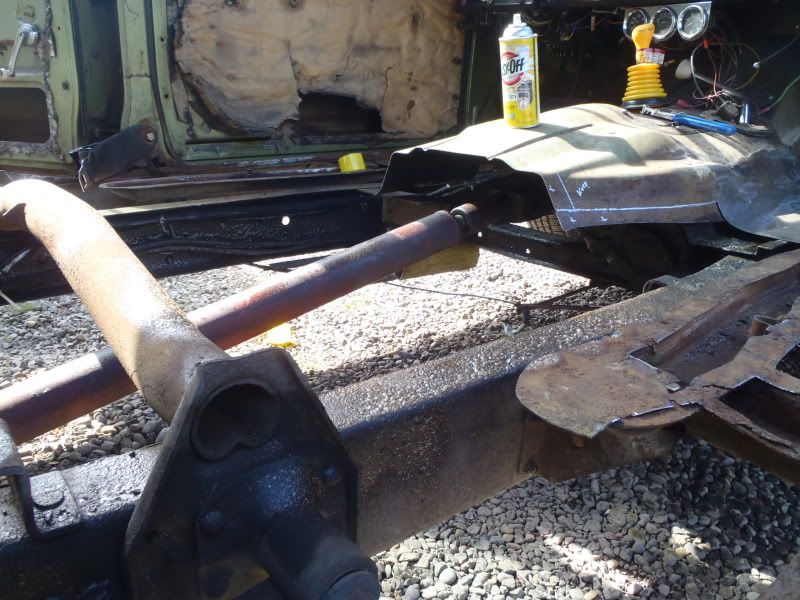 They are cleaning up nicely.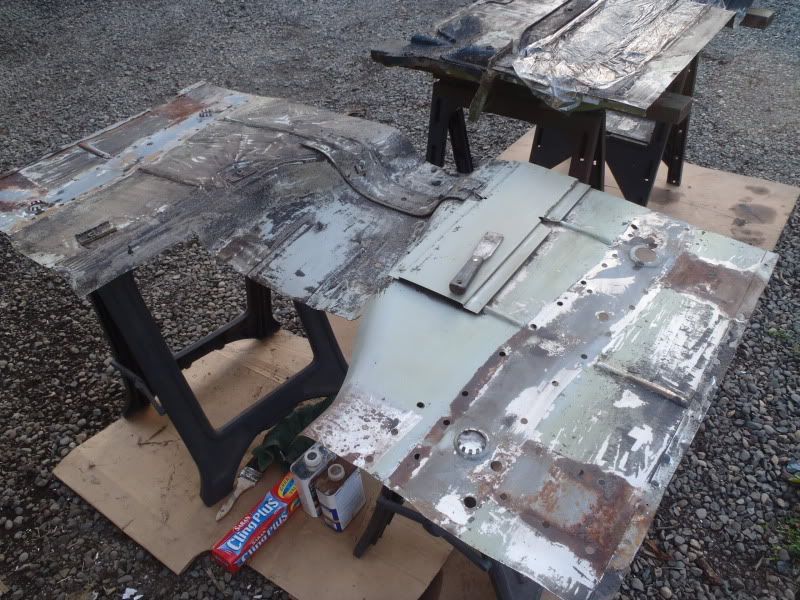 Stay tuned...
| | |
| --- | --- |
| Kaiserjeeps | 10-02-2010 08:19 PM |
---
Stripping undercoating is not much fun. After 4 soaking applications with saran wrap the undercoating was off. I did it over saw horses with a sheet of plywood to catch all the junk. Then a good wash with detergent.
At the same time I am doing this, I am sealing my foundation on my house with fibered roofing and concrete tar. It skins over in a day. I have painted both a rusty piece and a new piece of metal with this messy junk. It resembles the undercoating almost exactly. Has anybody used this stuff to undercoat a vehicle? I am watching the test pieces through out this build to see how it dries out. It will definitely seal and quiet the ride.There is a whole another arena to research.
I treated the surface rust with OSPHO to get rid of it. Again another detergent rinse. That stuff will burn or blind you. Wear your safety junk.
My shop is a pig pen. I am trying to pack and move soon. This rig cannot be moved yet.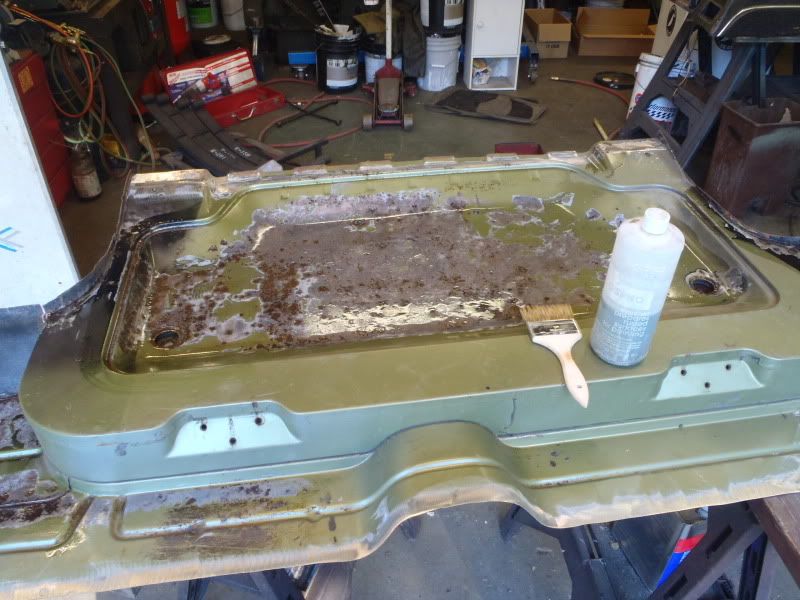 I peeled back all the unneeded metal to get things cleaned up. I will sand back the surface rust and coat it with bill hirsch urethane. Except where I weld.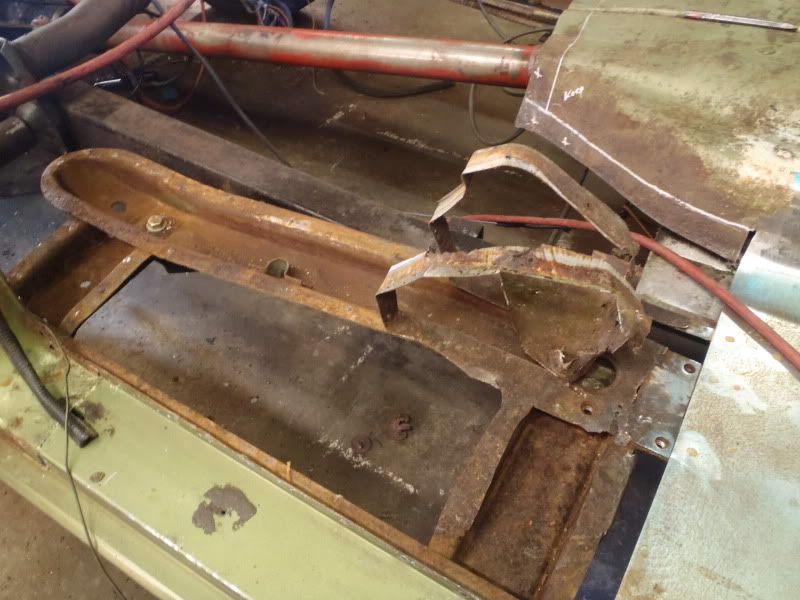 I welded the typical vertical cracks where the wheel house front meets the seat surround. When this replacement panel is installed I will plate across the fracture area on the back side with a sheet metal bridge to hopefully prevent cracks in the future.
This also shows one small area of rotten edge and floor. This panel is in great condition considering.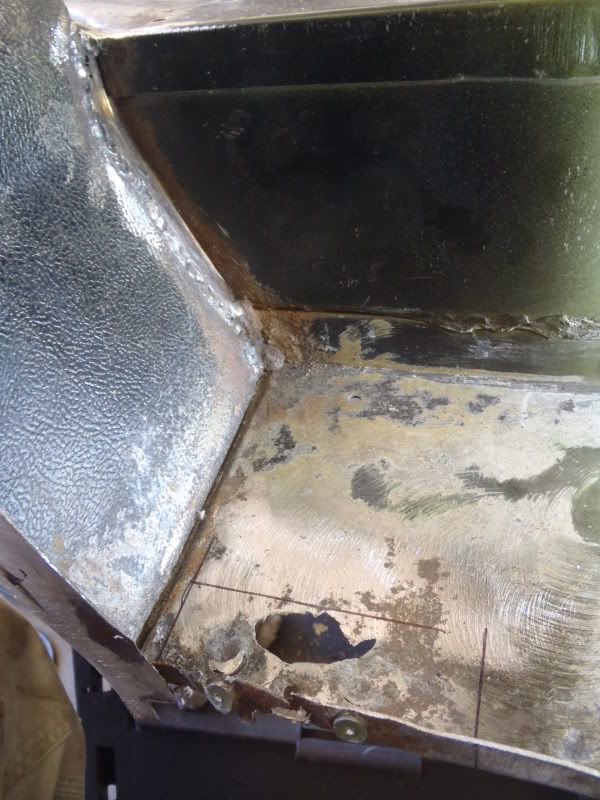 Back side of the wheel house. Where the plate will go.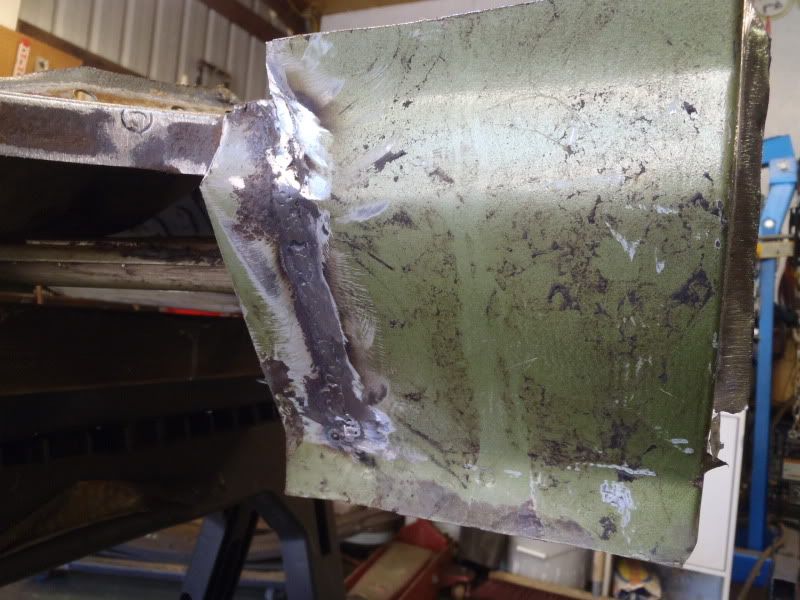 The bad edge fix.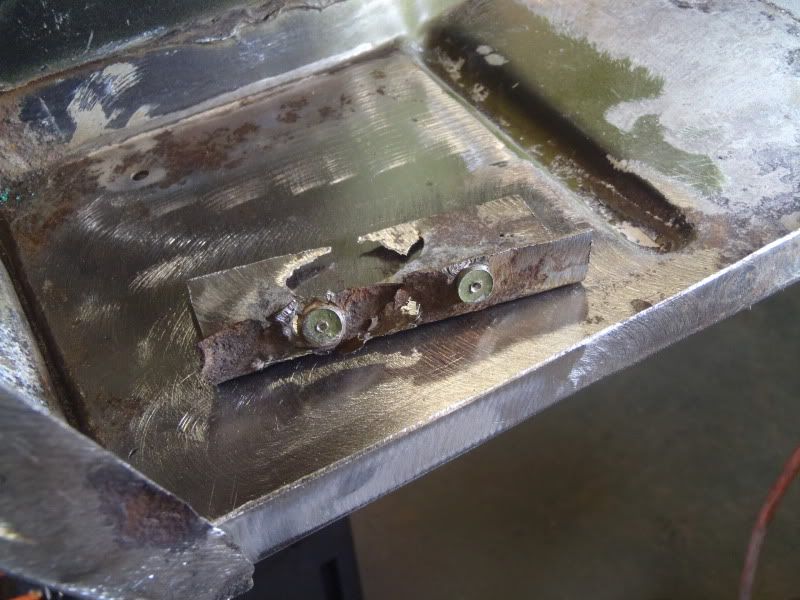 I am going to try and experiment with a metal engraver to try and blend the grain of the wheel houses. I can weld it up but I am not so sure about making that weld go away. I know it will have carpet but I would like to try.
I need a soda blaster.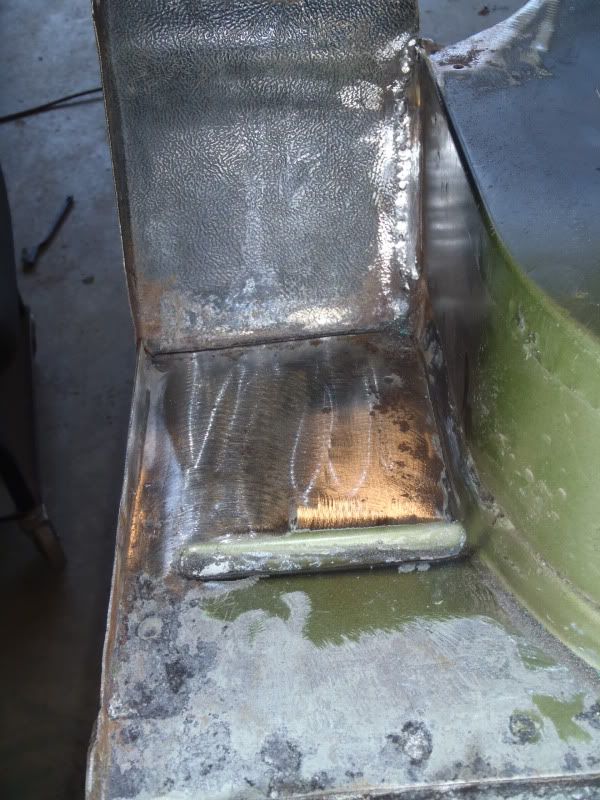 More stay tuned...
| | |
| --- | --- |
| Kaiserjeeps | 10-12-2010 08:35 PM |
---
Still doing edge repairs. This is down around the side of the rear seat surround where it meets the rocker panel or door sill.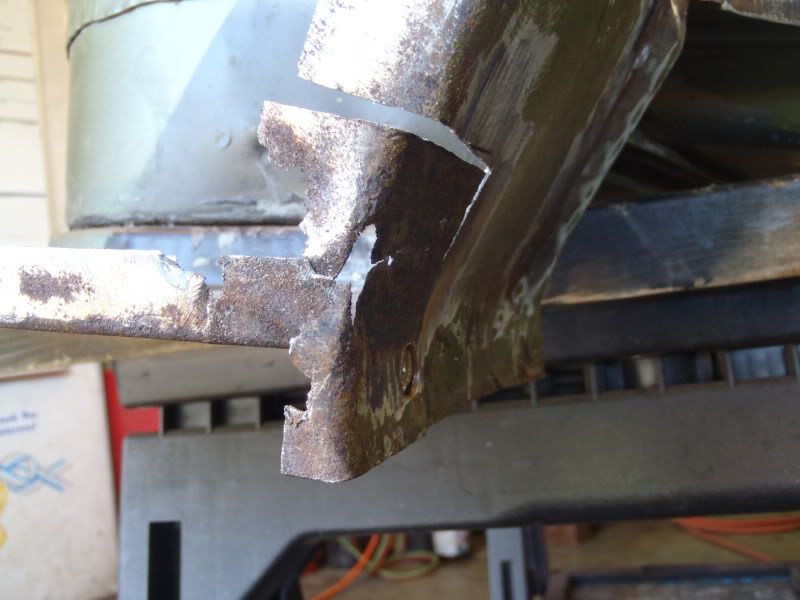 It was a two part repair.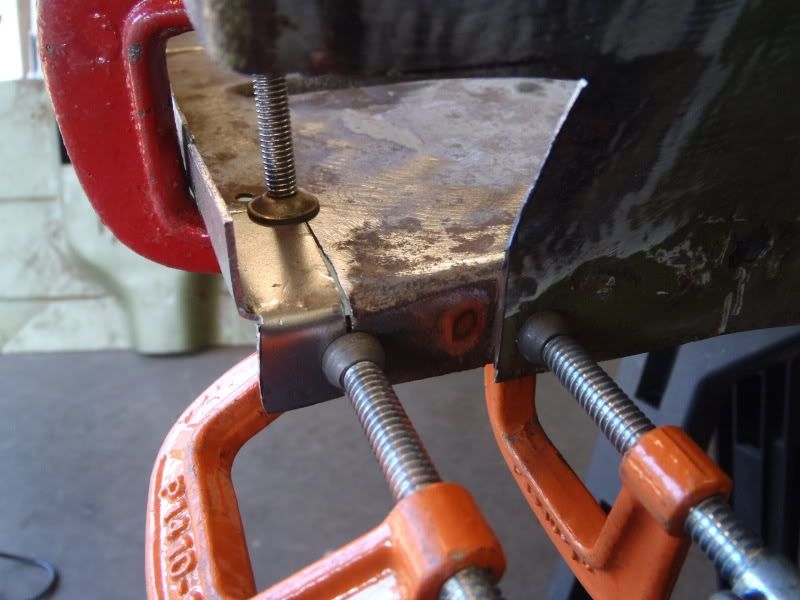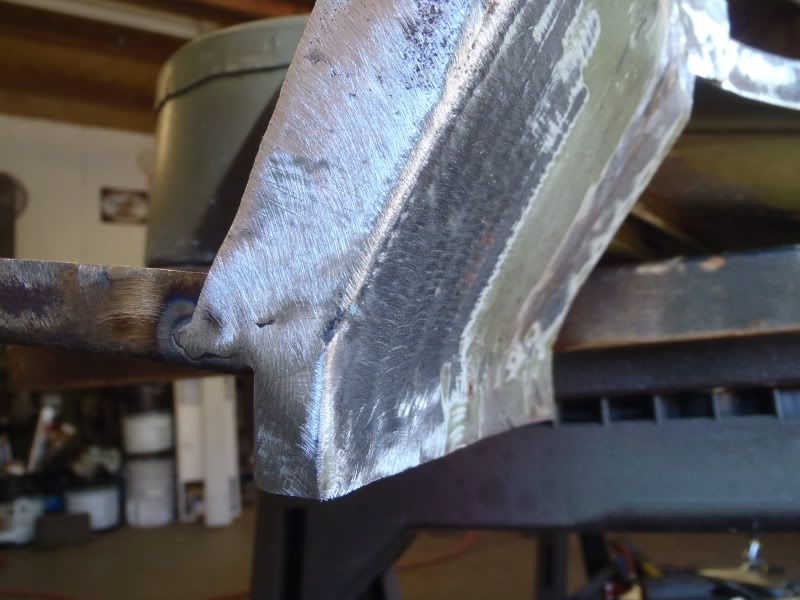 Another spot in the floor.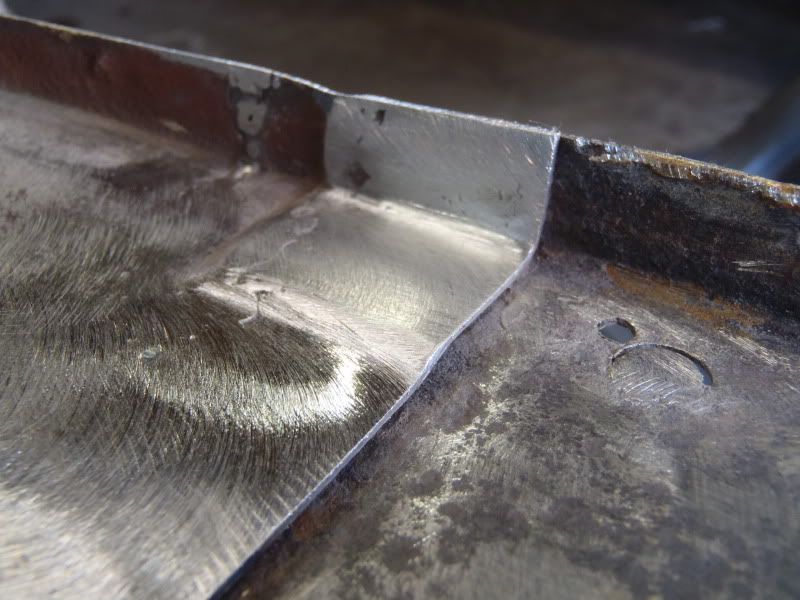 Meanwhile painting the frame with Napa chassis black. This is very tough but expensive paint at 9 bucks a can.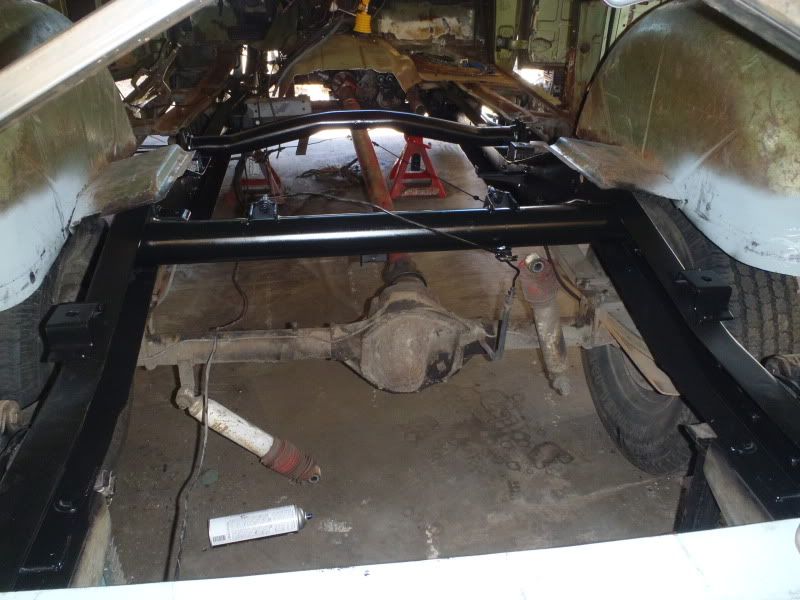 I am running electrical and new brake lines before installing the panels. I am also getting the hat channels painted with Bill Hirsch urethane rust killer paint.
Inside the door pillars. There is a little bit of repair needed here.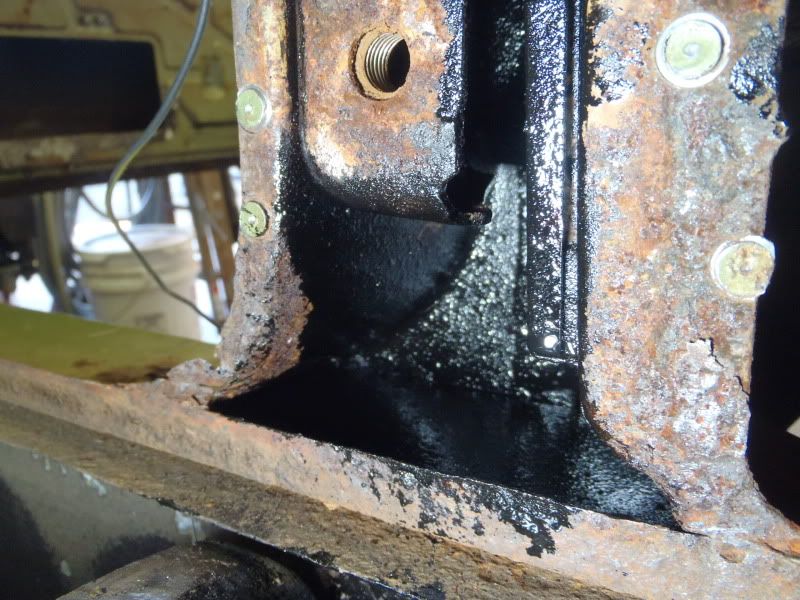 After everything is welded I will wick the BH paint in the seams to stop the rest of the rust. Then seam sealer should give it another 40 years.
More to come.
| | |
| --- | --- |
| PhilG | 10-13-2010 02:27 PM |
---
prob dummest question . .

I was curious was size/gauge the sheet metal is for all of the forming you did on the rear. Incredible work. Makes me wonder what I have gotten rid of in the past because I didnt think it could be repaired. Truly inspiring work.
Phil
| | |
| --- | --- |
| Smiff | 10-13-2010 05:21 PM |
---
Talk about a built jeep! Very impressive.
| | |
| --- | --- |
| Kaiserjeeps | 10-16-2010 10:46 PM |
---
Quote:
---
Originally Posted by PhilG
I was curious was size/gauge the sheet metal is for all of the forming you did on the rear. Incredible work. Makes me wonder what I have gotten rid of in the past because I didnt think it could be repaired. Truly inspiring work.
Phil
---
It is 18 GA PhilG. Once it is formed it is pretty stiff. Along with the replacement floor from the donor 69 rig I will have most of a full 4X8 sheet of metal in this rig. Wow.
| | |
| --- | --- |
| loganvilledude | 10-17-2010 07:04 AM |
---
First off my condolences to you for the loss of your family members earlier this Summer. The same thing happened to us losing two members within a 10 day period so I am with you on that.

I must say that this puts a true meaning that there is no limit to cost in sentimental value:eek:.

Absolutely the best thread for a Jeep restoration on this site. Your attention to detail is the best of the best.

I wish you were my neighbor!
| | |
| --- | --- |
| Kaiserjeeps | 10-22-2010 10:56 AM |
---
Thank you Loganvilledude for the words on losing family. 8 months seems like a minute sometimes. Where is the manual for that? :)
Lots of good stuff is happening here. I got my 5 acres and I am going to put up the biggest shop I can afford. I am hoping for a 40X60 with a loft for doing the cleaner resto work. Like sewing up my military seat cushions and interior work. I might have to occupy it for a few months beforehand. ;) The house comes later.
I have been chasing the final few edge repairs for the two rear floor sections. Two more spots on the tub to repair and the panels will get a final fitting and some metal glue to hold it all in.
This is the passenger rear door rocker sill where it meets the wheel well. The other side is worse.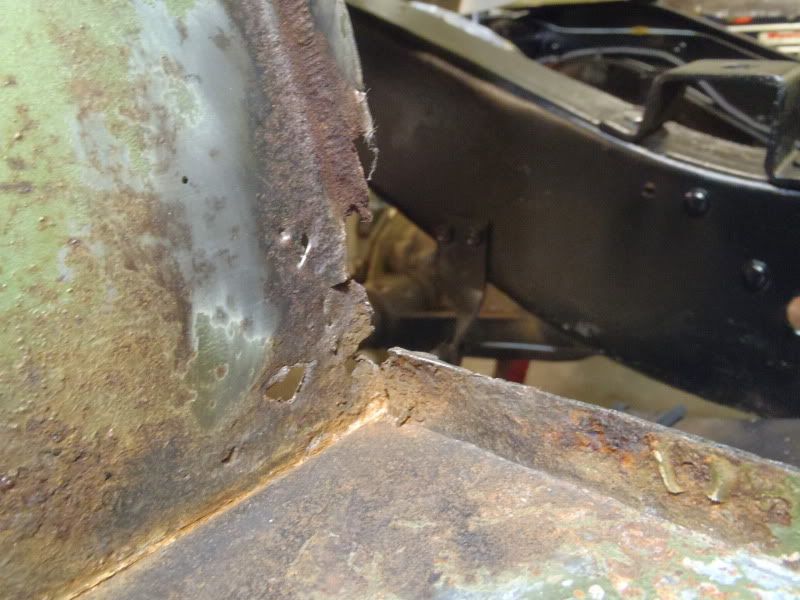 Stretching the new part before cutting back the edge to the proper profile.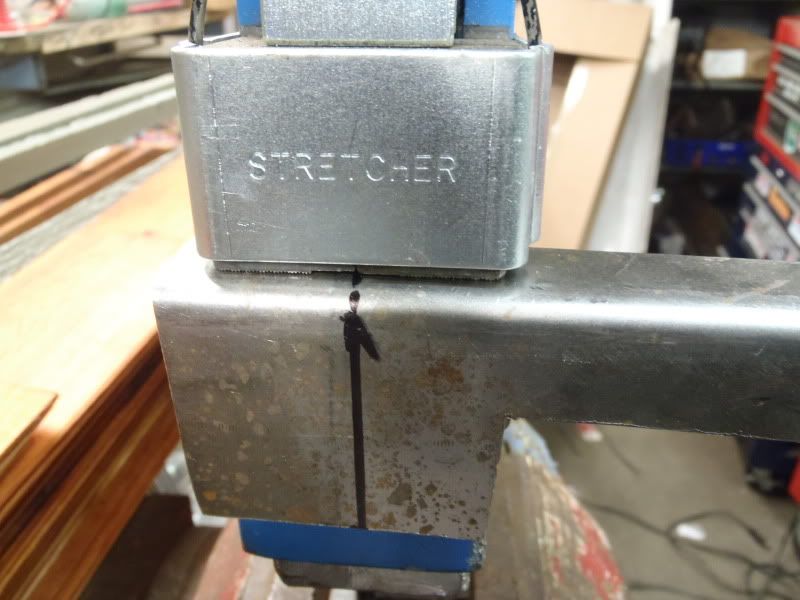 Presto.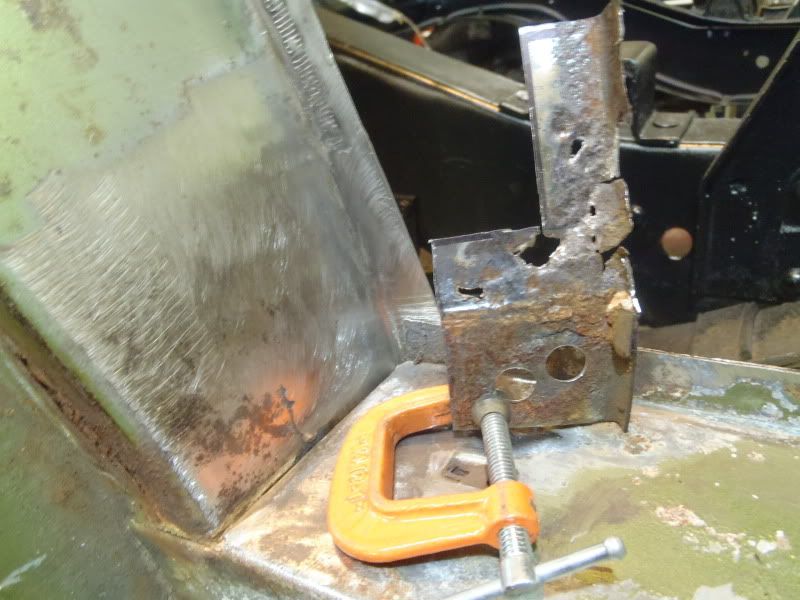 Time for some brake lines. There is a blank spot in the books at NAPA (No Auto Parts Availible) for a 70 waggie, on the rear rubber brake line . From 67 to 72 there is nothing. I have one in that will work from another application. I have a box of 6 or 8 new hoses I canot find. Grrrr.
I also wrapped and installed the wiring harness with frame clips.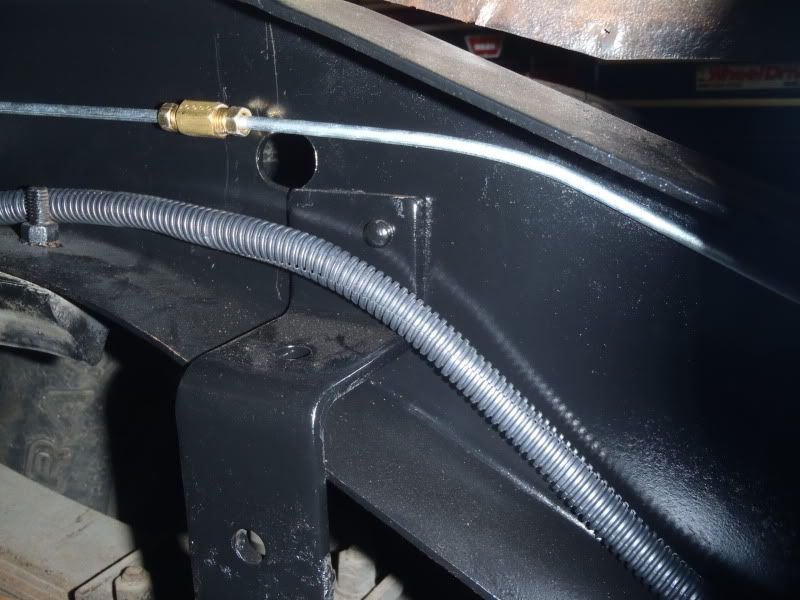 Time to drill gas filler and eletrical holes. I am still spraying the rubber filler necks with 303. They are starting to soften but not much. It takes months.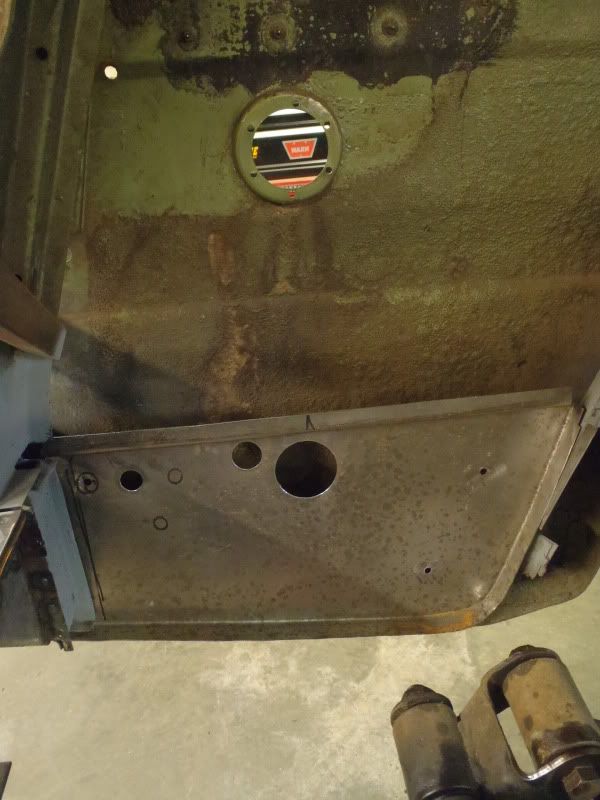 I need to prep the undersides. Check out the 22 bullet hole by the mirror. LOL.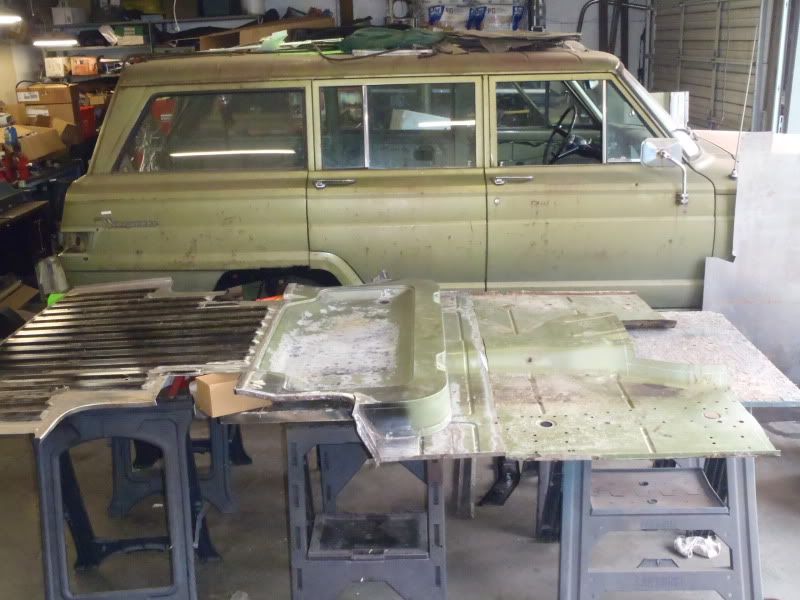 More later...
| | |
| --- | --- |
| Kaiserjeeps | 10-22-2010 10:59 AM |
---
Forgot these two.
This is the GMC bed panel I used for a rear floor. I am adding the stiffener and hat channel.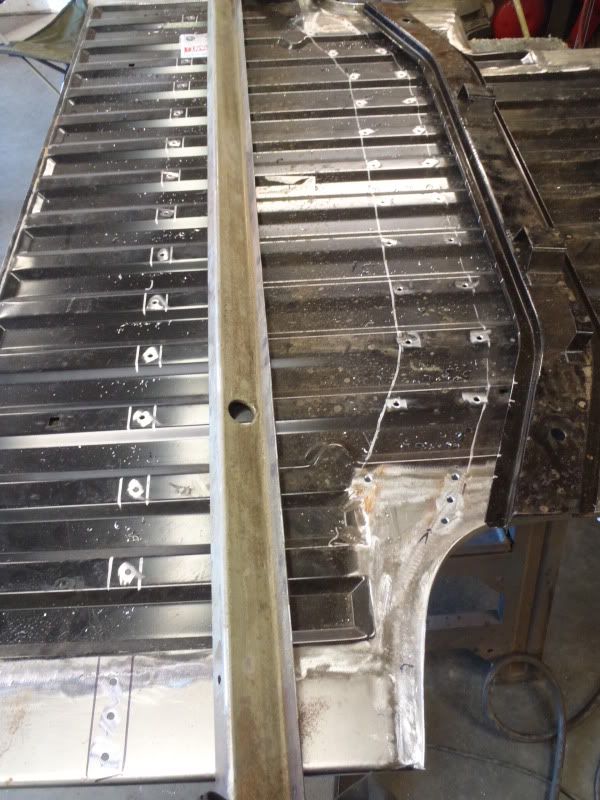 It made it a very solid piece.
OK carry on. :)
| | |
| --- | --- |
| YJ-4BT | 10-25-2010 08:30 AM |
---
You do wonderful work my friend :thumbsup:
All times are GMT -6. The time now is

01:26 PM

.
Powered by vBulletin Version 3.5.4
Copyright ©2000 - 2021, Jelsoft Enterprises Ltd.