Ok I got some more done today. And I even found my camera charger. I don't remember putting it where I did, but I found it in the shop of all places.
I hope I am not loosing it.:D
So I got the first little ear replaced up in the corner. Now I had some rust right where the side wall met the fire wall. I did not want to cut out any more metal and elected to weld it all back by boiling out the rust with the welding torch. It took quite a while of light blasts with the torch and I used a pair of pliers with a copper pad to keep the welding boogers down to a minimum on the back side.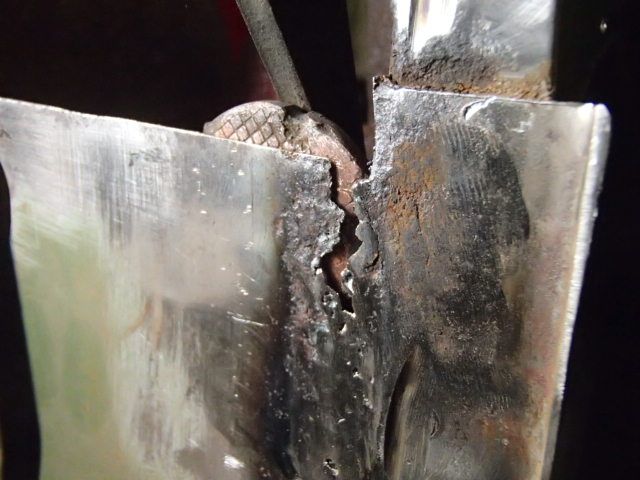 I still have some super tiny pits but no daylight through any of it. It was only about 2 inches of rot that needed this. Most of it down below is pretty light and will seal up ok with paint and body calking. The key thing was to put some strength back in this area.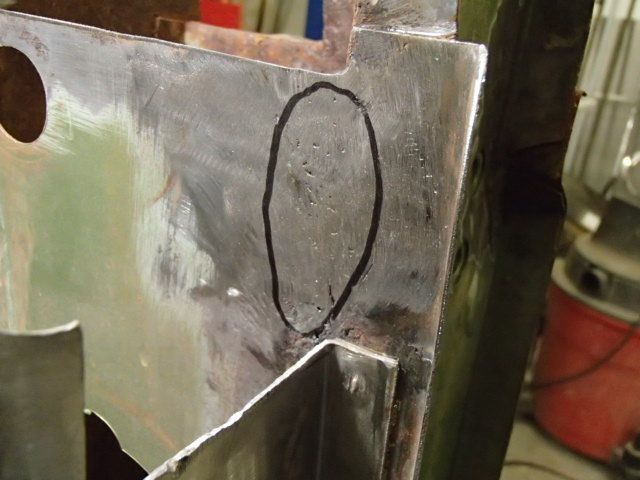 Time for a pattern for the next part. Manila envelops are great for this.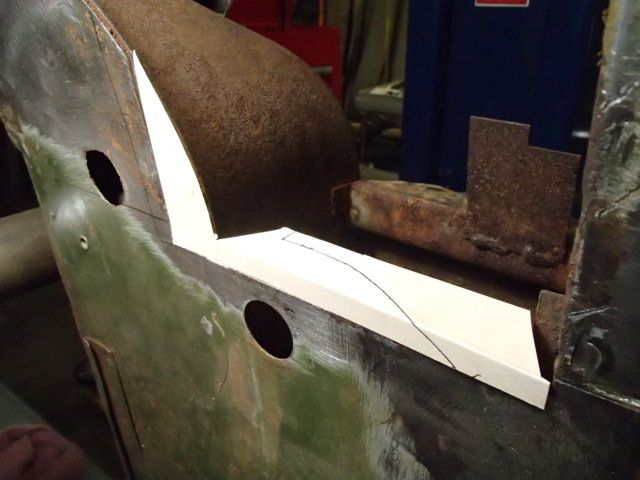 And when I cut this out, I ran the bottom edge long so it would not bend poorly in the bender. So all the metal below the heavy black line got left in place for the bend. I REALLY need a box and pan brake. My brake is solid and works fine. I just had to straighten the wing that sticks up. Not a big deal.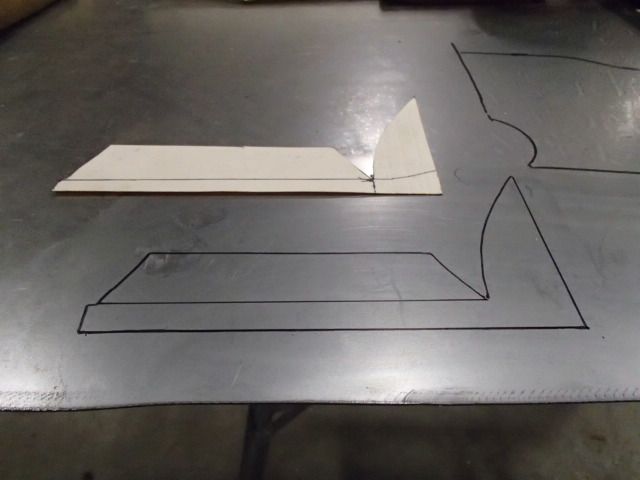 All done.... That's the third repair of 5 I guess and not 4.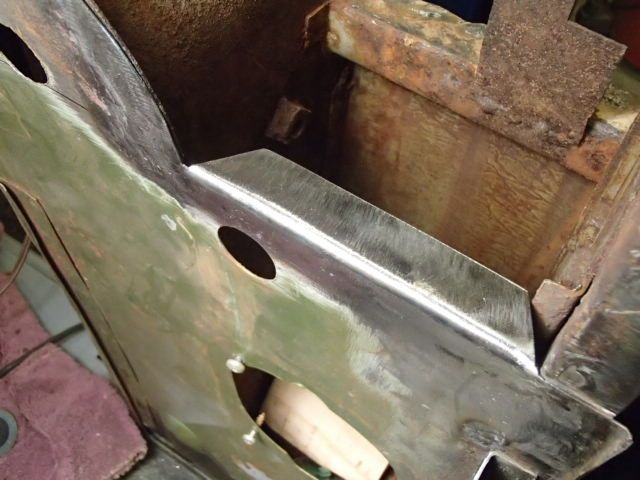 Next I made a hammer form out of some extra Oak I recently purchased for my CUCV truck stake sides. Usually you would bolt these half's together to stop ANY shifting or movement. Its small enough and only getting hammered on one top edge. The rest I can do in the brake. OK this is important, You have to round the edge off that the metal folds over on. On any panel anywhere, you have a sharp 90 angle and the panel will crack period. Take the edge off and make it a super small radius and it won't crack later.
A couple shots of it. This thing was tough to cut out straight. My saber saw sometimes cuts angles and that needed to be corrected.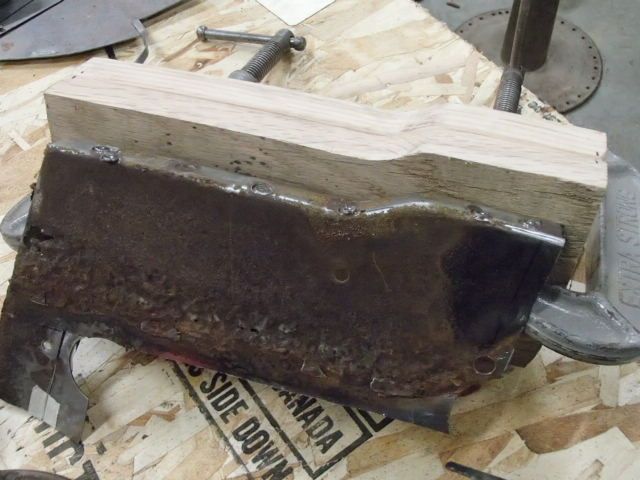 The other side.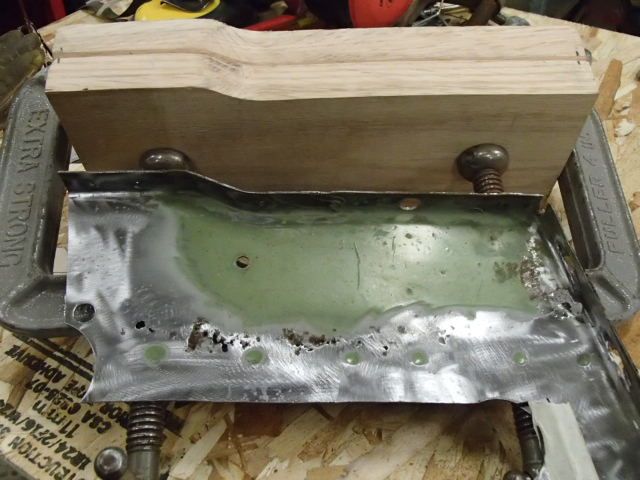 And the filed off edge to give it a nice small radius.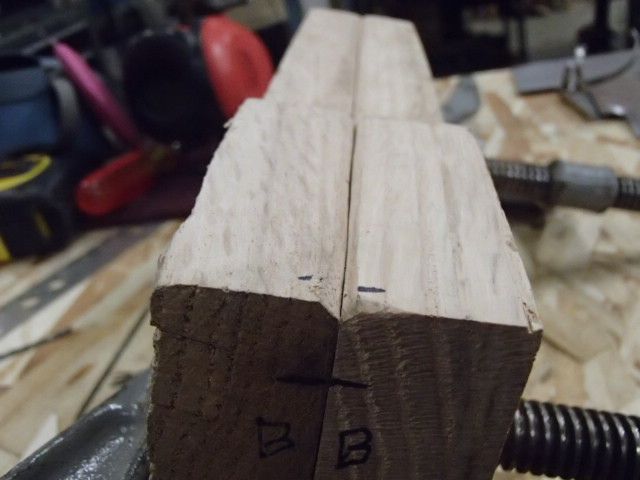 That is as far as I got today. This oak hammer form will also work on the other side. It does look like I wont need it though. We will see when I get this side welded back up and open the other side. I believe the heater opening and the heater flow preserved that area well from what I can feel inside the opening. We will see.
And some of you inquired through PM's about what I thought was the best rust paint. Well I am preparing to do a three month test using 4 metal strips that have had various treatments done to them. All of them have 5 different paints on them. Each paint field will get a drilled hole PLUS a single scratch down the panel with a metal scribe simulating a severe scratch in the paint.
Each metal piece will be tye wrapped to the underside of our Subaru and subjected to Idaho road salt. I am needing to pick up some "fluid film" to apply to one of the panels. The Brits use this product or something similar. The military testing surpassed all other products and was amazing. I accidentally stumbled on this product last night while searching for an answer on what temperature does rust stop forming? Well it does not stop. It only slows down with cold.
This will be a separate thread and I am looking forward to this test. Please watch for it.
Thank you guys for all the help and answers. Stay tuned. :fsj: