-
Build Threads
(
http://www.ifsja.org/forums/vb/forumdisplay.php?f=96
)
| | |
| --- | --- |
| Kaiserjeeps | 01-14-2013 12:52 PM |
---
I wish I had a ton to post. Soon I promise.
I have been overtaken by winter. I just can't weld or do good work in the weather we have had. Currently 24 degrees. I have been working on a scratch built 5 foot RC tug boat indoors. In the corner of a beat up shed.:D

I did do something on the old rig. About a month ago I was able to weld back in the part below the door. So now the wheel house can be cut from the attaching points and repositioned. I have made a complete plan.
I have a good grasp on what it needs now.

I want to add a note about my shop. Currently sitting with a complete foundation, I am ready for a lumber package. I just submitted 4 quote requests to local lumber yards. So soon I should know where I stand for rough costs.:eek: Weather permitting I hope to see something in the next few months. If I can at least shell it out and run some power up there, I can continue work on the 1970 when the weather gets wet or windy. I do plan on working on it as I can in tandem with the shop. I really need to get it done.
I will post when I have something. This last two years have been a lesson in patience. I am so anxious to get started on building quality door panels, SS repair, and general tin bending. This is a passion of mine I want to feed and grow. As soon as the 1970 is done. I will be doing a 1969 X model (mine).
There will be lots more this year and in 2013 I hope.

Thanks for being patient with me.

Happy new year all.:)
| | |
| --- | --- |
| Kaiserjeeps | 02-28-2013 07:37 PM |
---
I am pretty jazzed to be able to post these. I was finally able to get going on my new shop. The metal mayhem
will
continue soon...:D
I won't be in the shop for a bit yet. But I will be continuing soon on the 70 as the weather is warming up now. :)
| | |
| --- | --- |
| twisted frame | 02-28-2013 08:27 PM |
---
Looks like paradise!
| | |
| --- | --- |
| rreed | 03-01-2013 09:20 AM |
---
Holy friggin crap, NNNNIIIIIIIIICE!!!! Insert ultra-envious smiley here -->__

The location doesn't look too bad neither. :thumbsup:
| | |
| --- | --- |
| tgreese | 03-01-2013 11:15 AM |
---
Woohoo!

That looks like a loading dock. :cool:
| | |
| --- | --- |
| The PIG Smith | 03-01-2013 08:14 PM |
---
Quote:
---
Originally Posted by tgreese
That looks like a loading dock. :cool:
---
Wow! I see that now!
A loading dock! NICEEE!!
How cool is that?
| | |
| --- | --- |
| Kaiserjeeps | 03-04-2013 05:14 PM |
---
Ha! you guys are right. It is a loading dock for my duece and a half. I keep adding rock and gravel as it is super soft here. I'm going to have to get smaller tires so it still is level with the duece bed.:D
The framers are working on the second floor partial loft now. I am as jazzed as ever. I just moved here in mid 2010. I have a lot to do yet and I have a vision. :) The place is cool though. The last property on a dead end road. And there are 5 year round springs flowing all the time in a ravine. And I can shoot here. :p
I should be getting back into the 70 wag in a couple weeks. It is finally warming up enough to work outside and not freeze the fingers off. I have a pretty good plan in place to fix it all.

Thanks for the comments!!

Cheers!
| | |
| --- | --- |
| Driftwood | 04-24-2013 12:50 AM |
---
I did some research on that Color. I believe your paint code is the number "490" on its VIN. From what i've found, 490 is "Butterscotch Gold". Here's a link for paint chips.
Color Codes - AMC model/year code 490 Cross-Reference
More pics of Butterscotch Gold
Quote:
---
Originally Posted by Kaiserjeeps
It's gray primer. One year ago this month I moved from Scappoose oregon down on the river to up here in the hills where I should have been years ago.
With the move and the family issues (6 deaths in 18 months) I knew the rig may sit. I primered it to hopefully preserve my work. It did an OK job. I am able to resume my work on it now.
Driftwood, I sent you a PM with the VIN tag. I think the paint code was 4 B.
I have never seen this orange before. Or the horrendous check pattern on the rear seat. Love those 70's !!;) The white door panels are not to bad either.
I want to make door panels when I complete my shop. I am planning a 23X30 loft for clean work like this. It is not happening soon enough.:D
I am very eager to do this.
---
| | |
| --- | --- |
| Driftwood | 07-07-2013 01:19 PM |
---
I'm anxious to hear the latest update for this (my favorite) project?
| | |
| --- | --- |
| Kaiserjeeps | 10-23-2013 01:29 PM |
---
Well long time no see.. Greetings all. I have some great updates. I fixed the problem with the alignment. I had to stare at it for a couple months to try to come up with a plan that would work. I made some cuts and only made more work to redo my cuts and it did not fix the problem. So after lots of planning I went after it and it worked. I have many pictures to show. I will attempt to post a pic to see if it will work then post up the rest. I don't put my main computer online anymore because of a problem earlier this year. I have to transfer them to this laptop.
I will use my shop as a test pic. It's all done on the outside and needs wiring and insulation, sheetrock etc.
Hope this works..
| | |
| --- | --- |
| Driftwood | 10-23-2013 01:41 PM |
---
Wowser! Nice shop! This is my all time favorite thread. Welcome back!
| | |
| --- | --- |
| Kaiserjeeps | 10-23-2013 01:47 PM |
---
Arrrg. Lots of work creating a post and IFSJA logged me off....

One more time..
| | |
| --- | --- |
| Kaiserjeeps | 10-23-2013 01:53 PM |
---
OK so I cut the wheel house all the way around the front end and pulled it down in the body. It brought everything in.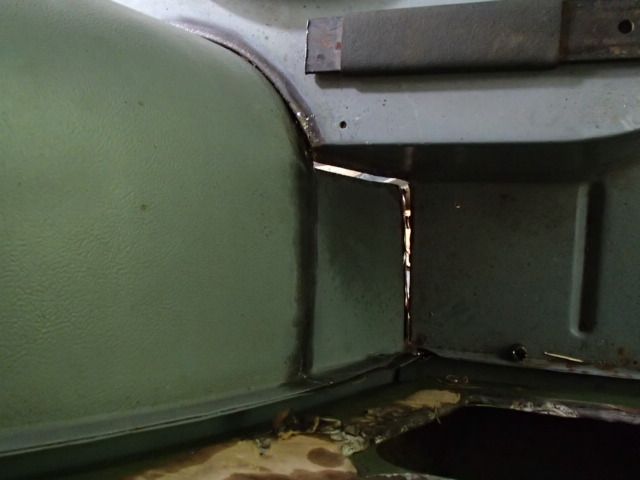 Much better. Time to weld everything up.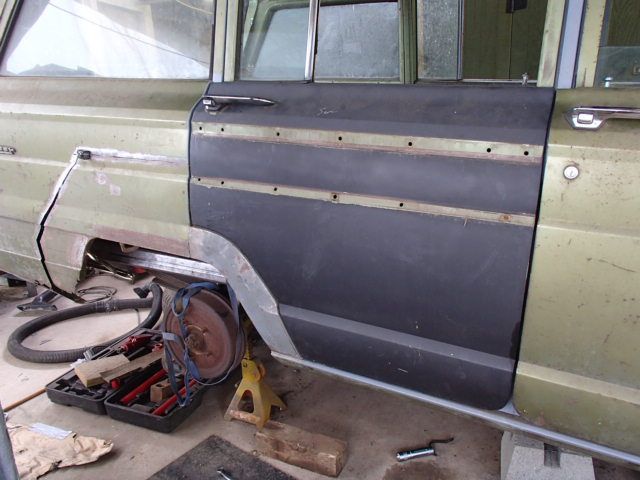 Slow going. A couple small welds and cool it with air. Lots of plannishing and checking with a contour gauge.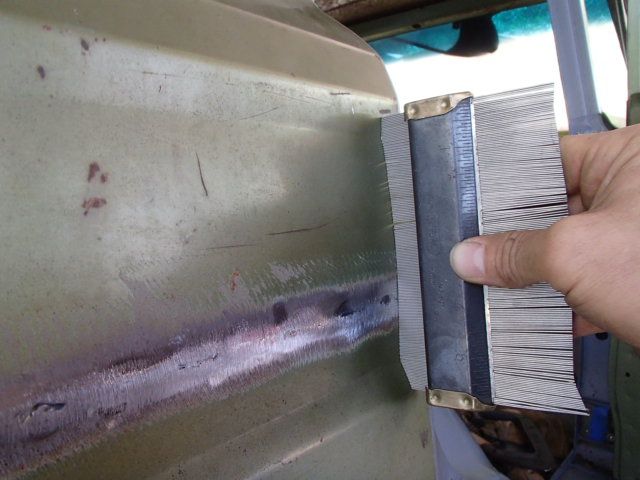 More work needed here.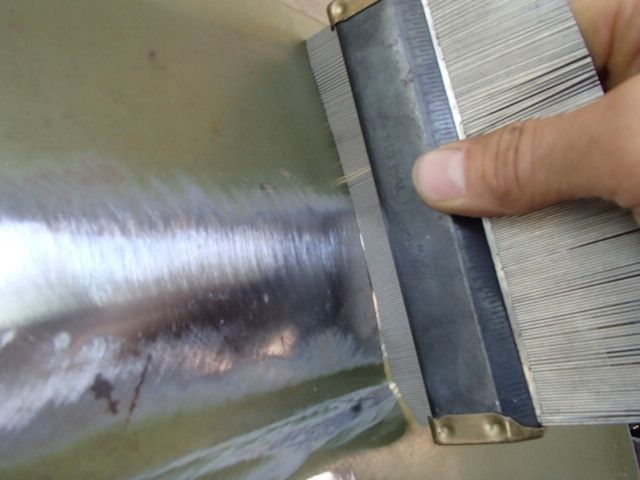 The door was too rusty. Major seam rust. I had a replacement but it has a ton of trim holes.
continued.....
| | |
| --- | --- |
| Kaiserjeeps | 10-23-2013 02:02 PM |
---
Here is the original door.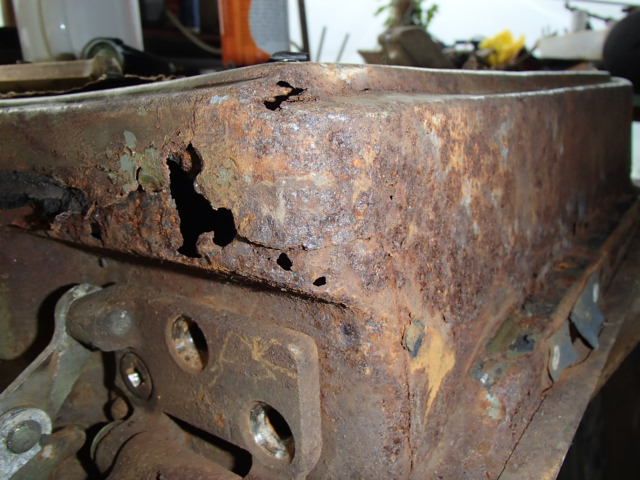 So after getting the skin welded back on I went after the rusty bottom section.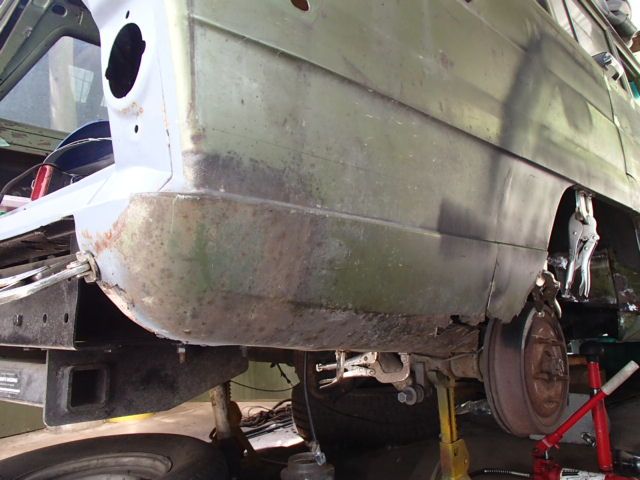 Again hours and hours of fitting. Granted the aftermarket panels fit pretty well. Except for my generous gap there.:D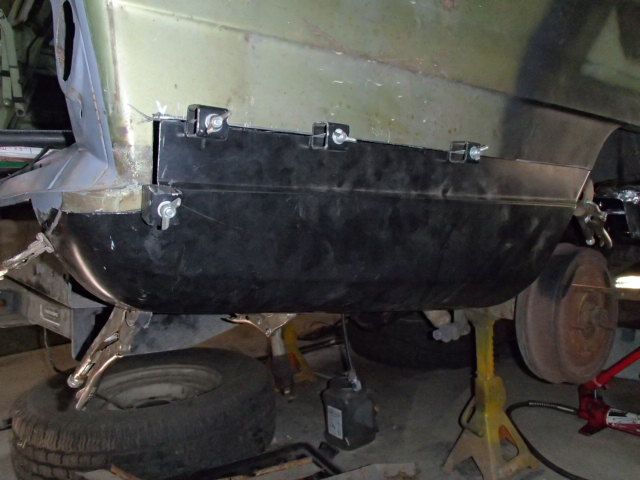 All welded and in need of leveling.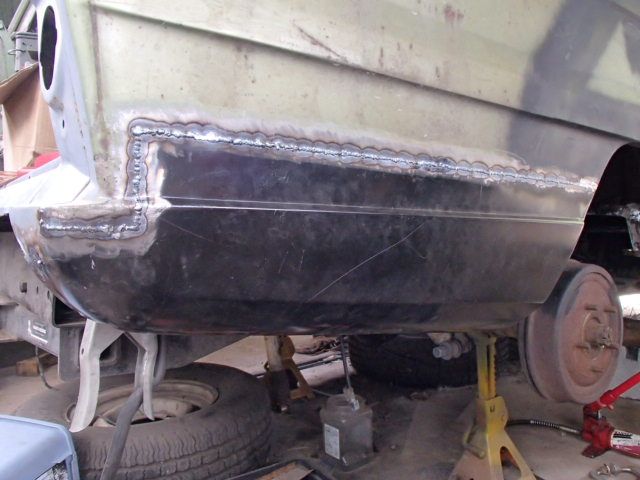 The rear corner.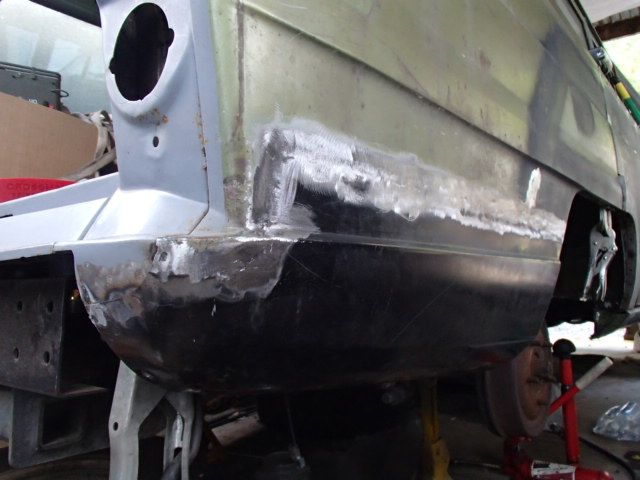 I welded up the small panel under the door. Lots of rust paint under all of it.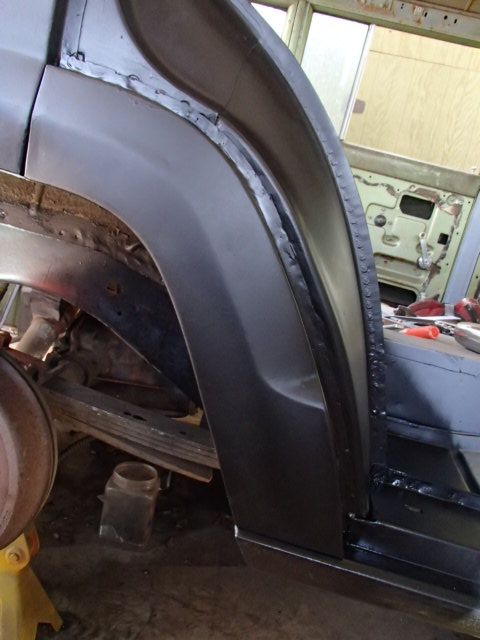 continued....
| | |
| --- | --- |
| Kaiserjeeps | 10-23-2013 02:47 PM |
---
I could spit nails. I was logged off again after a bunch of post prep. Can someone tell me how to fix this? I am loosing steam.
So where was I? I welded the skin back on. I welded the small panel below the door back on, I welded the new lower rear in place. Here are all hand made parts under here.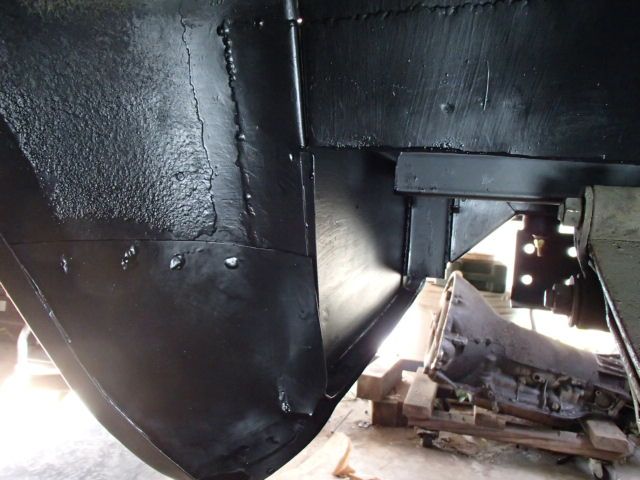 I cleaned up a wheel and hubcap to see and imagine.:)
Next I had to fill the trim holes in the door. I used a punch to make blanks.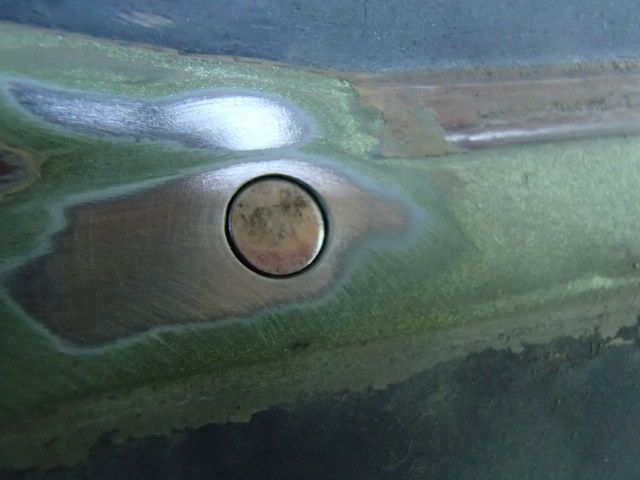 I used very small .045 filler rod for the least amount of heat and addition of metal. Here it is after some sanding. A little aggressive on the sanding here. I will need spot putty because of it.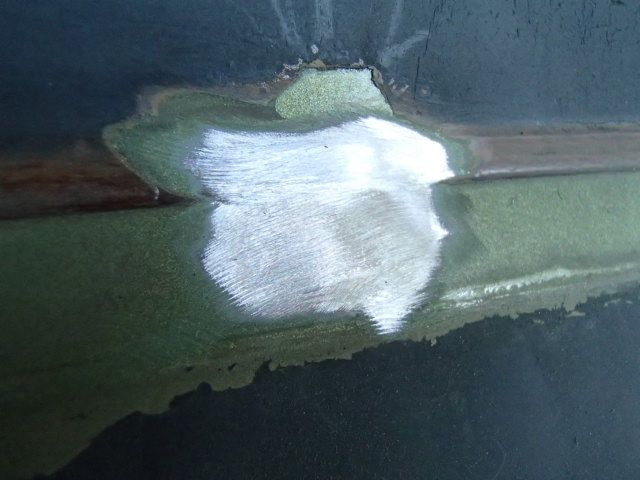 The picture of the door above shows it all done.
Next was a .22 bullet hole just behind the mirror.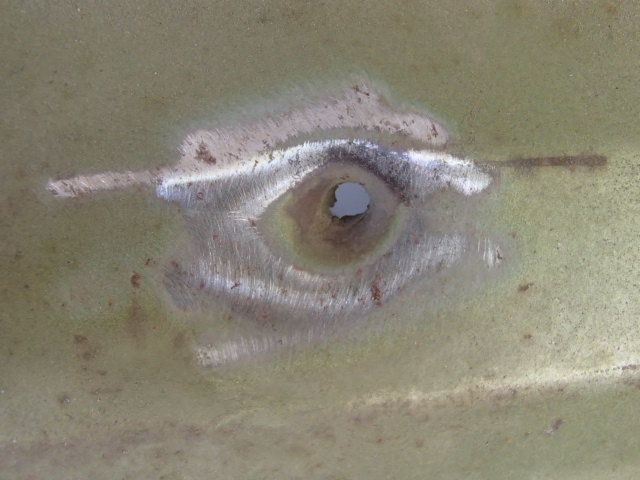 Lots of careful checking with a straight edge and some hammer work kept it all good.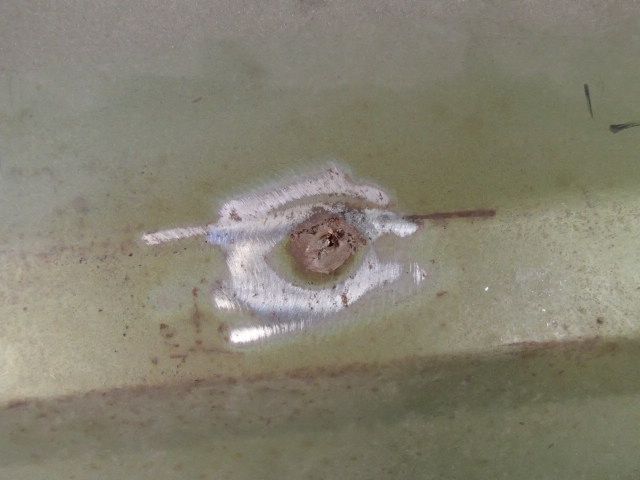 Welded up.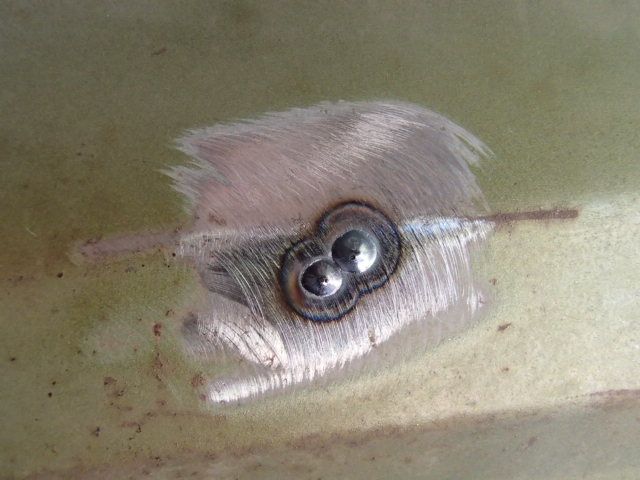 Sanded back.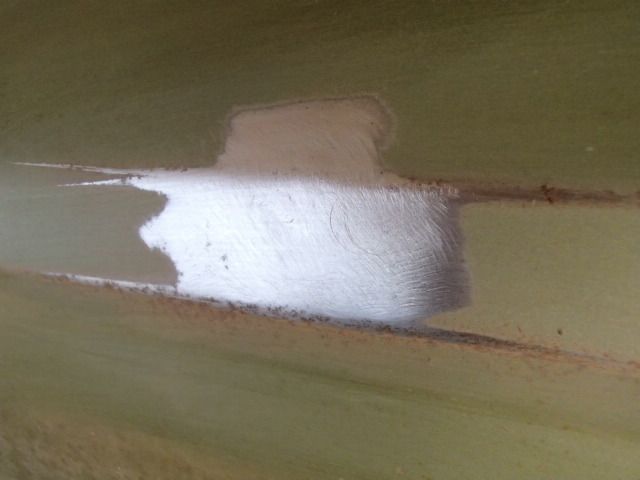 continued..
| | |
| --- | --- |
| Kaiserjeeps | 10-23-2013 02:59 PM |
---
Last was a very ugly mirror that needed to go away. I welded up the holes and will probably use a matching mirror from the 73 outside.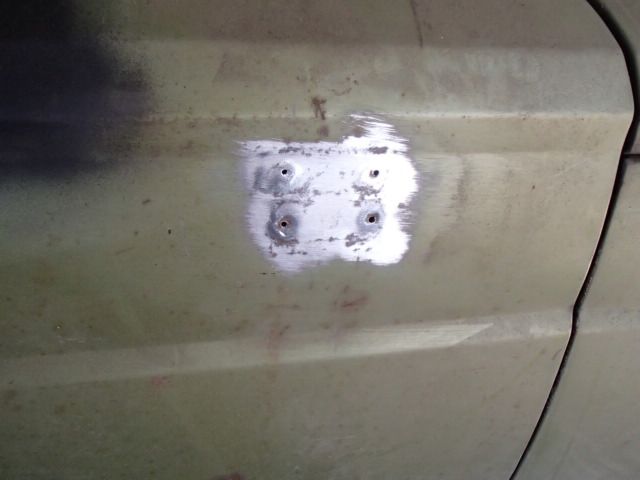 Welded up and waiting for fine tuning later.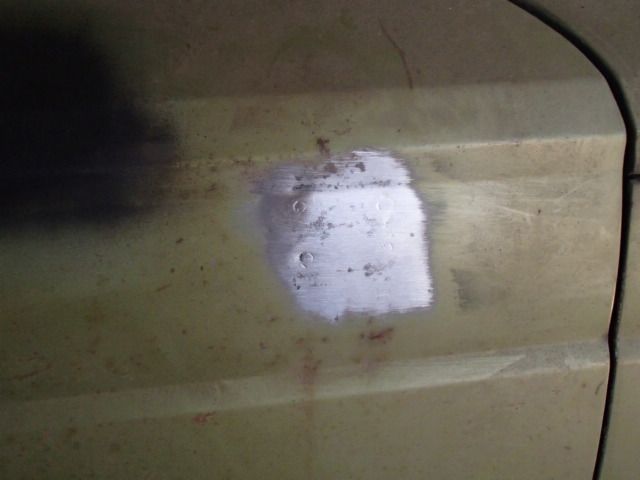 The passenger side now has no rust at all. All welding is done, the misalignment is fixed. I moved it over in the next bay of my carport
to put the drivers side in my open work space.
Here is a shot.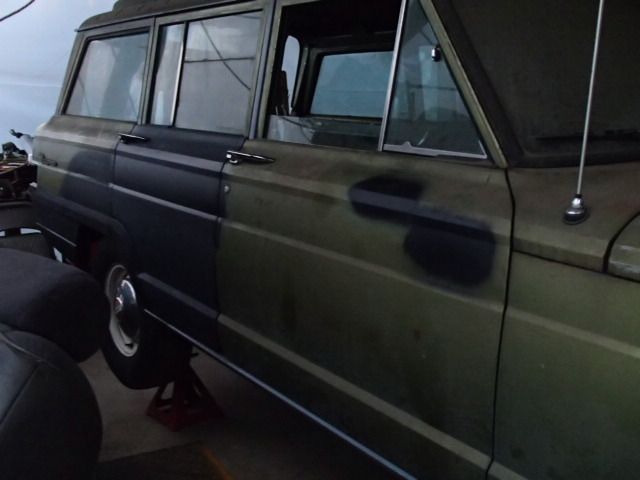 Once the drivers side is done all rust has been removed from this rig. Tons of hours, sweat, and good learning. My mobile which should have been torn down by now has been providing the 220 power for my welder. So I need to finish the drivers side by snowfall. I will also be up in my shop wiring the entire building. I have a lot on my plate. I am also getting married in a couple weeks. :eek: :D
In closing for now I want to mention this rubber dolly I found. It is amazing and allows metal shrinking and leveling much easier that a metal dolly. A hammer strike on metal "on dolly" will always stretch metal. This dolly allows
a solid backing without the stretching you get with a solid hit. It is a great tool worth the hundred bucks it costs. It is called a "Crossman Velvet dolly"
If you do this kind of work, this is a great tool.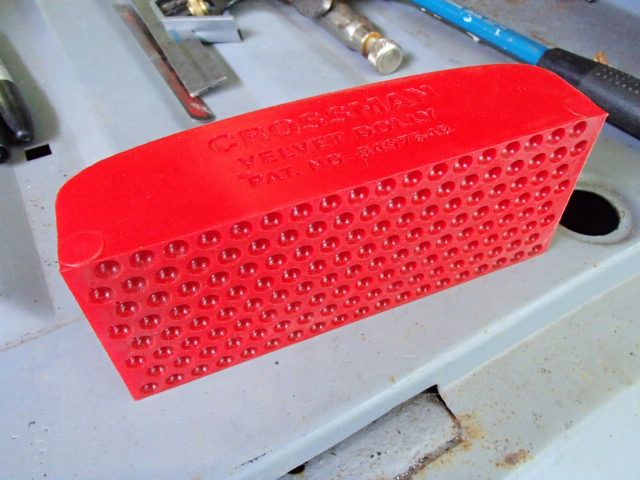 Cheers all. Thanks for the waiting on my slow posting.
| | |
| --- | --- |
| tgreese | 10-23-2013 03:01 PM |
---
This is a great thread - I always enjoy reading about your work, and I learn a lot. Thanks for keeping up with it!
| | |
| --- | --- |
| Kaiserjeeps | 10-23-2013 03:10 PM |
---
Oh yea, I painted the new leaf springs. I will get new U-bolts and detail the axles and paint the rest of the frame as soon as the body is done. I picked up engine paint. I need to remove it and seal it up. The transmission and transfer case need degreasing and detailing also. Lots more to do yet.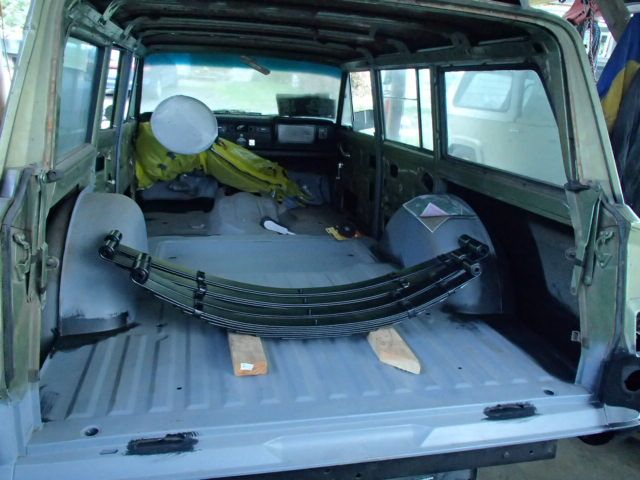 I look forward to assembly with clean nice parts.
Driftwood, I'll shoot you a PM.
Cheers all.
| | |
| --- | --- |
| rreed | 10-23-2013 03:57 PM |
---
What's that black primer/sealer/whatever you're using? It looks sexy. :D

Those little clampy-dealies you used to hold/line up panels, are those nice fancy ones or cheapies? I've seen them at Harbor Fright and am considering picking up a set. I'm not a body guy but one fine day will be joining two halves of a Scrambler tub and figure decent tools make a job go a whole lot better.

You mentioned "rod," are you using a stick welder for this???
| | |
| --- | --- |
| Kaiserjeeps | 10-23-2013 05:37 PM |
---
The paint is Eastwoods "rust encapsulator" paint in both a spray can and a quart. I have used Hirsch paint and it also seemed fine. Eastwoods paint seems more flexible though. The springs, frame etc are painted with Napa Chassis black. Chassis black is the toughest paint out of a can I have ever used. And the satin finish is pretty correct also.
I have several very rusty parts laying around with all these different paints on them. I am doing long term testing to see who is best. I am always looking for a better paint.

I am TIG welding the panels. I can make quite a mess with a stick welder and sheet metal.:D

The clamps were from TP tools. A favorite store of mine. I see no reason why HF clamps would not do the very same thing. As long as the clamping face where the tongue sticks through is very flat. You could check it with a straight edge. I always drag a finger nail across the mating edges to see if they are level before welding.
Thanks for the comments all.
:)
All times are GMT -6. The time now is

08:22 PM

.
Powered by vBulletin Version 3.5.4
Copyright ©2000 - 2021, Jelsoft Enterprises Ltd.