Naw, just the dogdish baby moons with an off white or creme colored wheel.
Speaking of... I wonder what color they were from the factory? Anybody know where to find that answer? I have done some searching but not found much yet...
No sasquatch around here as far as I can tell. Lots of coyotee and deer though. :D I am sorry for the lack of posts. I am so incredibly anxious to get my shop functional. This winter is dragging along it seems. I need it as I have a 1968 commando to do along with a 1970 CJ-5. And a possible GPW war time jeep. So the work is there but not the building. It will happen soon enough I guess. Edit: And not to forget my 69 1414x waggie. I would like to have it running soon.
And thanks BTW...
So working my way around this hubcap I am finding a lot of flaws. One at a time I guess. The methods are the same so I won't post each spot. This next dent is a good one. Three individual dents overlapping. There is a lot of messed up real estate here.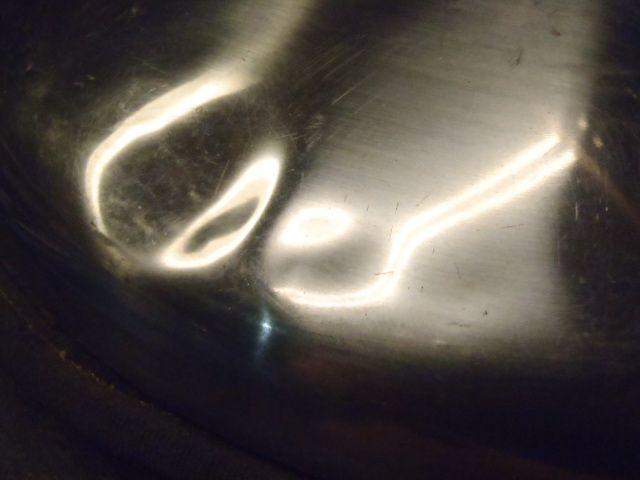 Working again from the outer edges in I started bringing the metal back in place. After some light tapping I need to bring down the front side. A dent will always raise the edges of the surrounding metal higher than it was originally. I have marked with X's where I am aiming my hammer strikes. I am not trying to move much here. Just helping the stresses go away. Then back to the back side. Use the light and look at it a lot.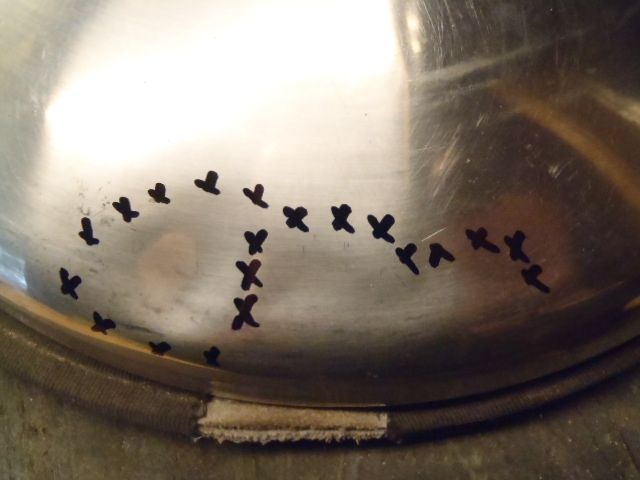 These are working the field around this triple dent after some straightening. I would grab the 400 grit and not using a block, I would sand the entire area by hand to put a grain in it. Then using a flat block sand at an angle to reveal these.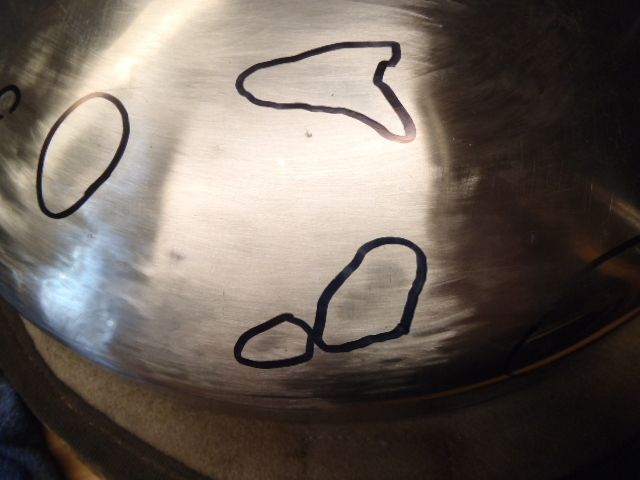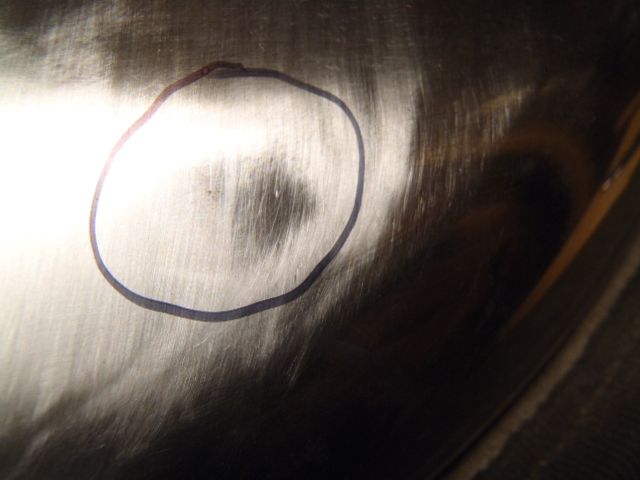 Keep working the dent out and those spots will get smaller. Because the hubcap is so thick I have the luxury of quite a bit of surface dressing. SS trim requires more straightening before any filing or sanding. They are so very thin to begin with.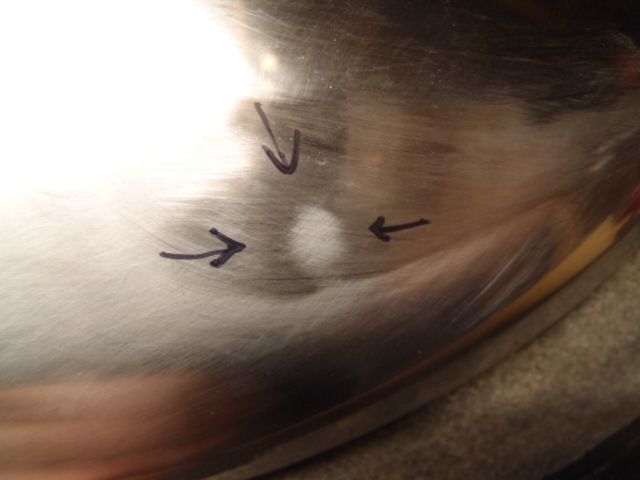 Back to the 400, 600 and 1500 final and it looks pretty good. All the real polishing will be done on a buffer.
Here is the area after quite a bit of work. This hubcap looks like it may be a good spare now. At first I thought it was toast.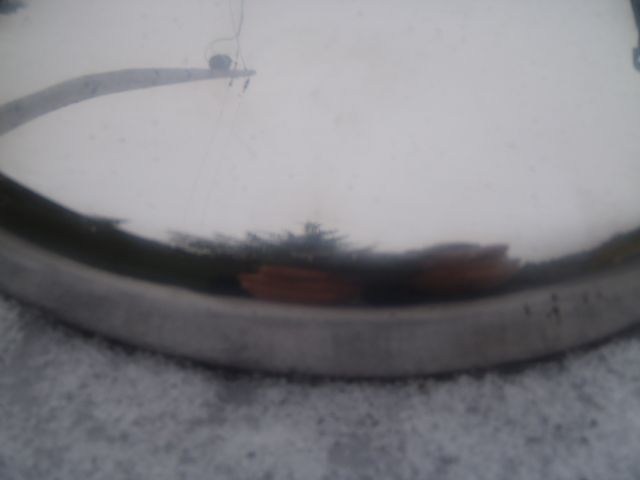 Here are some things I noted. When the dent is very hard to find on the back side, sanding the back side area lightly with a small block will often reveal the impact points. I did make some extra work with misses. Files can really scratch a part. Clean them after every few strokes. I prefer 400 grit and a flat dolly over files. Divots and pin points can be driven out with the right sized drift or corking tool. In this case I had a pin point pock mark and I used a finish nail to bring the bottom of the mark up enough to face it smooth by sanding. Hitting the right spot is difficult. Never use a sharp tool like an undressed nail or chisel. One puncture and the part is not as good as you want. I filed the nail till it was dull and had a flat spot. A super light tap can give you a reference point as to where you really intended to hit it. I usually can get close but it is hard to hit an area the size of a pin head.
Like this small black dent in the middle. Filing it out might show later when it has a shine.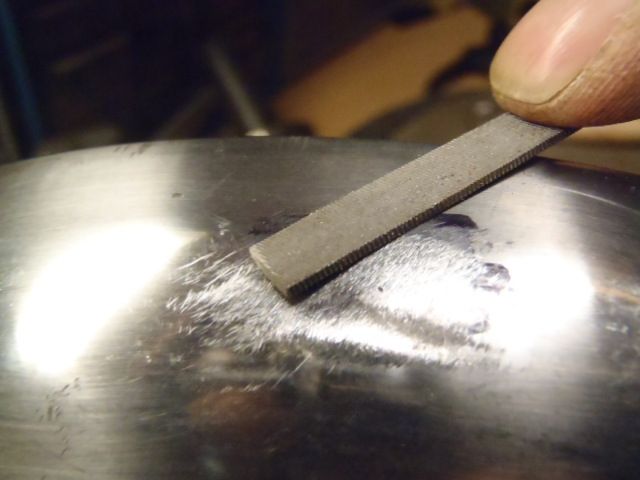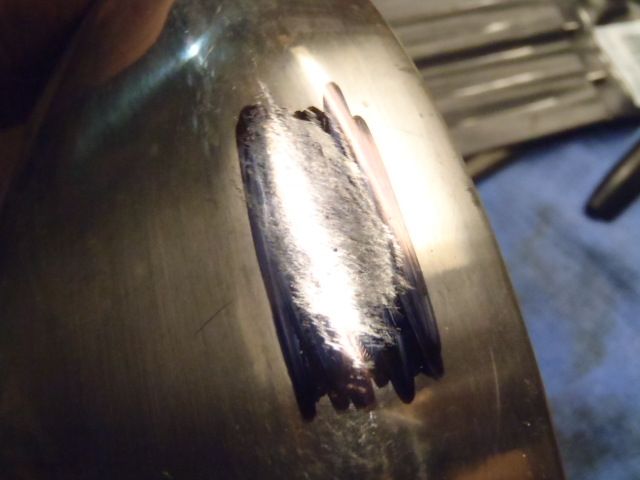 The nail with a dressed tip. One file pass after the lightest tap ever and the flaw was gone. The nail became my corking tool. What ever you can make work.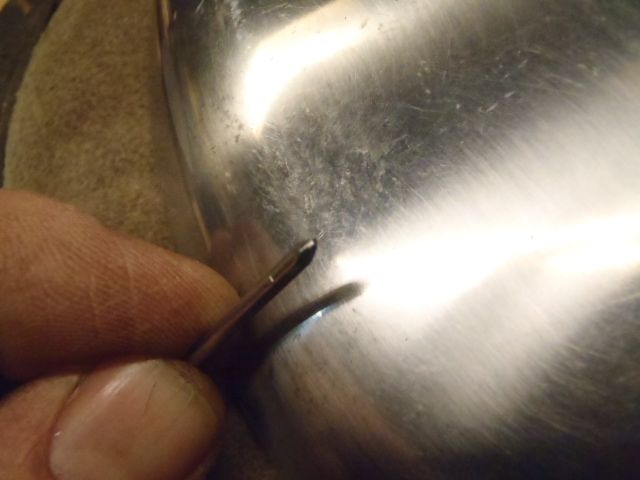 Here it is after some sanding.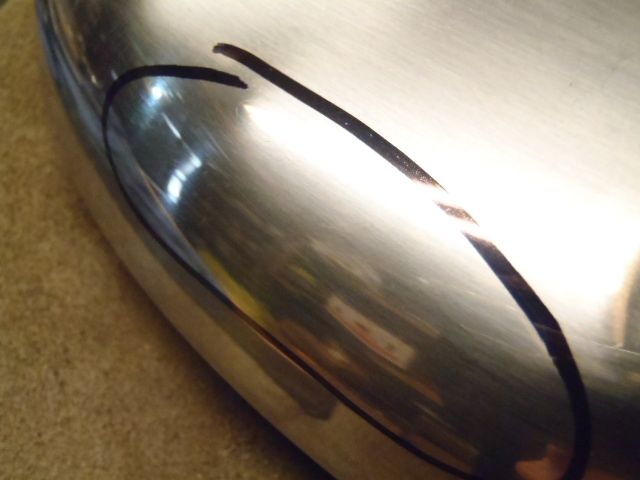 I will now work on the keepers. This one is not done but I think it is savable now.
Emblem paint. A couple years ago there was a guy on ebay that was selling little paint kits for the kaiser emblems. He researched the paint colors and then sold them in a little kit. I cannot find him now. I will search tonight and see what has been said about it already here on our site.
A few years ago I paid 900 bucks for a set of NOS baby moons and trim rings. :eek: :eek: I sold a tuxedo park and they went with it.;)
They were stunning.
More soon. Bring on spring!:thumbsup: